Saudi Aramco CEO says it's time to make opportunities a reality for future generations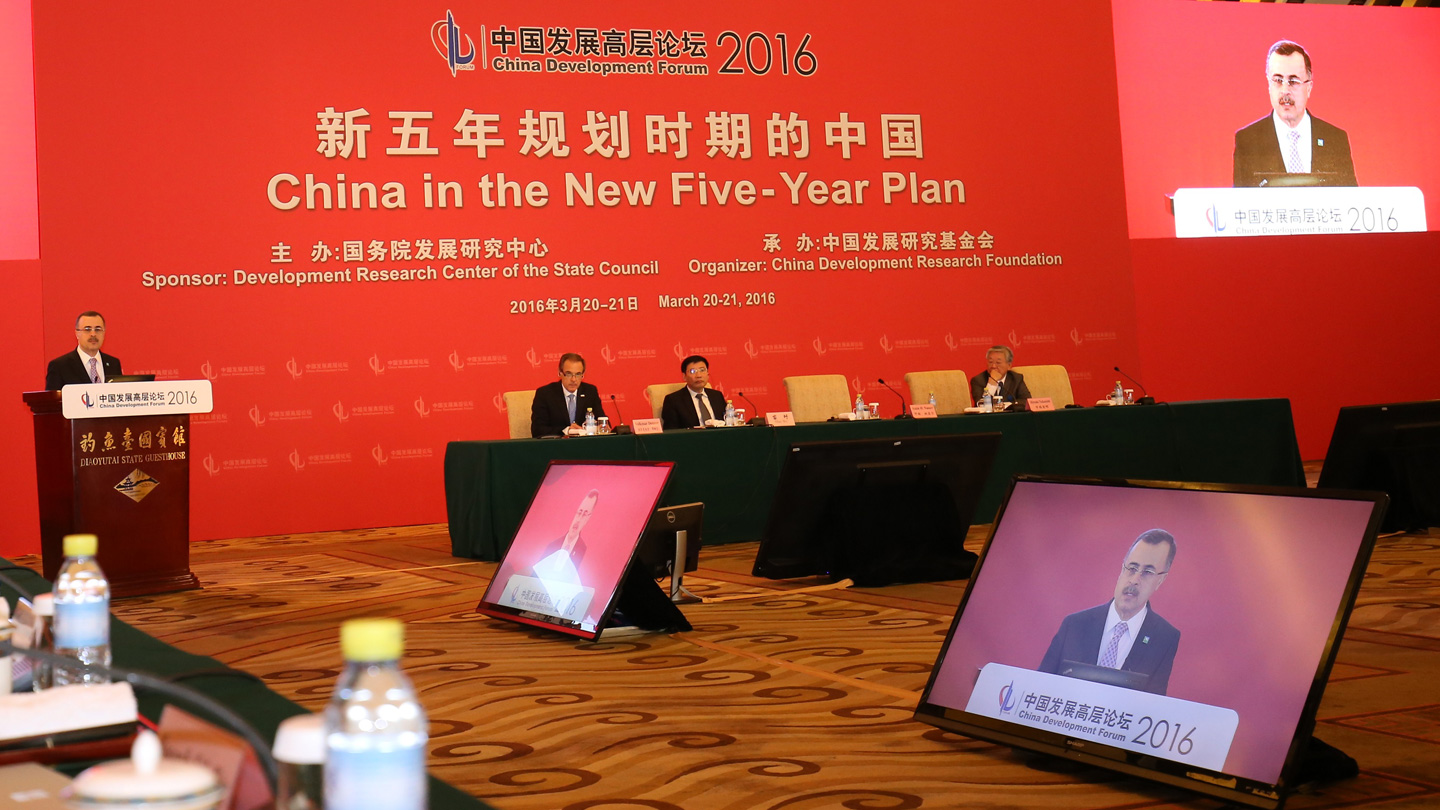 Saudi Aramco CEO Mr. Amin Nasser speaking at the China Development Forum 2016 in Beijing, China
It is time to turn opportunities into realities that will benefit future generations as Saudi Arabia and China develop and grow into knowledge-oriented, innovation-driven economies, said Amin H. Nasser, Saudi Aramco President and CEO, at the China Development Forum 2016 in Beijing.
Highlighting numerous opportunities for mutual growth, Nasser told ministers, officials and global executives that Saudi Arabia provides China's Belt and Road initiative with an ideal platform for prosperous trade between the Middle East, Asia, and Africa.
Speaking at the panel session 'Establishing New Industry and New Growth Drivers', Nasser said the opportunity to forge closer ties in energy and other sectors received a fresh impetus in January, when the Custodian of the Two Holy Mosques King Salman ibn Abdulaziz and His Excellency President of China Xi Jinping inaugurated the YASREF joint venture refinery of Saudi Aramco and Sinopec. Also in January, Saudi Aramco and Chinese government entities signed Memoranda of Understanding (MOUs) to enable closer collaboration.
Nasser said the Belt and Road initiative holds significant win-win promise, provided there is close collaboration.
"At Saudi Aramco, we believe the Belt and Road holds great potential to bridge East and West Asia," Nasser said in his remarks.
Saudi Aramco is partnering with Development Research Center, China's leading think-tank, through an MOU to study further cooperation in the Belt and Road's economic, trade and energy arenas.
"Among other commonalities, both China and the Kingdom are travelling toward knowledge-based innovation driven economies. Our close alignment on new business models and prudent reforms makes us ideal partners on this journey and in fact I see similar paths that can speed us toward our destination," he said.
Economic cities such as in Jazan and the Energy Industrial City currently being developed in Saudi Arabia offer Chinese companies prime manufacturing opportunities and incentives, to expand their footprint beyond Asia to Africa and Europe.
Another area of shared interest that Nasser highlighted is technology and innovation, which are increasingly important to both Saudi Arabia's and China's development. This includes cleaner, more sustainable energy use where Saudi Aramco's extensive experience can add value for China, he said.
"While technology continues to revolutionize energy, it will be decades before renewable energies contribute appreciably. Clearly, ultra-clean oil must be our priority," he said.
With that goal in mind, Saudi Aramco is collaborating with the automotive industry on futuristic, integrated engine-fuel systems that minimize emissions and deliver improved mileage. Aligned with this effort is Saudi Aramco's Beijing Research Center, which will leverage Chinese innovation for both upstream and downstream technologies.
Saudi Aramco remains steadfastly committed to being the leading supplier of energy to China, and the Company would like to deepen its involvement in the country's downstream sector through significant investments in integrated supply, refining, chemicals, lubes, distribution and marketing, Nasser said. Such investments would serve to enhance China's energy security and result in greater efficiencies and innovation, as well as meet far more stringent environmental protection standards.
While Saudi Aramco's relationship with China spans energy, academic and cultural exchange, and business cooperation, Nasser said future prospects are bright and that it's time to turn opportunities into realities that will benefit future generations.
In his closing remarks, Nasser said: "I am confident that the new level of partnership will yield greater prosperity not only for our two nations, but for the people of the world for generations to come."
During his visit to Beijing, Nasser also witnessed the signing of a technology MOU for Saudi Aramco to collaborate with the premier Chinese Academy of Engineering in promoting engineering and technological sciences between the two countries for mutual benefit. This is the first time the academy forged a collaboration with an overseas company.
Through the MOU, the two bodies will set up a framework for collaboration between specialists in engineering and technological sciences disciplines as well as contacts between appropriate industries via study visits, exploratory missions, joint seminars/workshops, exchange information and other activities of common interests.
He also met with with Xu Shaoshi, chairman of National Development and Reform Commission, Li Jianhua, Party secretary of Ningxia Hui Autonomous Region, Gao Shuqiang, governor of Shandong province, Zhou Ji, president of Chinese Academy of Engineering, Bi Mingjian, CEO of China International Capital Cooperation, and with the leadership teams from Sinopec and CNPC.
These meetings come with the implementation phase of the recently signed MOUs between Saudi Aramco and their counterparts in China's investment and energy sectors.
Media contact information
All media enquiries are handled by Aramco's Media & Executive Communications Department, Dhahran, Saudi Arabia.
For media inquiries, please email us at media.inquiries@aramco.com