Encouraging and working with entrepreneurs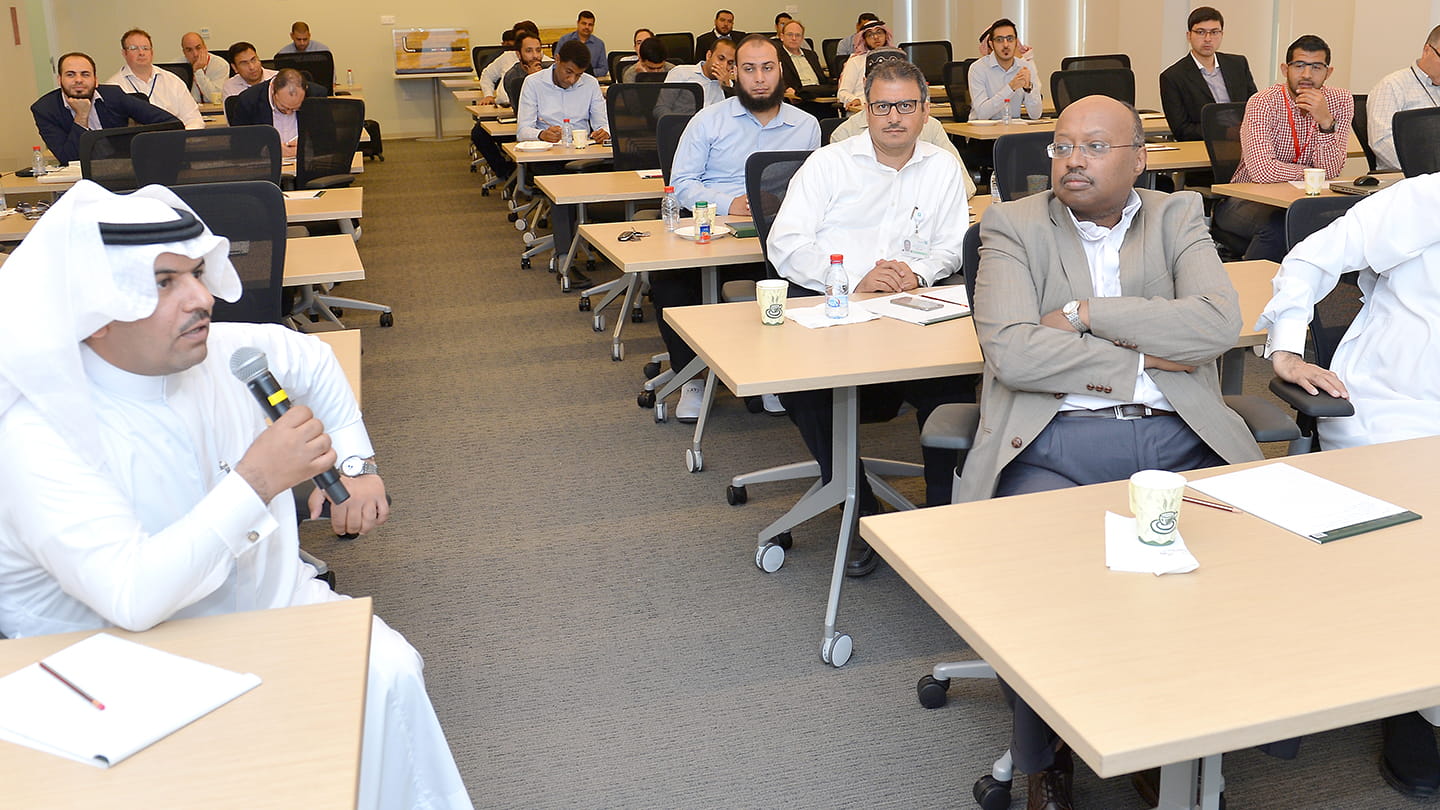 Attendees at entrepreneurship workshop pose questions to a panel of experts from Saudi Aramco, Halliburton and KFUPM.
In a sign that Saudi Arabia's growing culture of innovation is taking hold, the Halliburton R&D Center recently held an entrepreneurship workshop at its facilities in the Dhahran Techno Valley.
Five startup companies, created by young entrepreneurs from King Fahd University of Petroleum and Minerals (KFUPM), presented their technological solutions and marketing plans before a panel of representatives from Halliburton, Saudi Aramco, and KFUPM.
Building a stronger economy
Led and facilitated by Michael Bittar, senior director of innovation in the Halliburton Global Technology Center, and Hicham El Hajj, principal scientist at the Halliburton Technology Center, the workshop is aligned with the Kingdom's newly launched Saudi Vision 2030 to build up the Kingdom's economy through its small and medium sized enterprises and is also in line with Saudi Aramco's ongoing efforts to foster a vibrant ecosystem of knowledge-based startup companies that can manufacture for, and support, the Saudi energy sector.
The growth of tech entrepreneurship is one of the strongest economic drivers for the Kingdom's transition to a knowledge-based economy. All five of the entrepreneur teams were selected and received close support and coaching from the Entrepreneurship Institute at KFUPM.
Saudi Aramco's partnership with technology leaders such as Halliburton at the Dhahran Techno Valley is just one of many ways the company is delivering on its strategic objective of supporting sustainable growth in the Kingdom through entrepreneurship and technological innovation. Helping to create an ecosystem of small- and medium-sized enterprises in the Kingdom not only helps the company by providing a network of local manufacturers and service companies, it also fosters potential partners in collaborative research and development and helps drive rapid economic growth and to create jobs for Saudi citizens.
Engaging with startups
Partnering with small and medium startups can help larger corporations to adapt to the volatile changes that can occur when disruptive technologies change the business landscape.
A February 2016 study by INSEAD Business School, titled "#500 Corporations: How do the World's Biggest Companies Deal with the Startup Revolution?" found that 68% of the top 100 companies from the Forbes Global 500 are engaging with startups, and that the top 100 companies are working with startups two times more intensely than the last 100 companies of the Forbes Global 500.
Among the young startups displaying their innovative ideas at the workshop were the following:
ConCure: A multilayer blanket for retaining moisture to prevent cracks in concrete used in wellsites and in construction
Telaa': A sprayable coating made of shredded automobile tires designed to prevent external corrosion for steel pipes and platforms
CoreEcho: A rapid, non-invasive, portable ultrasonic system for analyzing core samples at the well site
ConCoating: A concrete coating for submarine pipes that makes use of steel slag instead of costly iron ore
Chemical Tracking Solutions: A database solution for identifying and tracking chemical materials in the industrial chemical supply chain.
After each presentation, entrepreneurs received crucial feedback from experts from Halliburton and Saudi Aramco's Reservoir Management and the Technology Coordination Group at the EXPEC Advanced Research Center.
Khaled A. Al Buraik, Saudi Aramco vice president of Petroleum Engineering and Development and chairman of the DTV Strategic Committee, commended the Halliburton Technology Center at DTV for being proactive and taking the initiative to organize and execute the workshop.
"We consider technology-based entrepreneurship an integral and indispensable component of DTV's innovation ecosystem and essential for its current and future success and sustainability," Al Buraik said.
"The workshop also coincided with the successful launch of the Kingdom's ambitious Vision 2030, which looks to — among its many visionary pillars — increase small- and medium-size enterprises' contribution to 35% of our national GDP by 2030 and to increase the private sector's contribution from 40% to 65%. Therefore, we are all aligned on the importance of collectively galvanizing our efforts to work together towards meeting these high level expectations.
"The objective is to facilitate the commercialization of new technologies by leveraging technology based startups owned and successfully operated by our young Saudi youth to tap into viable market opportunities locally and globally. This workshop is a simple step, yet a strong building block for future multifaceted continuing work in this important and strategic domain."
Media contact information
All media enquiries are handled by Aramco's Media & Executive Communications Department, Dhahran, Saudi Arabia.
For media inquiries, please email us at media.inquiries@aramco.com