iRead competition completes fourth year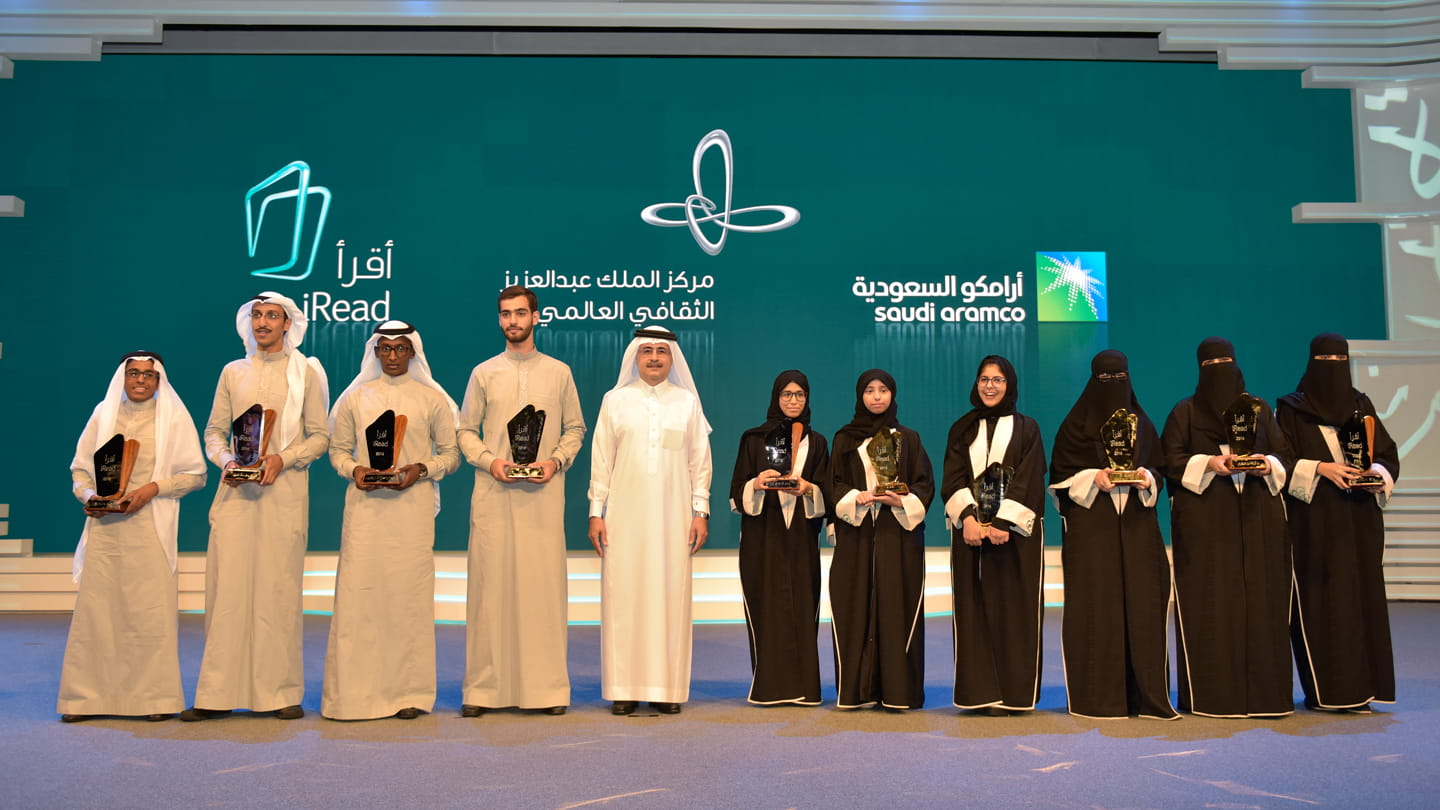 President and CEO Amin Nasser stands with those honored at a ceremony to recognize this year's winners of the national iRead competition.
The importance of creating and sustaining a knowledge-based society and the critical role reading has in establishing and maintaining that society was emphasized at a ceremony held Friday to recognize this year's winners of the national iRead competition.
More than 1,000 people attended the awards ceremony in Dhahran for the Saudi Aramco-sponsored program, which just concluded a fourth year. The initiative has been run by the King Abdulaziz Center for World Culture since its inception.
"It is hard to have successful human communication among individuals, institutions, and people without building a communication of deep understanding that is established and reinforced by a reading habit," said Saudi Aramco president and CEO Amin Nasser, adding it is through this habit that "pillars of respect, peace, and the socio-economic and developmental cooperation between human beings" can be established.
Winners lauded
The iRead competition organizers presented awards to this year's eight winners in front of an audience of more than 1,000 people. The Reader of the Year winners were Tala Al-Mula, preparatory school student; Amjaad Al-Ghamdi and Aussaid A'jiz, high school students; and Shuruq Al-Zahrani, college student. The popular winner by audience vote was Sara Al-Rehaily. Three participants won the Beauty Reader award in the professional photography competition: Ali Hazazi, Hossam Abdullatif, and Sultan Al-Ghamdi.
'New horizons in creativity'
The 2016 iRead was launched with a whole new look at the organizational and cultural levels. The number of submissions this year reached 14,000 following the program's success in previous years as the competition's prominence has risen steadily Kingdomwide, as well as in the wider Arabian Gulf cultural scene.
Over the four years, iRead has come to be recognized by many intellectuals in Saudi Arabia and the Gulf states. Dr. Samir Al-Damir, who presented one of the distinguished lectures on folklore art at the iThra gathering for the iRead competition, said "In Arab culture, we are used to having awards and honors given to those who have reached an old age and have much experience. However, the iRead competition has come to break this tradition and give the boys and girls in the different school grades a strong motivation to unleash their potential and creativity. That is why the iRead competition is so astonishing, with a new look and precise criteria in polishing, establishing, and motivating Saudi people to reach new horizons in creativity, roam in the vast spaces of knowledge, immerse themselves in reading and communicating with books, and create the visual content accompanying what they have read.
"This Aramco initiative, run by the center, might be the first and most important initiative in the field of creative and innovative initiatives," he continued. "In my opinion, it will be a catalyst and a source of inspiration for many sectors to offer social and cultural services that contribute to the best interests of the homeland and people of Saudi Arabia. A heartfelt thank you to all who backed this perfect idea, made it a tangible reality, and put a smile on the faces of the audience and families in our beloved homeland and awe in their eyes and hearts."
A culture of reading
The cultural attendant at the iRead competition, Albara Al-Auhali, said the competition reached an even higher level of maturity this year. He stressed that the submissions this year were highly professional. He also lauded the new experience of cooperation with different actors to announce the competition through them, as well as a number of partnerships that will open new horizons.
The panel of judges this year included Dr. Amirah Al-Ja'fari, dean of the Faculty of Arts at the University of Dammam, Dr. Mustafa Al-Hasan, professor of Islamic Studies at the King Fahd University for Petroleum and Minerals, critic Tariq Al-Khawaji, and author Shtiwi Al-Ghaithi.
The competition aims to instill a culture of reading in society and make it a habit and a priority for every person and family. This is very essential and strategic for national development in order to build the society and develop industry, trade, and investment.
Reading opens important doors to the wider world, boosting understanding and helping with successful communication with others. It is also linked to building character, overcoming fear, and cultivating self-expression by developing the skills of presenting and speaking in front of an audience.
These skills are deeply rooted in the Arabic culture, and have an immense importance among the 21st century skill set in terms of producing leaders who are distinguished in the fields of business, opinion, and society in general.
Media contact information
All media enquiries are handled by Aramco's Media & Executive Communications Department, Dhahran, Saudi Arabia.
For media inquiries, please email us at media.inquiries@aramco.com