Saudi Aramco & Pertamina sign JV Devt Agreement, Marking Key Milestone for Joint Refinery Project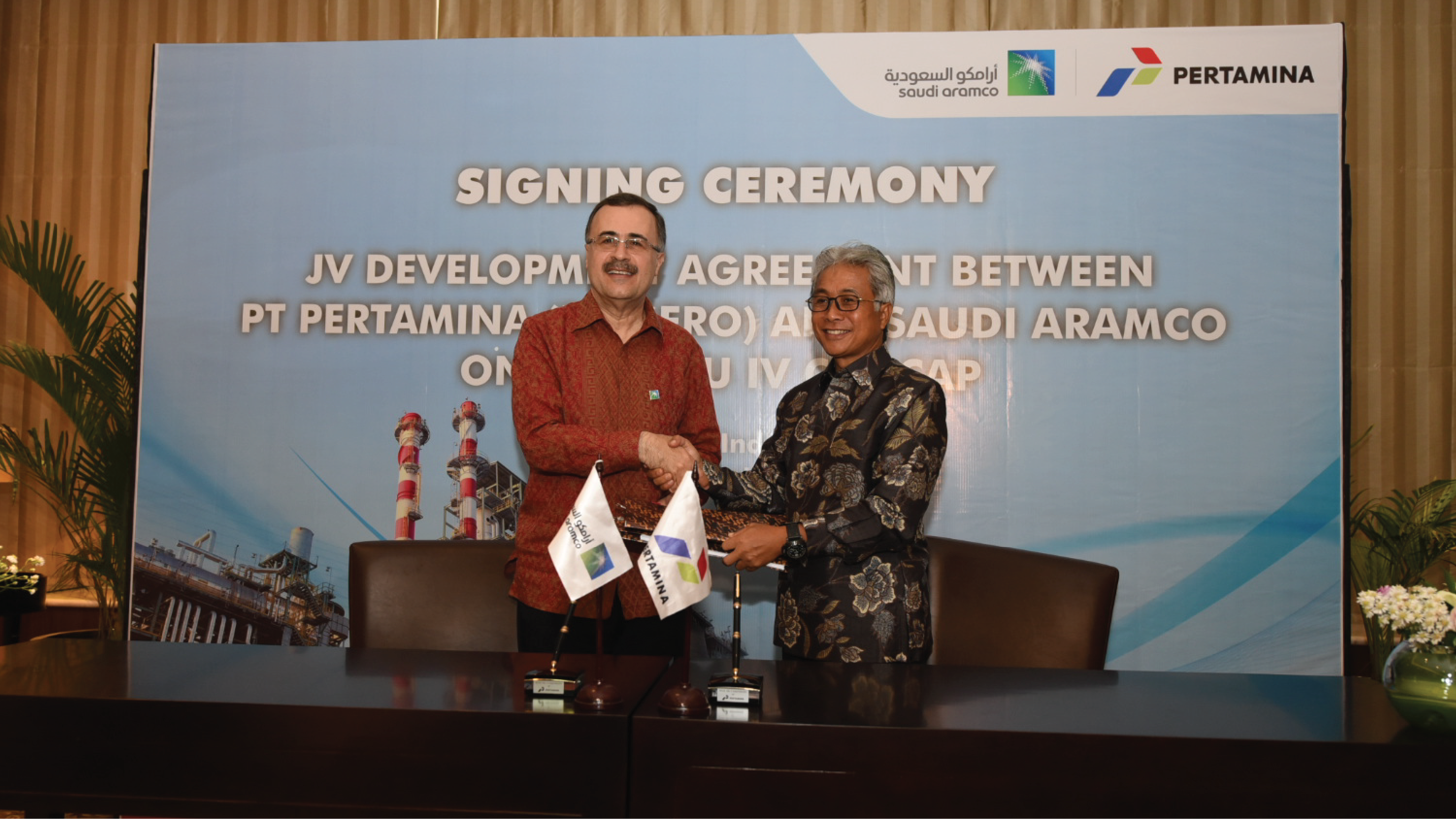 Saudi Aramco, the world's leading integrated energy and petrochemicals enterprise, and PT Pertamina, Indonesia's state oil and gas company, signed a Joint Venture Development Agreement (JVDA) today, marking a key milestone to enable further progress to jointly own, upgrade and operate the Cilacap Refinery in central Java, Indonesia.
Saudi Aramco President and CEO Amin Nasser and Pertamina President-Director and CEO Dwi Soetjipto signed the agreement today at Pertamina's headquarters in Jakarta.
In November 2015, both companies signed a heads of agreement (HoA) and today's JVDA will allow for the next development phase of the project to move forward.
"Indonesia's growth trajectory is truly remarkable with an ambitious economic agenda underscored by the government's reforms to increase investments in the infrastructure and energy sectors," Saudi Aramco president and CEO Nasser said. "Through an outlay of significant capital investments and the reliable supply of competitive feedstock, today's agreement with Pertamina enables Saudi Aramco to potentially play a bigger role in meeting the rising energy needs of one of the world's fastest developing economies," he added.
"The agreement is representing both company's strong commitment in developing and strengthening the energy infrastructure throughout the country, especially in refinery projects, that align Pertamina's five strategic pillars. Upgrading and expansion of Cilacap Refinery will help Pertamina to enhance its downstream competitiveness with higher valuable and environmental friendly products," Dwi Soetjipto said.
The Cilacap refinery is part of Pertamina's Refinery Development Master Plan (RDMP) and its capacity is planned for an expansion to 400,000 barrels per day and it is designed to process Arabian crude supplied by Saudi Aramco. It will also produce refined products that meet Euro V specifications, basic petrochemicals, and Group II base oil for lubricants.
In addition to meeting rising fuel demand, the partnership between Pertamina and Saudi Aramco will enhance the competitiveness of Indonesia's refineries and contribute to improved energy security.
Saudi Aramco and Pertamina agreed on the ownership structure of the upgraded Cilacap refinery, where Pertamina will hold a 55 percent stake and Saudi Aramco will own the balance 45 percent. To date, the upgraded refinery configuration has been completed and the process to select technology licensors will start soon with the Basic Engineering Design work targeted for completion in the first quarter of 2017. Signing this agreement paves the way for the upgraded project to move to the Front End Engineering Design (FEED) phase in the second quarter 2017 while project startup is targeted in 2021.
Media contact information
All media enquiries are handled by Aramco's Media & Executive Communications Department, Dhahran, Saudi Arabia.
For media inquiries, please email us at media.inquiries@aramco.com