Off and running in Houston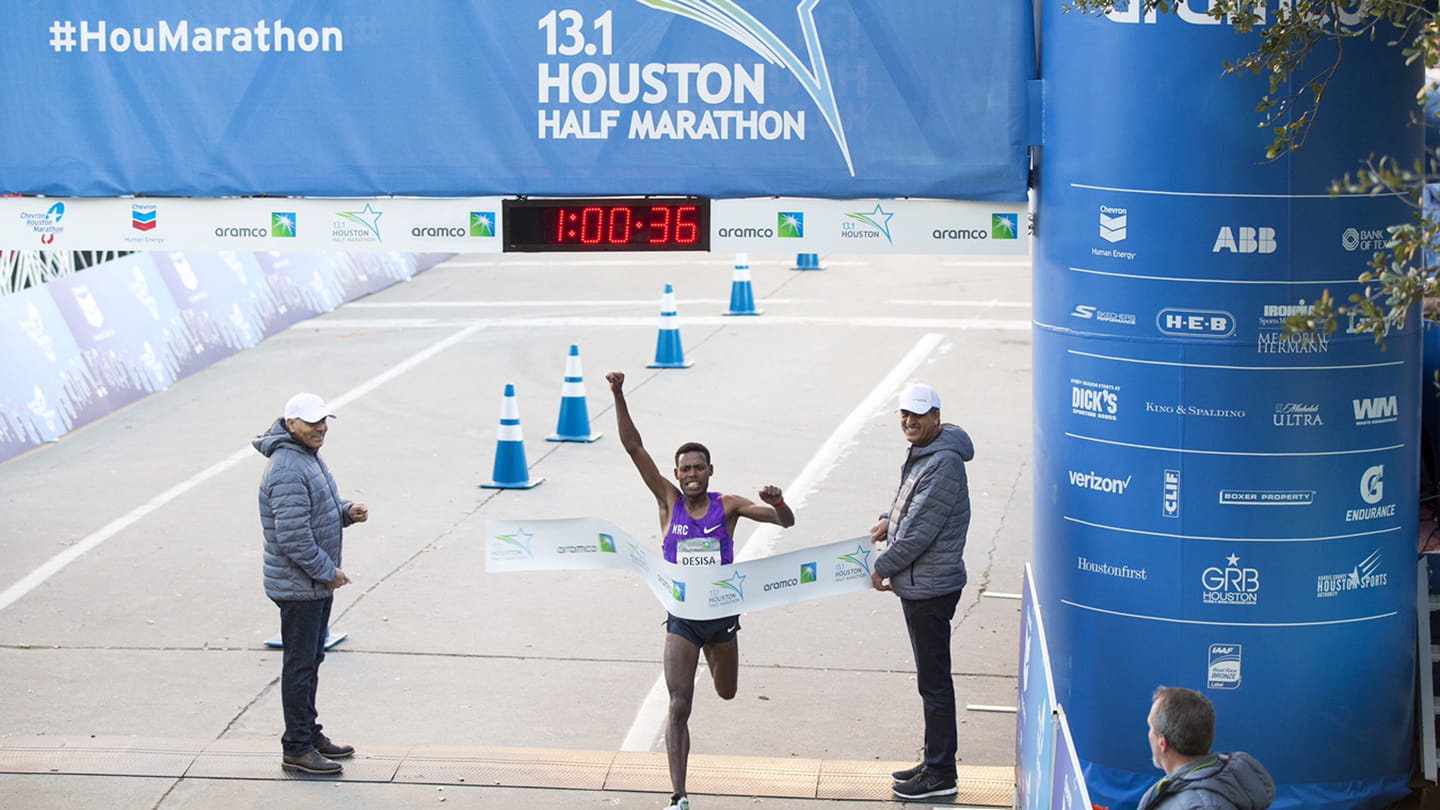 Lelisa Desisa claims victory in the men's division of the half marathon. Holding the tape is Saudi Refining Inc. president Khalid Alnaji, right, and at left is Basil Abul-Hamayel, Aramco Services Company president.
News
|
HOUSTON, Texas, U.S.
|
The Aramco Houston Half Marathon is known in running circles to be a fast course, and this year, excellent weather conditions and a strong field of elite runners proved that reputation to be true.
Mary Wacera, an athlete from Kenya, broke the record for fastest half marathon ever run by a woman on U.S. soil, finishing the 13.1-mile race in 1:06:29 — almost two minutes faster than the previous U.S. record.
In the men's category, Lelisa Desisa, from Ethiopia, claimed victory with a time of 1:00:37, not far off the Aramco course record of 59:22.
These wins were part of a weekend full of highlights. The Aramco Houston Half Marathon celebrated its 11th consecutive year as a sold-out race, and it was the largest ever with nearly 15,000 registered runners. The race and the Chevron Marathon, held on the same weekend, were also streamed live and worldwide on Disney-owned ESPN3, a Web channel. That coverage, added to broadcasts by ABC's Houston station and the University of Texas's Longhorn Channel, meant the event reached 120 million homes worldwide.
Houston's newly elected mayor, Sylvester Turner, joined Aramco and Chevron at the press conference and the start line, saying he "couldn't be more thrilled" with Marathon Weekend and what it does for the city and the corporate sponsors.
Annually, the races bring in millions of dollars for local charities through the Run for a Reason fundraising program, and they attract about 250,000 spectators and thousands of volunteers, including 300 from Aramco who distributed race bibs and T-shirts, staffed an Aramco booth at the public health-and-fitness expo, and handed out finisher medals.
During his remarks at the press conference, president of Aramco Services Company Basil Abul-Hamayel said, "For Aramco, this is more than an annual event; it is a proud tradition that is especially meaningful because it makes such an important contribution to Houston, to runners around the world, and to local charities."
Media contact information
All media enquiries are handled by Aramco's Media & Executive Communications Department, Dhahran, Saudi Arabia.
For media inquiries, please email us at media.inquiries@aramco.com