Contract for Cilacap refinery upgrade awarded to Amec Foster Wheeler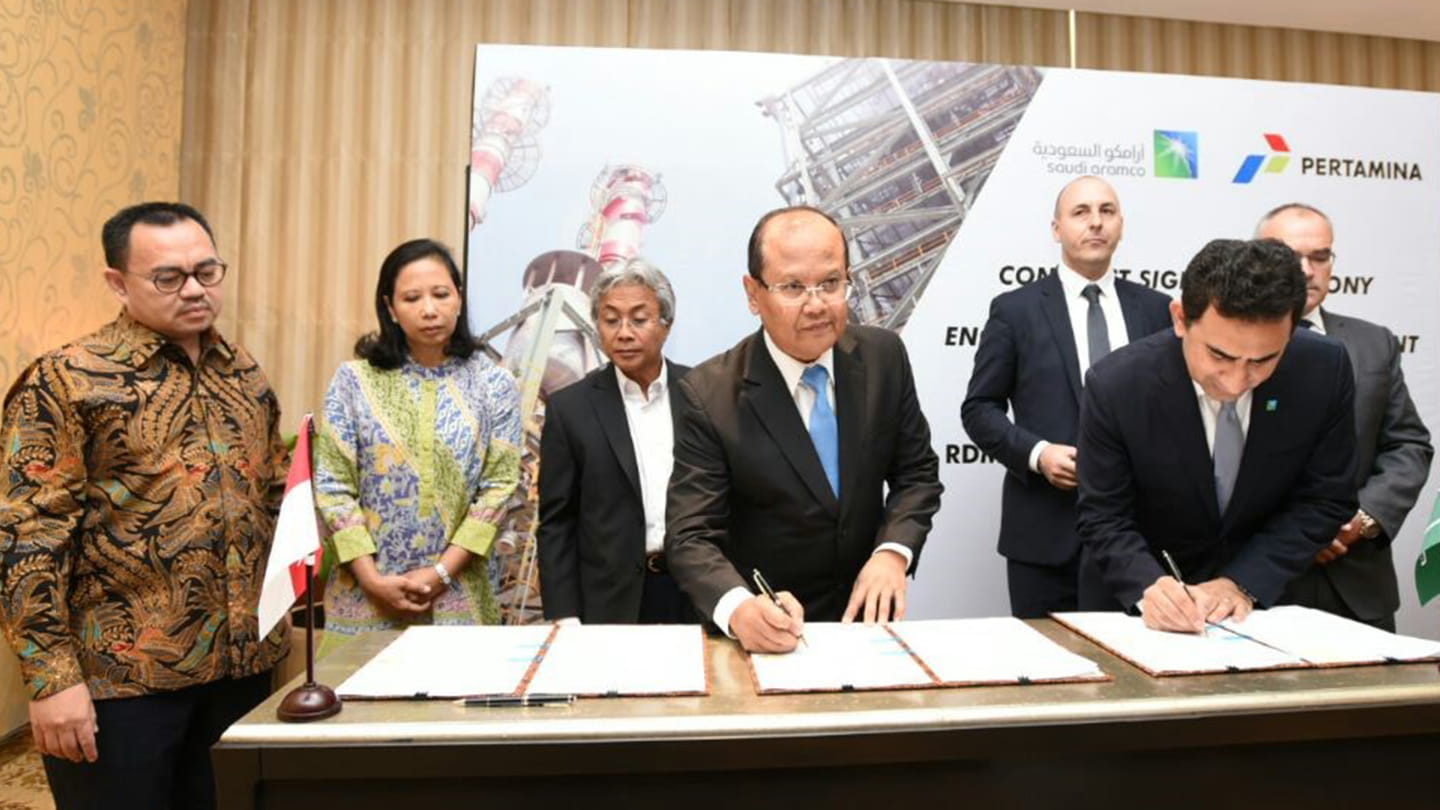 Saudi Aramco's Said Hadrami, VP of International Operations signing the agreement with Rachmad Hardadi, Refining Director of PT Pertamina.
Award marks significant milestone between both national oil companies in progressing the Refinery Development Master Plan (RDMP) program.

Saudi Aramco participation in the Indonesian refining industry forms part of the company's aspiration to become the world's largest, fully integrated energy and chemicals Company.
PT Pertamina (Persero) and Saudi Aramco have awarded the Engineering and Project Management Services Contract to conduct the Basic Engineering Design (BED) study for their joint Cilacap Refinery upgrade project to Amec Foster Wheeler Energy Limited.
The contract was signed by Mr. Said Al-Hadrami, Vice President of International Operations, Saudi Aramco and Mr. Rachmad Hardadi, Refining Director of PT Pertamina at Pertamina's Head Office in Jakarta, today.
This follows a Heads of Agreement (HOA) which was signed by Pertamina and Saudi Aramco in November 2015 to formalize the collaboration for the project.
"As the Cilacap refinery upgrade will be implemented jointly by Pertamina and Saudi Aramco, this milestone is considered as a significant achievement towards this joint venture formation. It is essential to have a strategic partner with both technical and financial capability to execute such a large project. Saudi Aramco is an ideal partner," said Rachmad Hardadi.
"Signing this contract for the Cilacap Refinery upgrade project marks a key milestone for Saudi Aramco's partnership with PT Pertamina. Saudi Aramco takes a long-term view on such investments and partnerships, where we seek projects that will bring mutual benefits to the partners and countries that will last for many decades. We look forward to this venture that enhances Indonesia's prosperity through greater energy security and strengthens our company's global energy value chain." said Said Al-Hadrami.
Amec Foster Wheeler will develop the scope for the proposed upgrade project for the existing refinery located in central Java and will finalize the process configuration and licensors' packages over the next nine months. The upgrade of the Cilacap Refinery is part of Pertamina's Refinery Development Master Plan (RDMP), aimed at improving Indonesia's energy security and involves the expansion and upgrade of its domestic refineries. The overall upgrade project cost for the Cilacap Refinery is estimated to be approximately 4 to 5 Billion USD.
Once the upgrade is completed, the capacity of the Cilacap Refinery's will increase to 370,000 barrels per day. In addition, gasoline and diesel production will be maximized and higher quality base oils will be produced from the refinery, which are targeted to be absorbed domestically. The upgrade will also enhance the petrochemicals capacity of the refinery to exceed more than 600 KTPA of aromatics and 160 KTPA of polypropylene.
The companies are targeting to complete the front end engineering design (FEED) stage in 2018, and kick off the EPC phase in 2019. The project upgrade is targeted for completion by the end of 2022. Mr. Hardadi said that this collaboration is the first step towards other similar partnerships between Pertamina and Saudi Aramco with regard to refineries at for Dumai (in Sumatra) and Balongan (in Java).
Media contact information
All media enquiries are handled by Aramco's Media & Executive Communications Department, Dhahran, Saudi Arabia.
For media inquiries, please email us at media.inquiries@aramco.com