Sadara: the countdown continues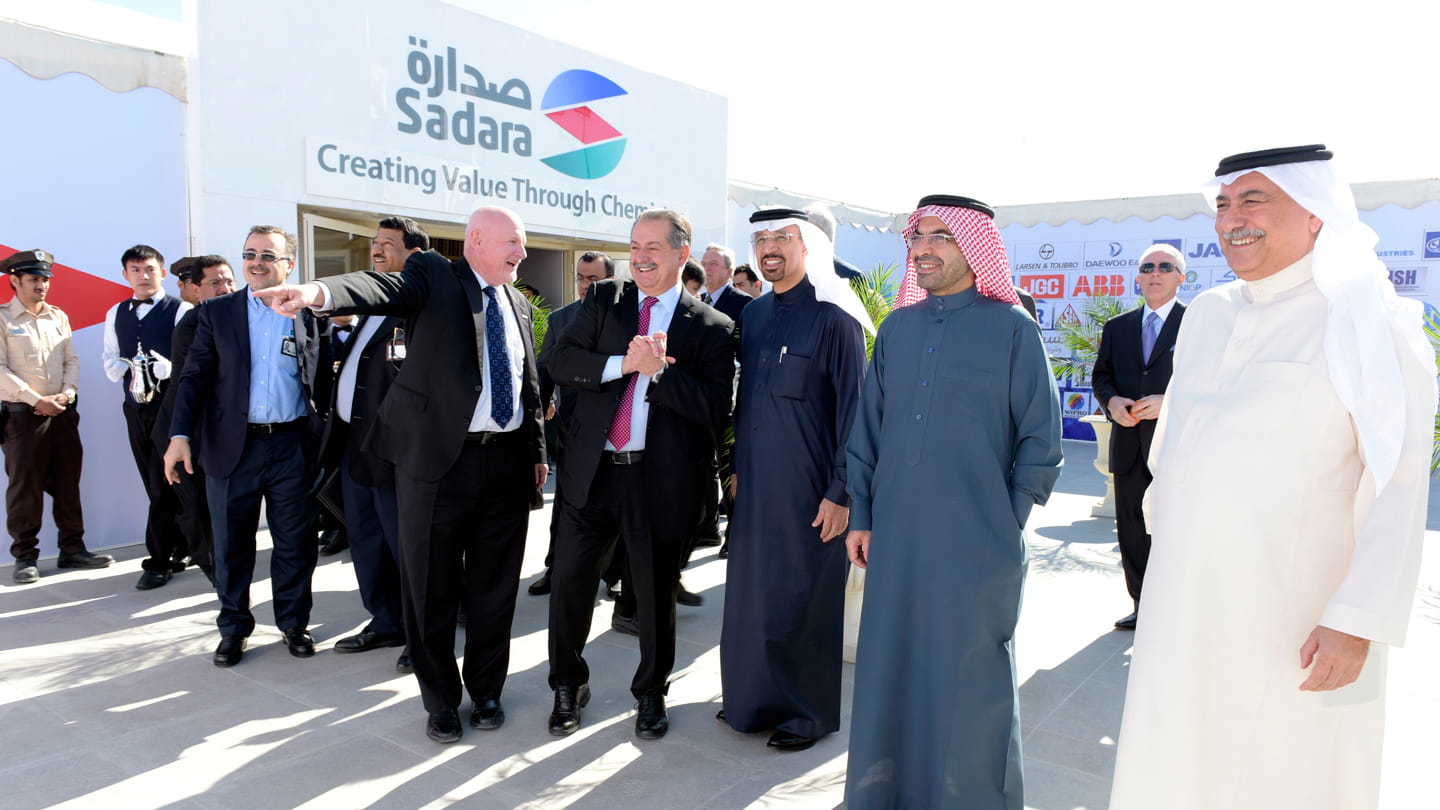 Members of the Saudi Aramco, The Dow Chemical Company, and Sadara boards tour the facility
Currently, Sadara has more than 4,300 employees — more than 60% of whom are Saudis. Almost 2,000 of these employees have undergone intensive, technology centric, on-the-job training at various Saudi Aramco and Dow Chemical sites, in Saudi Arabia and around the world. The Sadara on-the-job training program is one of the largest and most sophisticated technology training programs ever undertaken by a Saudi company.
a new kind of economy
PlasChem Park, a collaborative effort between Sadara and the Royal Commission for Jubail and Yanbu', is currently under development and is expected to create 20,000 direct and indirect jobs through a number of locally owned manufacturers, and it is the key to realizing the full value that the Sadara complex provides to the Kingdom.
By offering the advantages of easy access to Sadara's highly differentiated chemical products and the strong industrial and regulatory infrastructure in Jubail, PlasChem provides investors with the ability to convert feedstock into high-value finished products, such as car parts, refrigerator parts, adhesives, cleaning products and paints. The revenue from these manufactured goods, and the creation of thousands of sustainable new jobs, will strengthen and diversify the Saudi economy.
The boards of directors of Saudi Aramco, Dow Chemical Company (Dow), and the Sadara Chemical Company gathered at the Sadara complex recently to get a closer look at the significant progress made at the facility.
The visit was headed by Saudi Aramco Chairman of the Board of Directors HE Khalid A. Al-Falih and Dow Chairman and CEO, Andrew Liveris. Board members heard presentations about the overall project progress — which is now 98% complete — and took a tour of the Sadara facilities, as well as the adjacent PlasChem Park, which is being developed for local manufacturers to make use of Sadara's specialty feedstocks.
the largest built in a single phase
The $20-billion project is the world's largest chemical complex ever built in a single phase. The six-square-kilometer complex is comprised of 26 plants, 14 of which are producing specialty chemical products that have never been produced in the Kingdom previously. One of these plants, the Solution Polyethylene plant, has already begun production and shipped its first products to Singapore late last year.
By partnering with Dow to build Sadara, Saudi Aramco is making huge strides toward our commitment to support and strengthen the Saudi economy through diversification. Saudi Aramco aspires not only to become a global leader in energy and petrochemicals; it also commits itself to help diversify the Saudi economy through strategic investments in key industries that will attract foreign and domestic investment, which will in turn create manufacturing opportunities, as well as thousands of new highly skilled jobs for Saudi citizens.
Al-Falih commended the board members from Dow and Saudi Aramco for their "bold" decision more than eight years ago to form a partnership to build Sadara.
"Sadara represents a bold undertaking for both Saudi Aramco and for Dow," Al-Falih said. "For us at Saudi Aramco, it is a major driver in achieving our goals of greater integration and value addition. Sadara represents the concrete realization of our distinct, yet complementary, corporate visions — it is one way in which Saudi Aramco is helping to deliver on its commitment to the Kingdom."
A bold undertaking
from vision to reality
"Thanks to Dow and Saudi Aramco's partnership, our shared vision for Sadara is fast becoming a reality: an unprecedented achievement of historic size and scale," said Liveris. "By combining globally competitive feedstocks with cutting-edge innovation, Sadara will generate billions of dollars in revenues and create thousands of jobs."
"Sadara is a huge testament to the power of partnership that has made this magnificent achievement possible," said Amin Nasser, Saudi Aramco president and CEO. "We have faced many challenges over the years — complex technological challenges, economic uncertainty — but both companies stood firm to make Sadara a reality."
Media contact information
All media enquiries are handled by Aramco's Media & Executive Communications Department, Dhahran, Saudi Arabia.
For media inquiries, please email us at media.inquiries@aramco.com