Business forum highlights partnership opportunities for North America and Saudi Arabia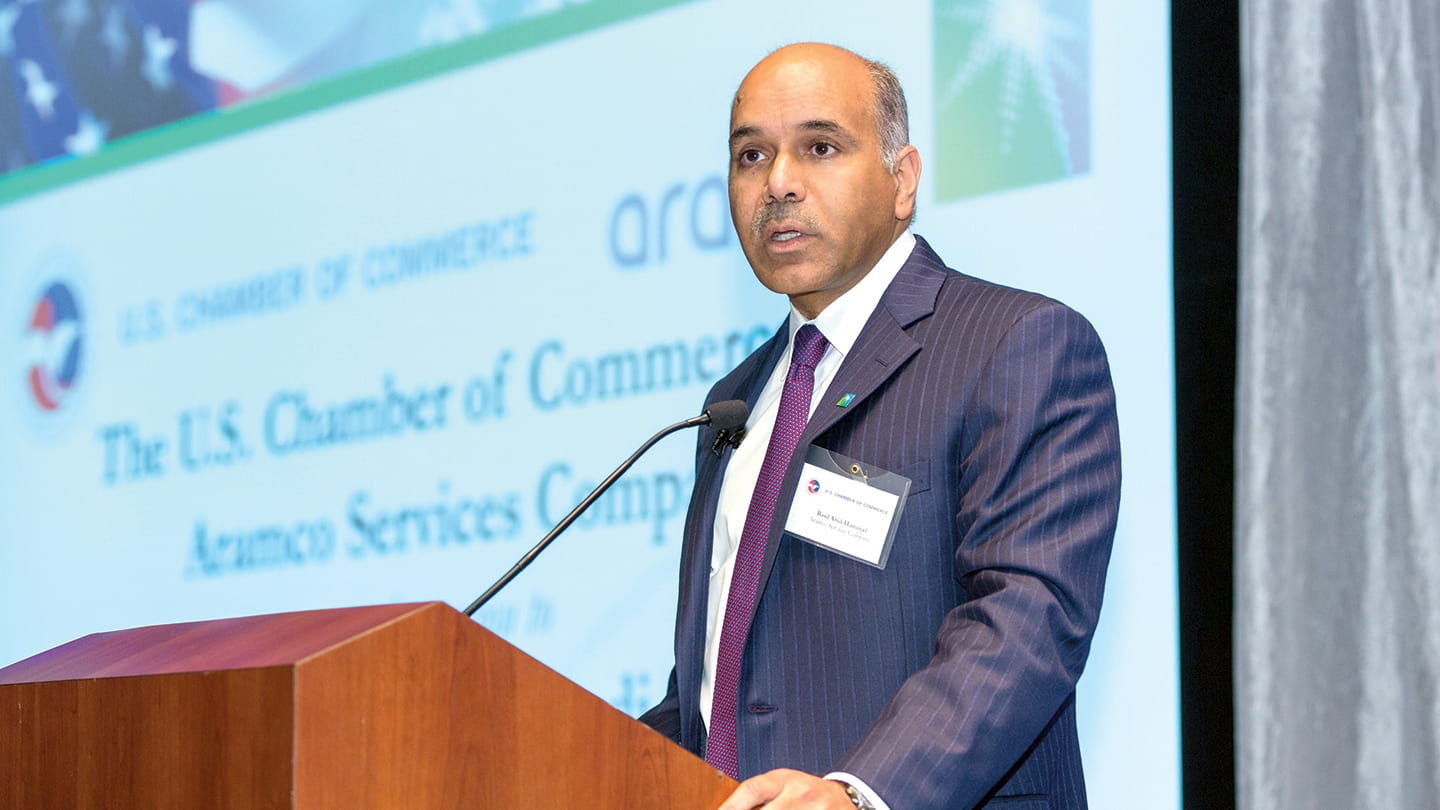 Basil Abul-Hamayel, ASC president and CEO, gives the keynote address at an Aramco business forum in Houston for North American companies to learn about partnership opportunities.
News
|
HOUSTON, Texas, U.S.
|
During the Offshore Technology Conference (OTC) week, Aramco conducted a business forum for North American companies to learn about opportunities to partner with Saudi Aramco and invest in the Kingdom.
With a theme of "Doing Business in Saudi Arabia," the event in Houston was the second of its kind held in conjunction with the U.S. Chamber of Commerce. The first was conducted last November in Washington, D.C.
Since the launch of Saudi Vision 2030 just over a year ago, interest among North American business leaders has grown. The Aramco forum was a good reflection of that, with more than 240 North American company owners, CEOs, investors, and others attending. This was about a 75% increase in attendance over the first forum. Aramco is planning to conduct the event several more times this year in the U.S. and Canada.
In his keynote address, Basil Abul-Hamayel, Aramco Services Company (ASC) president and CEO, highlighted the strong alliance between the U.S. and Saudi Arabia that began almost 90 years ago. "We want to continue building strong, successful partnerships," he said. "And we see an array of opportunities for companies represented here today."
Participants represented more than 140 business organizations in a variety of sectors, including oil and gas, chemicals, information technology, telecommunications, and logistics.
Abul-Hamayel talked about Saudi Aramco's full-scale transformation, the need to support this massive growth with additional materials and services, and areas of opportunity. He also encouraged companies to learn more about expanding their business in Saudi Arabia through such initiatives as the In-Kingdom Total Value Add (IKTVA) program.
Three breakout sessions were conducted in the afternoon for attendees seeking further details. They focused on 1) IKTVA and its capital projects; 2) the Energy Industrial City — a master-planned industrial and residential "energy hub" located between Dammam and al-Hasa; and 3) Saudi Aramco projects — in particular, opportunities for suppliers in the areas of unconventional resources, drilling (coiled tubing and casing), high-pressure and high-temperature wells, and more.
"We are seeing activity increase as the word continues to spread about these partnership opportunities," said AlRumaih. "We look forward to further working with the U.S. Chamber of Commerce to keeping up the momentum and taking this message to other strategic locations in the U.S. and Canada."
Media contact information
All media enquiries are handled by Aramco's Media & Executive Communications Department, Dhahran, Saudi Arabia.
For media inquiries, please email us at media.inquiries@aramco.com