Aramco Trading Company recognized for helping pave the New Silk Road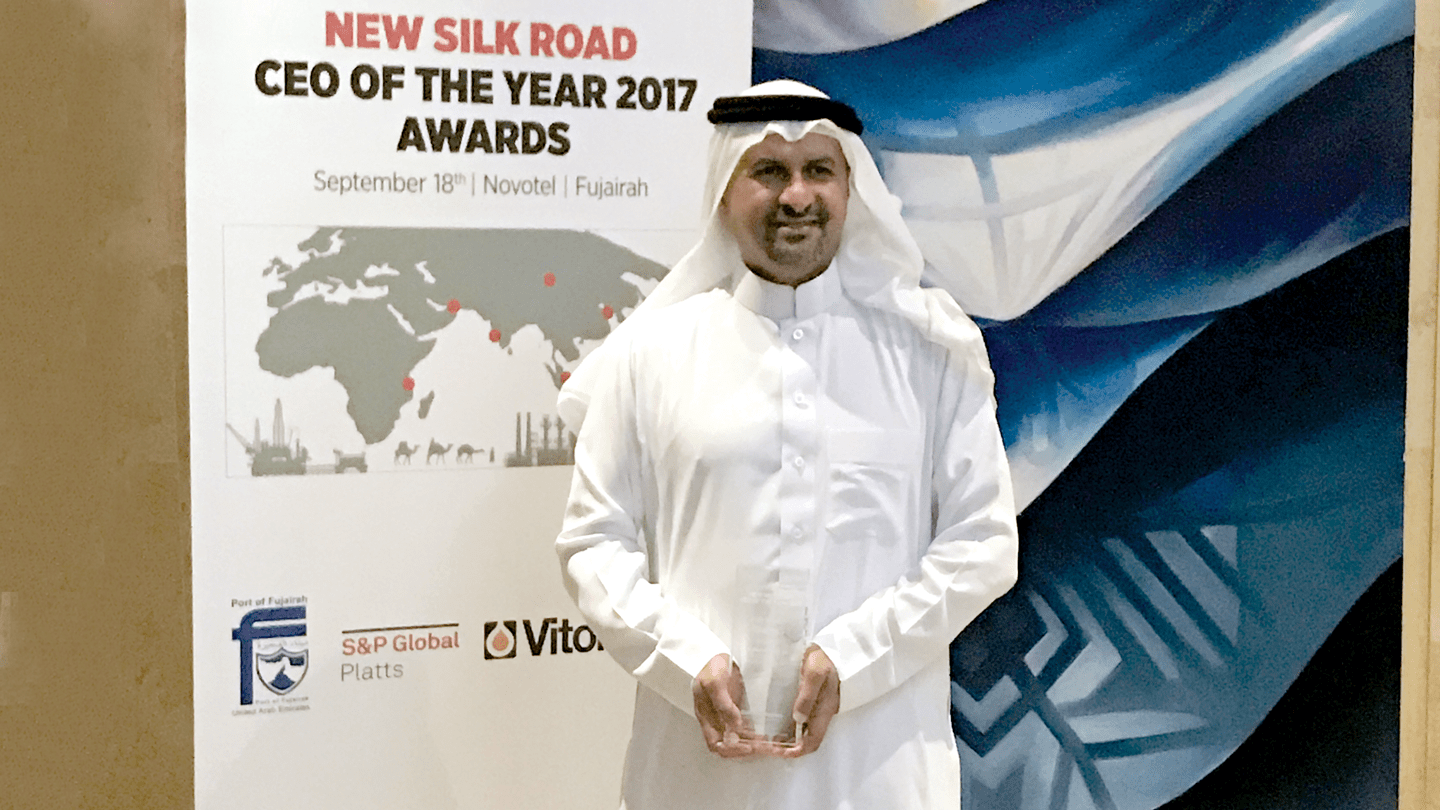 Ibrahim Q. Al-Buainain poses with his award after being named 2017 New Silk Road CEO of the Year for Trading at a gala dinner in Fujairah.
The New Silk Road is an increasingly popular term referring to an emerging network of infrastructure, enhanced transportation routes, and widening economic and energy corridors between the Far East and Europe, with the Arabian Gulf region as the geographical nexus enabling this growth.
World-class trading hub
For its part, the Gulf region has particularly seen growth in a number of industrial sectors, specifically contributing to the development of its role as a world-class trading hub for energy.
Against this backdrop, Saudi Aramco's wholly owned trading arm, Aramco Trading Company (ATC), has emerged as a regional leader, as was evidenced recently when ATC president and CEO Ibrahim Q. Al-Buainain was named 2017 New Silk Road CEO of the Year for Trading at a gala dinner in Fujairah.
The New Silk Road CEO of the Year Awards were developed to celebrate a new wave of economic integration between the Arabian Gulf region and the Far East, and to recognize the pioneering industry leaders who are at the forefront of what is being seen as a revival of the ancient Silk Road trade route, according to Sean Evers of Gulf Intelligence — a strategic communications and research firm.
The 2017 inaugural awards are the result of a lengthy and rigorous selection process. A diverse range of industry experts scored nominees on four attributes: impact, leadership and partnership, innovation and creative thinking, and long-term vision. A wider industry audience of more than 2,000 executives operating in the New Silk Road downstream energy sector then selected the winner from shortlisted candidates.
Award a reflection on ATC employees
In accepting the award, Al-Buainain pointed to the rapid growth and success of ATC, crediting the employees as the drivers of that success.
"It is indeed a great honor and privilege to join such esteemed colleagues and the distinguished industry leaders that are being recognized here today," said Al-Buainain. "But to me, this award is more a reflection of the talent and determination of all the employees and members of the Aramco Trading Company team, for it is through their hard work that I stand before this audience and celebrate the role that ATC plays in building the New Silk Road."
Since its establishment in January 2012, ATC has emerged as a leading and fast-growing global trading company. The company's steady growth includes the achieved annual traded volumes, products portfolio, geographical coverage, market share, and performance reliability, in addition to the commercial support extended to Saudi Aramco's downstream system, including international joint ventures.
Media contact information
All media enquiries are handled by Aramco's Media & Executive Communications Department, Dhahran, Saudi Arabia.
For media inquiries, please email us at media.inquiries@aramco.com