Saudi Aramco Participates as Knowledge Partner and Sponsor at ASIS Middle East 2017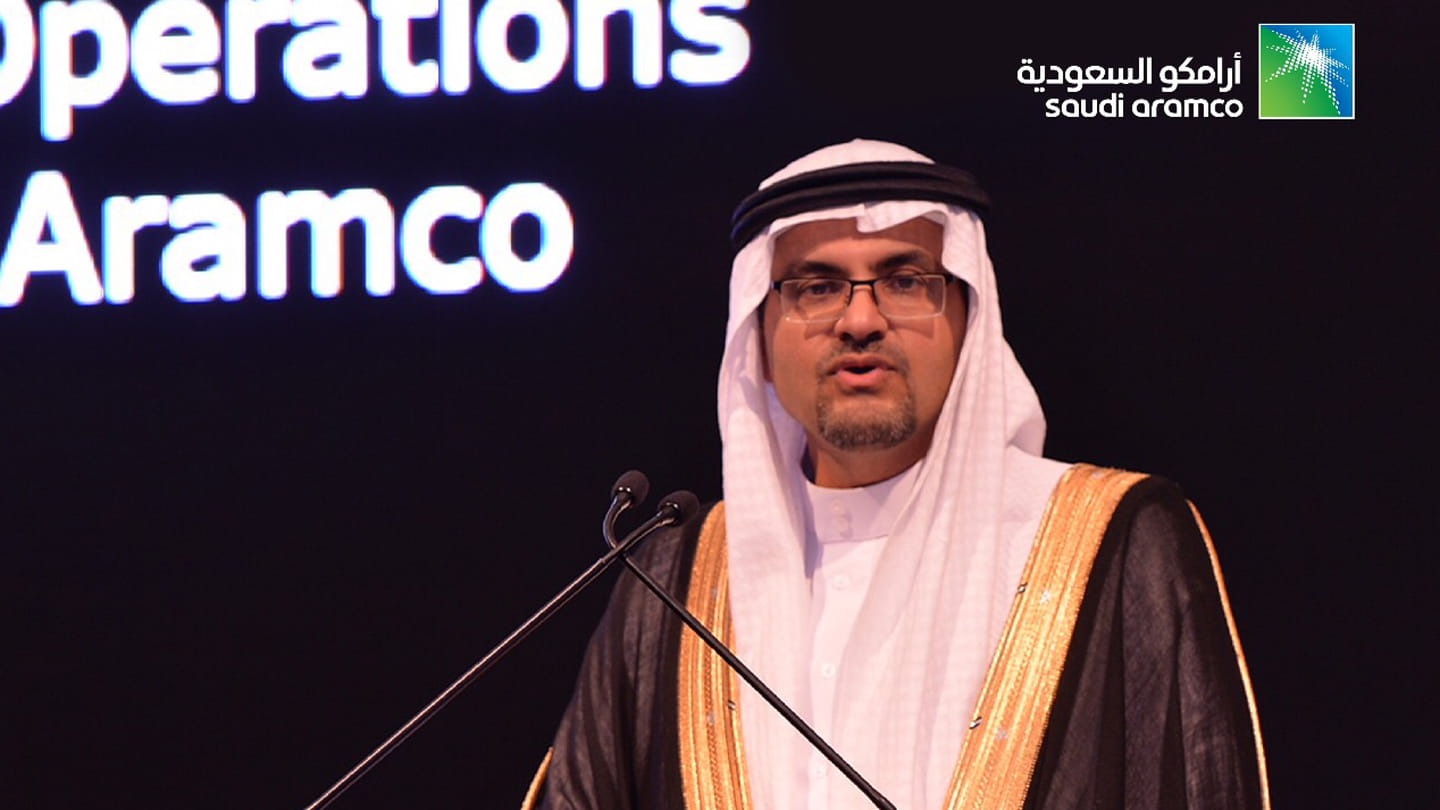 Saudi Aramco Senior VP of Operations & Business Services, Muhammad Al Saggaf, addressing the ASIS Middle East 2017 Conference on November 6, 2017.
Saudi Aramco participated as sponsor and "Knowledge Partner" in the ASIS Middle East 2017 event organized by the International Society for Industrial Security in the Middle East, at The Ritz Carlton Bahrain Hotel, from 5-7 November 2017.
The theme of the event was "Securing Economic Diversification," which addressed the trends of using security as an enabler to pursue economic development and diversification. Because of the interdependent relationship between risk management and ensuring the success of a business, the event focused on the challenges facing executives in the region as they make decisions concerning physical security, cybersecurity and management issues.
Saudi Aramco's Senior VP of Operations & Business Services, Muhammad Al Saggaf, was a keynote speaker in the opening session of the conference titled "Economic Diversification and the Changing Business Landscape in the GCC." Addressing the audience, Al Saggaf said economic diversification must be based on a robust, integrated, and holistic framework that integrates all the initiatives together to create a solid foundation. This is what we have done in the Kingdom of Saudi Arabia as our Saudi Vision 2030 represents a suitable platform for integrating multiple initiatives.
Al Saggaf added: "At Saudi Aramco, we have a pioneering initiative through our In Kingdom Total Value Add or "IKTVA" program, where we aim to increase our local content in goods, services, and labor to 70% by the year 2021. As a strategic and cornerstone initiative launched by Saudi Aramco two years ago, IKTVA seeks to establish an efficient and reliable world-class supply chain and services ecosystem in Saudi Arabia. IKTVA also achieves one of the important objectives highlighted byVision 2030, namely to increase the participation of small and medium size enterprises in the gross domestic product (GDP) of the Kingdom. Finally, it represents an important investment in the young talent of Saudi men and women as they represent a key element in IKTVA initiative.
ASIS Middle East 2017 provided a platform for companies and executives to attend sessions on multiple security-related topics such as IOT risks, maritime security, travel risk management, the potential risks of unmanned aerial vehicles, and the skillsets that will be required in the future for security professionals working in the energy industry.
Media contact information
All media enquiries are handled by Aramco's Media & Executive Communications Department, Dhahran, Saudi Arabia.
For media inquiries, please email us at media.inquiries@aramco.com