Jazan mega-project powers forward‭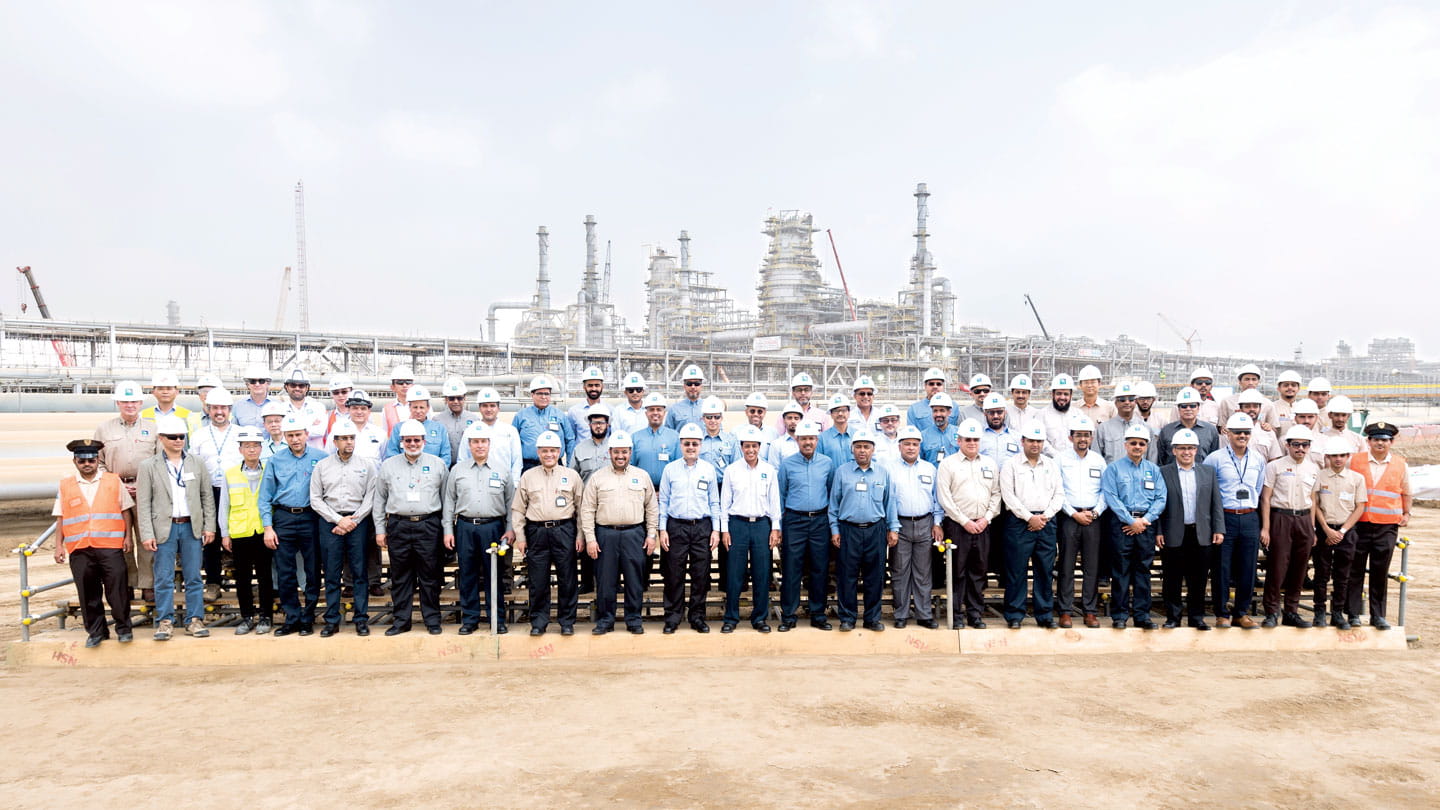 Amin Nasser and other members of Saudi Aramco management pose with members of the team working toward completion on the Jazan Economic City and Jazan Refinery projects.
Members of Saudi Aramco's management team, led by president and CEO Amin Nasser, visited Jazan last week to be updated on construction progress at the Jazan Economic City (JEC) and refinery and terminal projects.
The massive projects will transform the region and further boost Saudi Aramco's already proven track record in delivering mega-projects designed to fuel a diversified economy for the Kingdom's future and provide a solid platform for its Saudi Vision 2030 economic road map.
Nasser and other members of senior management toured the refinery complex, which is now about 70% complete.
Praise for hard work
Nasser addressed the Project Management Team (PMT), saying: "I would like to thank you all for your work. This project is very important for the region and we should be proud of the positive impact we are creating in terms of enabling an ecosystem.
"We need to bring business and investment here, light industry and medium-sized industry. You are creating an ecosystem, creating opportunities for investment and job opportunities. In five years' time, you will see a very different city. We need to execute the project safely and we are proud we are building this mega-project," he added.
Nasser said Saudi Aramco is now ahead of its peers in terms of safety performance, but he underlined the importance of a continued commitment to safety both on- and off-the-job.
He also suggested a drive to mobilize potential investors in China and to highlight what JEC has to offer. In 2015, the Jazan Economic Forum gathered together more than 500 Saudi and foreign dignitaries and business leaders to showcase investment opportunities at the JEC.
Media contact information
All media enquiries are handled by Aramco's Media & Executive Communications Department, Dhahran, Saudi Arabia.
For media inquiries, please email us at media.inquiries@aramco.com