Saudi Aramco signs landmark Joint Venture agreement with Lamprell, Bahri, and Hyundai heavy industries to establish a world-class maritime yard in Saudi Arabia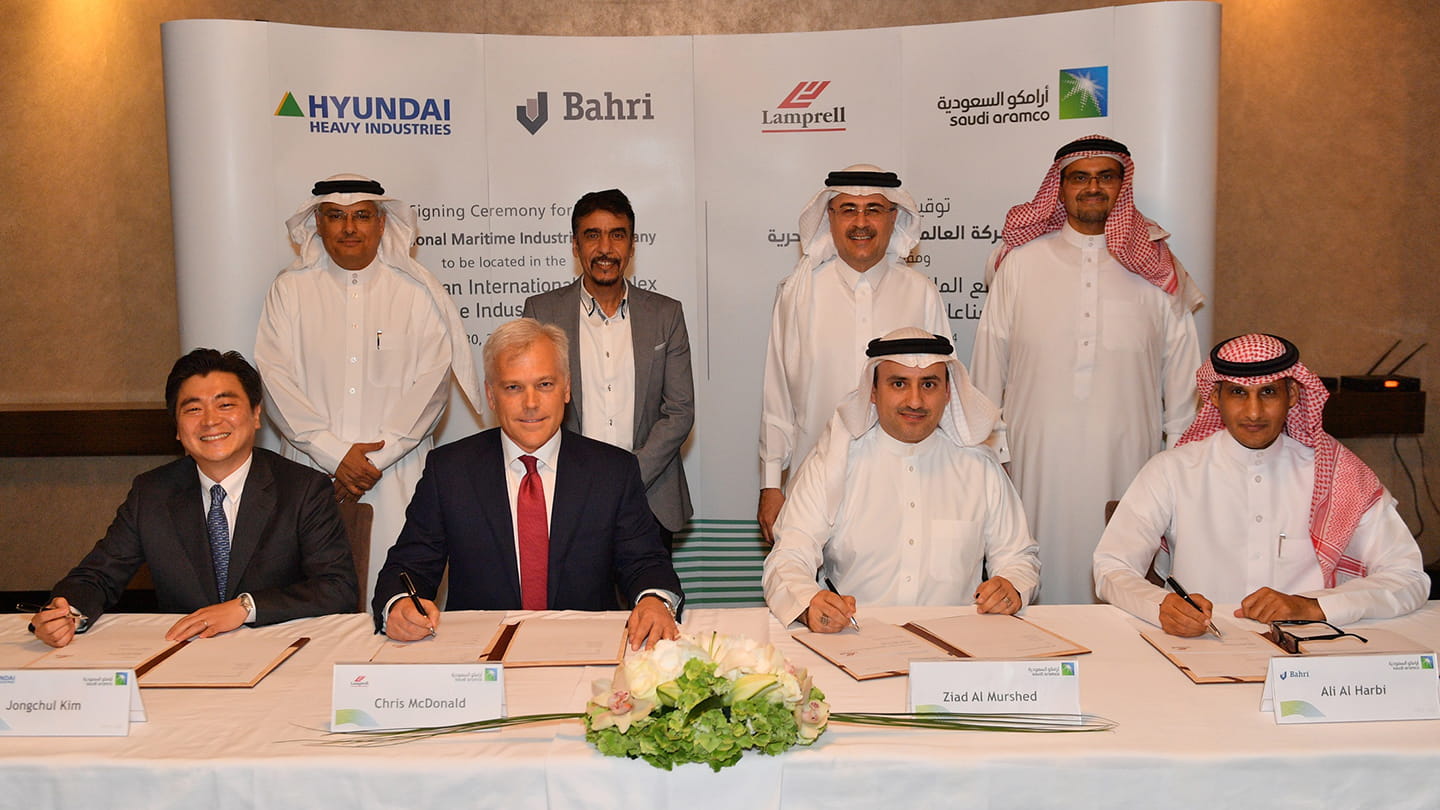 Signing in the front row from left to right: Jong Chul Kim (VP of New Business Development, Hyundai Heavy Industries), Christopher McDonald (CEO of Lamprell), Ziad Murshed (VP of New Business Development, Saudi Aramco), Ali Al Harbi (Acting CEO of Bahri).
Saudi Aramco signed a shareholder agreement with Lamprell plc ("Lamprell"), the National Shipping Company of Saudi Arabia ("Bahri"), and Hyundai Heavy Industries Co. Ltd ("HHI") to enter into a joint venture ("JV") partnership with respect to the establishment, development and operation of a world-class maritime yard, which is the anchor project within the King Salman International Complex for Maritime Industries and Services located in Ras Al-Khair, near the Jubail Industrial City on the Kingdom's east coast.
This strategic partnership among industry leading companies is positioned to capitalize on the rapidly-growing maritime requirements in the region by offering globally competitive, safe, high quality and on-time solutions to customers. The new JV localizes essential links of Saudi Aramco's supply chain related to offshore drilling and shipping activities, which will lead to optimized cost, reduced response times and improved agility for Saudi Aramco and its affiliates.
The integrated maritime yard will be the largest in the region in terms of production capacity and scale, providing an unprecedented mix of products and services in the region and enabling Saudi Aramco and its supply chain partners to meet their manufacturing, maintenance, repair and overhaul requirements for offshore oil and gas rigs, offshore support vessels, and commercial vessels, including Very Large Crude Carriers (VLCC). The new facility shall have the capacity to manufacture 4 offshore rigs, over 40 vessels including 3 VLCCs, and service over 260 maritime products annually. Major production operations are expected to commence in 2019 with the facility reaching its full production capacity by 2022. This initiative will also contribute towards localizing expertise related to the maritime industry and job creation in the Kingdom.

Media contact information
All media enquiries are handled by Aramco's Media & Executive Communications Department, Dhahran, Saudi Arabia.
For media inquiries, please email us at media.inquiries@aramco.com