Advancing engines and fuels at SAE International World Congress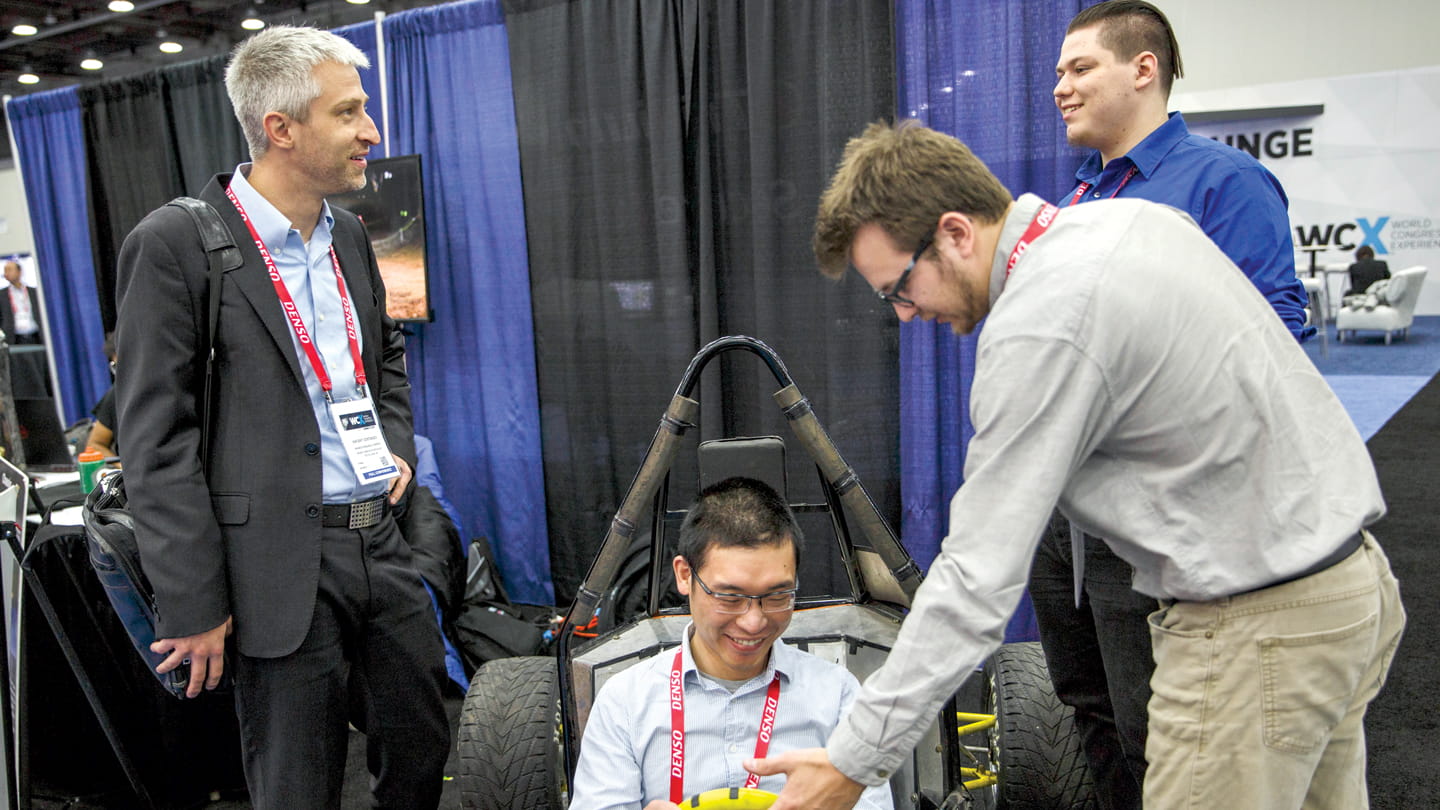 Vince Costanzo, a lab scientist at the Aramco Research Center-Detroit, visits with Michigan Technological University (MTU) students during Society of Automotive Engineers while research colleague Xin Yu (seated) checks out a vehicle on display. Aramco's Detroit center serves as a sponsor for MTU's Advanced Motorsports Enterprise. Competition vehicles are created by an interdisciplinary team of students whose goal is to develop a complete vehicle — from concept through prototyping and testing, and on to final build and delivery.
News
|
DETROIT, Michigan, USA
|
Staff members from the Aramco Research Center-Detroit and Dhahran recently participated in the Society of Automotive Engineers (SAE) International World Congress and Exhibition in Detroit. Their contributions to the technical sessions illustrated Aramco's advances with engine and fuels research and technology.
This was the fifth year for Aramco to join the automotive industry's leading technical conference. It is an interesting time in the automotive industry, and while electrification of vehicles represents a breakthrough in generating power, gasoline and gasoline-like fuels remain a significant power source for internal combustion engines.
Prototype truck debuted
Aramco debuted a Ford F-150 prototype truck projected to achieve 37 miles per gallon using gasoline compression ignition technology earlier this year in Detroit at the North American International Auto Show, and it was positively received by both industry and the consumer.
Aramco plays a unique role in offering solutions that can have an immediate impact on fuel efficiency and reducing the carbon footprint. The technical papers presented during SAE underscore Aramco's experience and commitment to this initiative.
The papers also demonstrate Aramco's collaboration and engagement with major original equipment manufacturers, National Laboratories, King Abdullah University of Science and Technology Clean Combustion Research Center, and other academia to bring forth innovative engine and fuel solutions.
The researchers from Detroit work in collaboration with researchers from other locations within the company's global network, including Paris, at the Aramco Fuel Research Center located at IFP Energies nouvelles and Dhahran.
This year, Aramco served as a sponsor for the High Efficiency IC Engine Symposium, held just prior to SAE. Aramco continues its top-tier "Creating the Future" sponsorship with the Michigan Technological University (MTU) Advanced Motorsports Enterprise featuring different types of competition vehicles.
Detroit researchers chaired and co-chaired sessions on such topics as "Advances in Particulate Filter Substrates," "Multidimensional Engine Modeling," and "Abnormal SI Combustion."
Media contact information
All media enquiries are handled by Aramco's Media & Executive Communications Department, Dhahran, Saudi Arabia.
For media inquiries, please email us at media.inquiries@aramco.com