Aramco Asia and China University of Petroleum ink deal to further strategic collaboration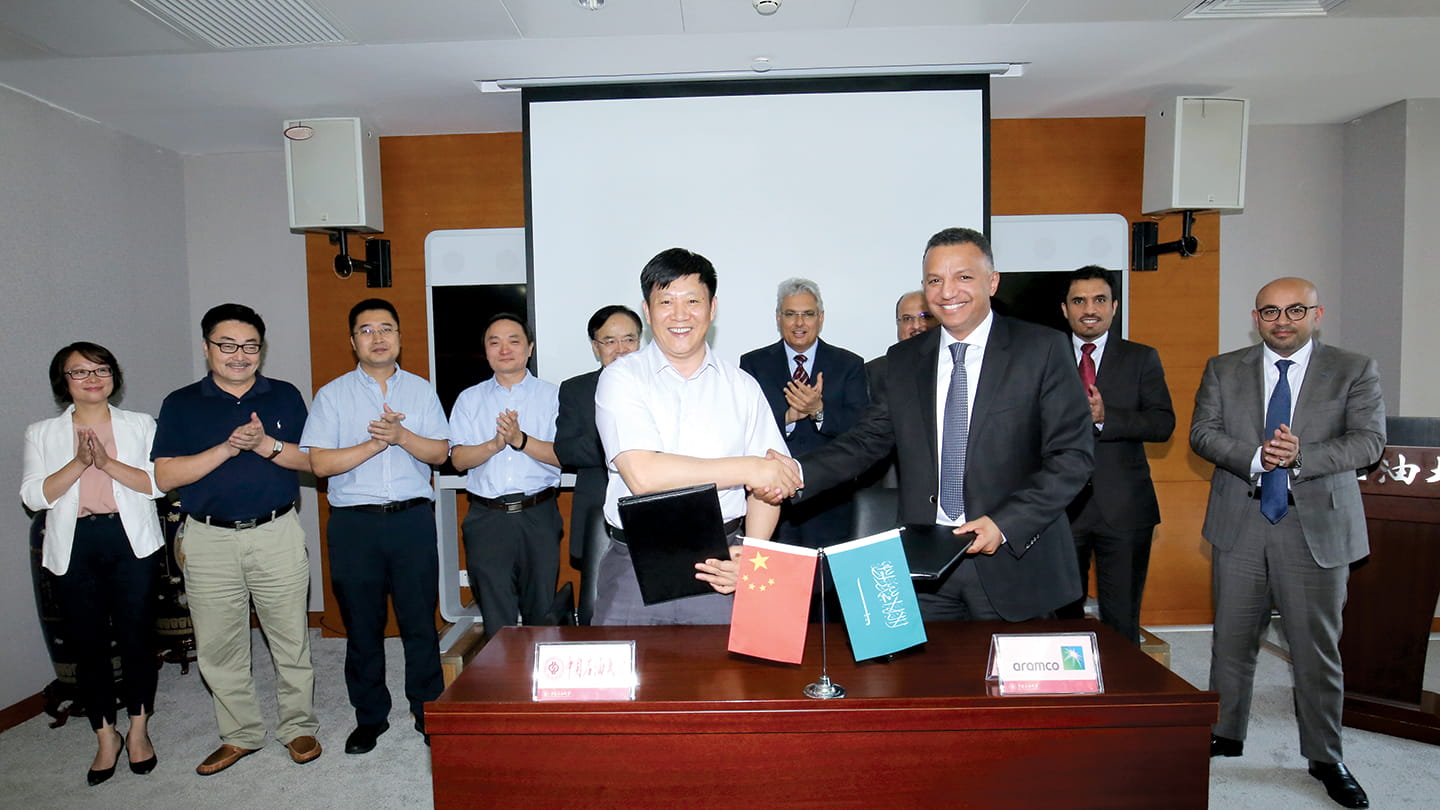 Witnessed by Saudi Aramco senior vice president of Upstream Mohammed Y. Al Qahtani, Aramco Asia president Anwar Al Hejazi signed a Memorandum of Understanding (MoU) with professor Li Gensheng, vice president of China University of Petroleum in Beijing, China.
Saudi Aramco recently signed a Memorandum of Understanding (MoU) with China University of Petroleum in Beijing (CUPB) to enhance their partnership and closer collaboration. The MoU is intended to explore added value opportunities for joint research in the field of research and technology, education, social outreach, and community service betterment for mutual benefit.
The MoU marks the elevation of the Aramco CUPB cooperation from an informal partnership to a strategic level: "The signing of the MoU will open new areas of collaboration. We are glad to build stronger ties with China's foremost university specializing in the petroleum studies and I appreciate the contribution the university has made in the areas of research and technology. We have invested heavily in upstream R&D over the past years to make our operations sustainable and reliable," Al Qahtani said in a roundtable briefing with faculties from the university.
"The reason that we came to Beijing for the establishment of a R&D center is that we could tap into China's huge resources of faculty, students and researchers. We have rich experience in working with top-level universities and research institutes globally, and I hope to make this one among our many successes," Al Qahtani added.
Academic framework, novel technologies
Through the MoU, the two sides will establish a collaboration framework that would facilitate academic exchanges, bring in novel technologies to handle upstream challenges, and encourage community engagement to maximize the benefit in a professional manner.
"The agreement signed today solidifies what we have achieved before and will open a new chapter of collaboration to carry out new researches and studies," said CUPB president Zhang Laibin. "I would comfortably say that we are among the top universities in China focusing on a wide range of all oil and gas related studies. One of our global strategy's three top priorities is to contribute to the advancement of oil and gas industry and reduce our carbon footprint through collaboration with Saudi Aramco."
Educational development underpins the success of any undertaking, whether it be building a profitable company, an advanced industrial sector, or a strong and prosperous society. Aramco Asia is pleased to cooperate with CUPB to leverage its educational resources not only to benefit the company, but to also help China and Saudi Arabia promote sustainable development of each other's oil sector.