Aramco professional takes the helm of SPE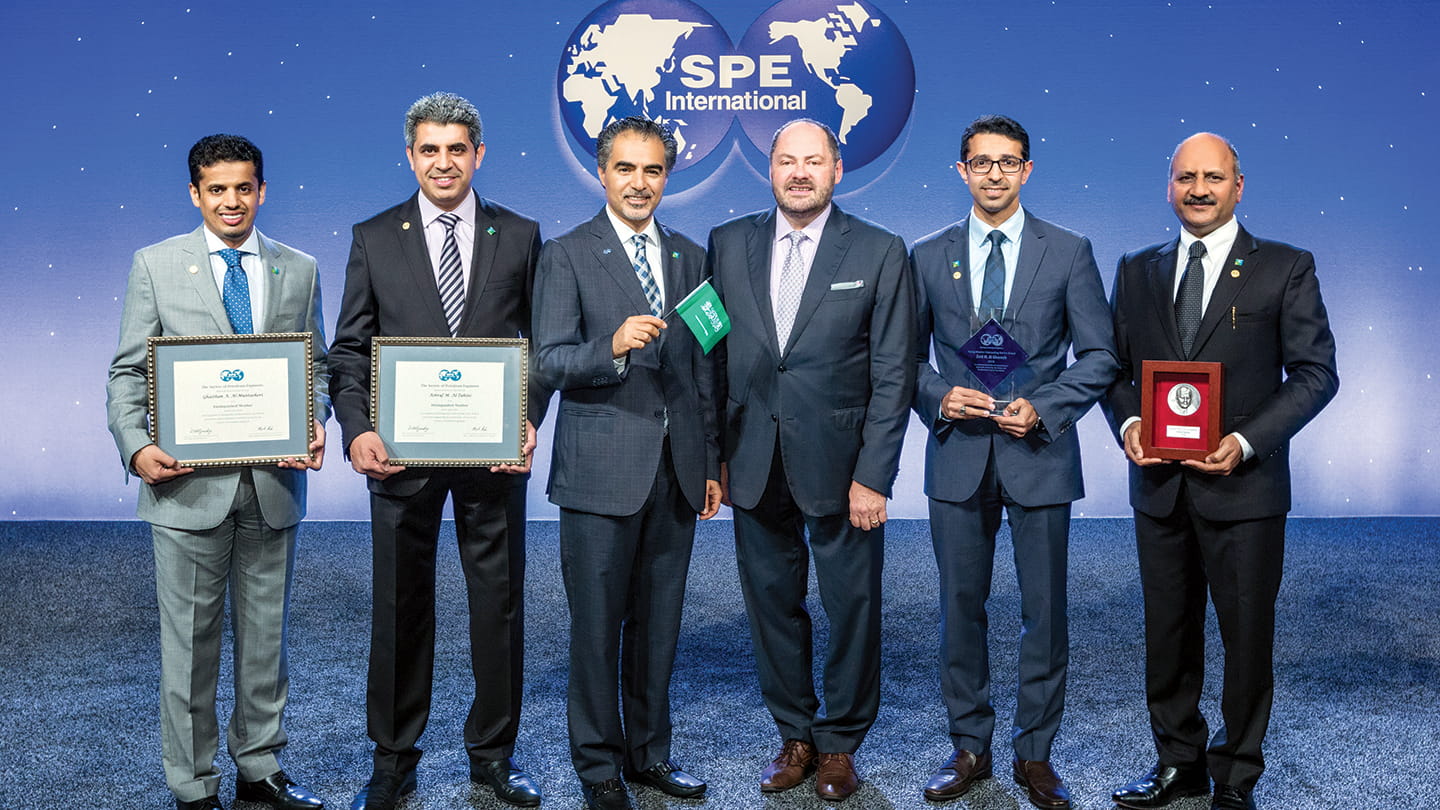 Sami A. Alnuaim, 2019 Society of Petroleum Engineers (SPE) president (with Saudi flag) and outgoing SPE president Darcy Spady pose with Aramco researchers who received SPE awards. From left are Ghaithan A. Al-Muntasheri, Ashraf M. Al-Tahini, Alnuaim, Spady, Zeid M. Ghareeb and Anuj Gupta.
News
|
DALLAS, Texas, U.S.
|
Saudi Aramco made a strong showing at the Society of Petroleum Engineers (SPE) Annual Technical Conference and Exhibition in Dallas, as Sami A. Alnuaim was named president of the international organization for 2019, four Aramco researchers received distinguished awards, and company staff contributed to about 20 scientific papers and panels.
Alnuaim, who currently serves as manager of the Petroleum Engineering Application Services Department at Saudi Aramco, delivered a keynote address in which he spoke about the importance to the energy industry of reaching new talented students, harnessing technological change, and speaking proudly about the industry's current outstanding global sustainability performance.
Alnuaim's election as president of the SPE marks only the second time a Saudi Aramco petroleum engineer has been named to lead the reputable organization since it was officially formed in 1957 from predecessor organizations, including the American Institute of Mining & Metallurgical and Petroleum, which dates back to 1871. Alnuaim said he was honored to be handed the ceremonial SPE gavel just after the celebration of the 88th Saudi National Day. The international board of directors took a few minutes at the beginning of its official meeting on September 23 to recognize the national event and sent greetings wishing prosperity to the Kingdom, Alnuaim said.
"It is customary for each SPE president to choose a theme to focus on during their term, and I have chosen one that is important to all of us — energy sustainability," he said at the Kay Bailey Hutchison Convention Center during the organization's flagship annual event held September 24–26 and attended by more than 8,000 attendees.
"I want to show the world that we are a major factor in the solution to both environmental and social development challenges facing our industry today," he said. Doing so will help correct several misconceptions about our industry, and thereby attract new talented engineers to the oil and gas sector, he added.
The industry has made continuous progress reducing its carbon footprint and more innovations are on the horizon as the oil and gas industry works to continue addressing the world's energy needs, Alnuaim said. He noted that the entry in September of three new major U.S. companies into the Oil and Gas Climate Initiative, of which Saudi Aramco is a founding member, is a sign of progress.
Alnuaim said that he plans to build bridges between geoscience schools around the world to share top academic programs and curricula and strengthen their programs by reflecting recent advances in technology and engagement with communities. This, he said, will help produce "citizen engineers" who innovate, advance the industry, and most importantly, care about the community.
Aramco has been a longtime supporter of SPE, which has about 150,000 members worldwide, and the conference allowed the company to showcase its leadership position in the upstream world, while also telling stakeholders about the diversification of its business portfolio — especially in regard to research and development globally and in the U.S.