Crude oil to chemicals project moves forward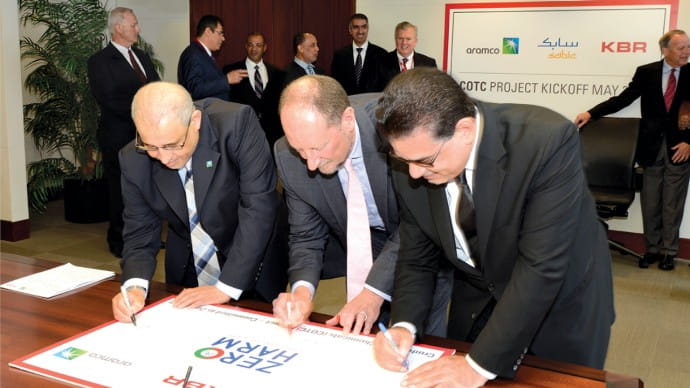 The KBR contract kickoff meeting included a ceremonial signing of a safety pledge by the owner stakeholders and project team members. Pictured signing the pledge are from Saudi Aramco Fahad E. Al-Helal, vice president; from KBR Stuart Bradie, president and CEO, and from Sabic Anas Kentab executive vice president, COTC project.
News
|
HOUSTON, Texas, U.S.
|
With startup in 2025, the fully integrated Crude Oil to Chemicals (COTC) complex is on track to become the largest of its kind in the world. It will become a major contributor to Saudi Vision 2030, enabling a new era of industrial diversification, job creation, and technology development in the Kingdom.
The complex is expected to process 400,000 barrels per day of Arabian Light crude oil, which will produce approximately nine million tons of chemicals and nine million tons of fuels per year. Also notable, it is projected to achieve a direct conversion rate from crude oil to chemicals of up to 50%, which is unprecedented globally.

Saudi Aramco and the Saudi Basic Industries Corp. (SABIC) — who are partnering on the giga-project — awarded a contract to KBR, a global leader in project management and engineering services, to develop a part of the COTC complex.

KBR will provide the front-end engineering and design for the downstream petrochemicals and chemicals component within the COTC master complex. The scope includes engineering studies, infrastructure planning and development for both of the polymer and glycol units, along with the aromatics complex, the COTC master plot plan, and offsite utilities.

The KBR project management contract is the second that Saudi Aramco and SABIC have awarded for the COTC project. Wood, also a leading project management and engineering firm, was granted the first contract to provide engineering and design for the refining components, mixed feed steam cracker, on-site utilities, interface and site integration, and selection of technology providers.

"We are counting on the long-standing relationship between Saudi Aramco and SABIC on one side, and KBR on the other, to develop this preliminary engineering package for the world-class complex." says Fahad E. Al-Helal, vice president of Project Management.

Commitment to safety
A recently held kickoff meeting included a ceremonial signing of a safety pledge by senior leadership and project team members from all three companies. Dubbed "Zero Harm," the KBR safety program engages project sponsors and team members at all levels to commit to a 24/7 safety mindset — one that never waivers and can never be compromised.

The KBR leadership members expressed their appreciation to Saudi Aramco and SABIC for the partnership, and further acknowledged the pivotal role KBR will have in the COTC project.

KBR's president and CEO Stuart Bradie: "We are excited about the opportunity to continue our proud legacy in the Kingdom of Saudi Arabia, delivering giga-projects such as COTC."

KBR was also a major partner in development of the Sadara Chemical Project. Ibrahim noted, "Through this contract, we will continue our commitment to meeting the objectives of both the in-Kingdom local content and Vision 2030 programs."

Saudi Aramco's U.S. affiliate company Aramco Services Company (ASC) is managing the KBR contract on behalf of Saudi Aramco. Basil A. Abul-Hamayel, ASC president and CEO, said: "We are excited about the COTC project, and its enormous potential to make such a positive impact. The ASC team will continue to give its full support to the project management team to help ensure success."