Saudi Aramco highlights its contributions to the realization of Saudi Vision 2030 at Future Investment Initiative, signs 15 MOUs with business partners worth US$ 34 billion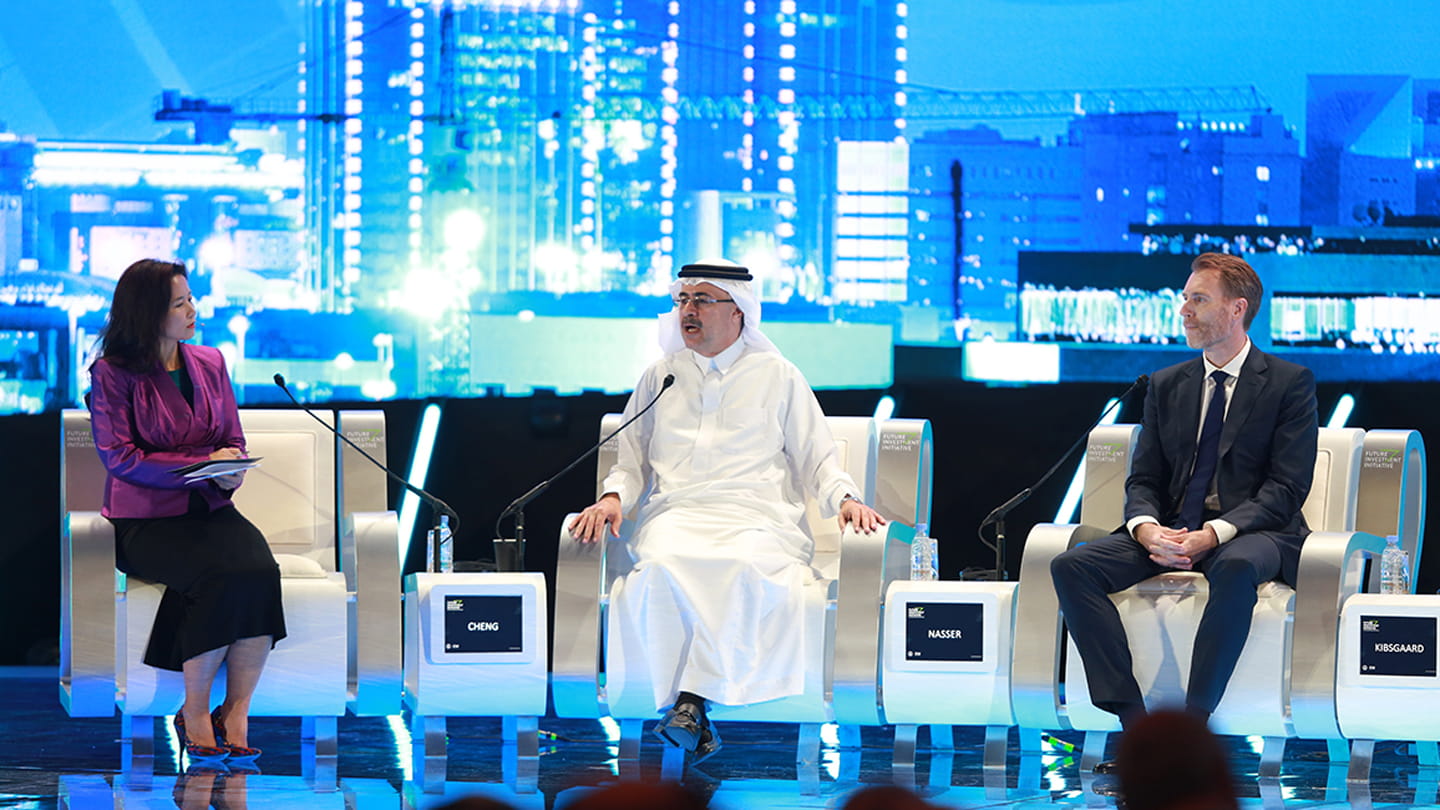 President and CEO Amin Nasser: "Saudi Aramco is proud to be a strategic partner in the Future Investment Initiative. We seek to be an active participant in the design of the economic future and standing of the Kingdom, not only domestically but also internationally."
Saudi Aramco participated as a strategic sponsor in the second annual Future Investment Initiative (FII) 2018, a key gathering of senior global and domestic business and policy leaders held in Riyadh under the patronage of the Custodian of the Two Holy Mosques King Salman ibn 'Abd Al-'Aziz Al Sa'ud.
The Future Investment Initiative was an occasion for domestic and global influencers to engage in discussions on a wide range of topics related to the Kingdom's economy, and the opportunities for business collaboration between Saudi and international business entities from several economic sectors.
Commenting on the company's participation at FII, President and CEO Amin Nasser said: "Saudi Aramco is proud to be a strategic partner in the Future Investment Initiative. We seek to be an active participant in the design of the economic future and standing of the Kingdom, not only domestically but also internationally. The Company is a leading supporter of Saudi Vision 2030 by helping to diversify the local economy, adding more value domestically, assisting in Kingdom industrialization, promoting job creation, helping in national capacity building, and promoting entrepreneurship."
"The Future Investment Initiative is an ideal and beneficial platform to attract international investments and to capitalize on new opportunities that are fast emerging with Saudi Vision 2030. Saudi Aramco is playing an integral role, alongside many national entities and stakeholders, in enabling new industrial and business partnerships in the Kingdom thanks to its position as a global energy powerhouse, and as reflected in our major investments and partnerships globally, not only in core oil and gas and downstream, but also in pursuing advanced technologies and energy-related value adding activities," Nasser added.
The Saudi Aramco President and CEO said the pace of reforms in the Kingdom has picked up tremendously and is multifaceted. The reforms have led to significant progress and positive change in a short period of time. The future of investment in the Kingdom is promising.
According to Tadawul, the Saudi economy has greatly improved its economic and business rankings. For example the Rating agency Moody's has maintained Saudi Arabia's A1 positive rating with a stable outlook. It also increased its economic growth estimate for 2019 from 2.5% to 2.7%, which reflects a healthy economy on a pattern of steady growth.
In addition to that, according to the World Economic Forum 2018 Global Competitiveness Report, the Saudi economy saw major improvements in its overall position and the ease of doing business. The report ranked the Kingdom 39th on its list of 140 economies, achieving its best progress since 2012. The Saudi financial market governance index has moved up to 5th position in 2018 from 77th in 2017, showing the best performance among Arab countries, and the second best among the G20.
At the FII, Saudi Aramco signed 15 Memoranda of Understanding (MoUs) and strategic and commercial collaborations valued at US$34billion with 15 international partner companies and entities from eight countries in 3 continents. These collaborations reflect the range and ambition of Saudi Aramco's interests, securing its status as the world's preeminent energy and chemicals company.
CEO Amin Nasser said: "These agreements support investments in strategic sectors which will further expand the company's business portfolio while they contribute to the realization of Saudi Vision 2030. The MOUs will contribute to such areas as refining, chemicals, conversion industries, localization and related new investment and training opportunities, and job creation. They will also help enable a vibrant energy services sector through the development of the King Salman Energy City, an anchor project which will increase the efficiency and reliability of the supply chain capabilities of the company and that of the Kingdom's industrial base."
Saudi Aramco Chief Technology Officer Ahmad O. Al-Khowaiter participated in a panel discussion on "Energy". Highlighting the company's technology research and development efforts, Al-Khowaiter said that "The main focus of Saudi Aramco's investment in R&D is to ensure that we are providing reliable access to affordable energy in a responsible way" adding that "technology has been and will continue to be absolutely critical to the company's long term strategy."
Al-Khowaiter said that Saudi Aramco is on track to becoming a global R&D powerhouse, creating groundbreaking energy and chemical technologies. "We are building leading technological capabilities. Last year, Saudi Aramco was granted 230 patents, which is four times as many as we were granted in 2013. We have doubled the number of scientists in our labs to 1,300 and we have intensified our R&D centers by opening nine new research centers around the globe."
Saudi Aramco technology and R&D innovations were on display at the FII Marketplace where visitors were able to learn from the company's scientists and engineers about the latest technological innovations such as the advanced internal combustion engine efficiency program, the carbon capture utilization and storage initiatives, the gas leak detection and repair program, and the direct conversion of crude oil to chemicals program.