Saudi Aramco further enhances investment opportunities for the Kingdom's economic development in Al-Hasa Investment Forum 2019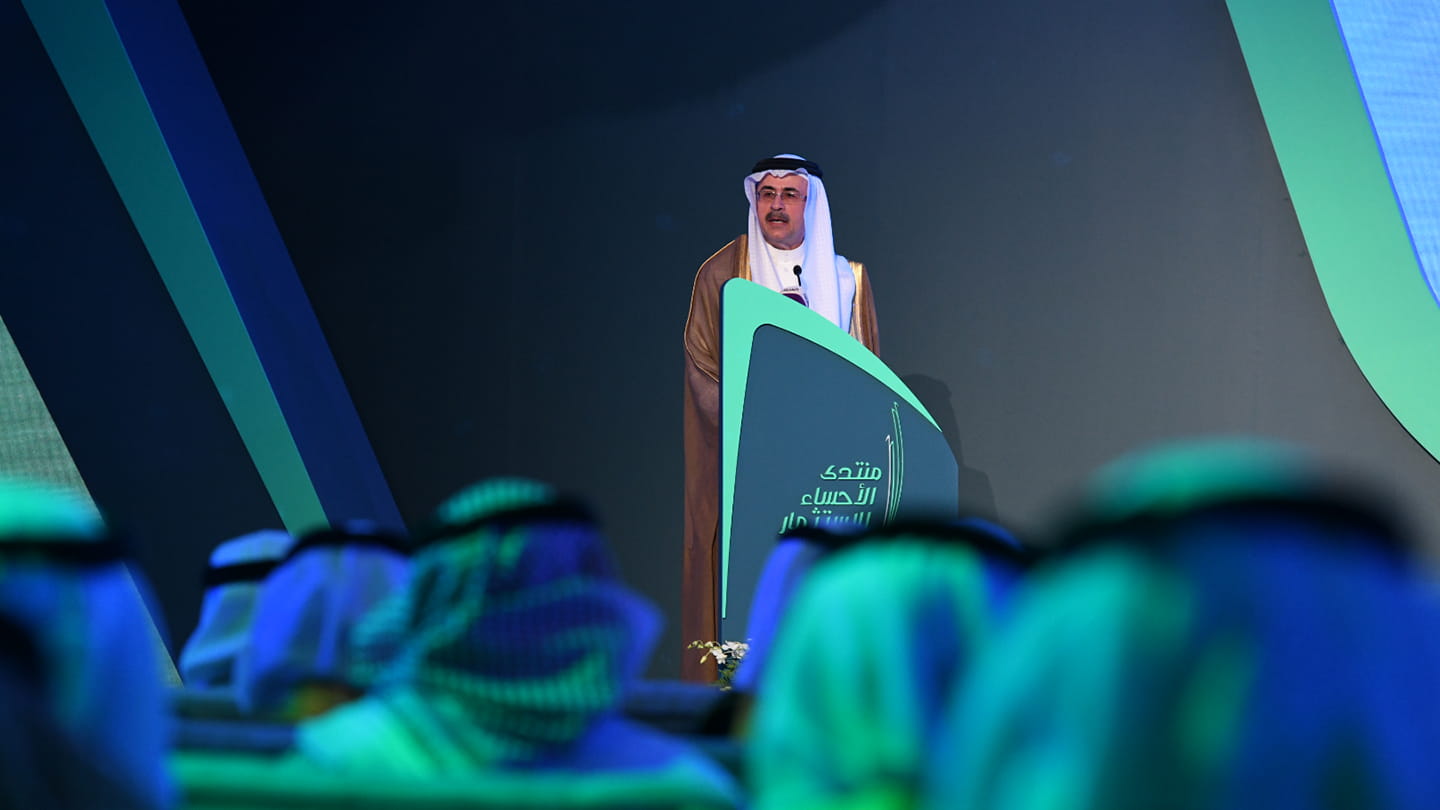 Saudi Aramco's participation paves the way for domestic and international investors to enhance national economy diversification programs
Saudi Aramco President and CEO, Amin H. Nasser highlights Saudi Aramco's sustainable programs for the enhancement of the Kingdom's economic development and diversification, and noted its pivotal role in enhancing domestic energy industries and their supporting services.
Through its participation in the two-day Al-Hasa Investment Forum organized by Al-Hasa Chamber of Commerce and Industry, Saudi Aramco aims to pave the way for increased domestic and international investment, promote the national economic diversification programs and create more job opportunities in alignment with Saudi Vision 2030.
Al-Hasa Investment Forum kicked off today under the patronage of HRH Prince Saud bin Naif bin Abdulaziz Al Saud, Amir of Eastern Province; with the attendance of HH Prince Badr bin Muhammad bin Jalawi Al Saud, Governor of Al-Hasa and Head of the Higher Committee organizing the forum; H.E. the Minister of Energy and Mineral Resources, Khalid Al-Falih; and Amin H. Nasser, Saudi Aramco President and CEO.
Mr. Al-Nasser said that the growth prospects of Al-Hasa within Saudi Vision 2030 are promising. Placing Al-Hasa on the UNESCO list of World Heritage and its selection as the Capital of Arab Tourism 2019 are testimony that these achievements generate positive movement on several levels and enhance the attractiveness of Al-Hasa.
In the field of localization of industries and services, Nasser said that the company has recently commenced the establishment of King Salman Energy Park (SPARK), located between Al-Hasa and Dammam. This mega project and pioneering park will be an ideal environment for attracting local and global investments and for creating more jobs for Saudi people.
Nasser mentioned that Al-Hasa has a wealth of resources of unconventional gas that includes a high percentage of liquids, and that Saudi Aramco is currently developing these resources.
"As part of Saudi Aramco's investment plan, we will start a new phase of the Jafura gas plant construction next year. This is a huge plant that will produce sales gas, ethane, condensate and natural gas liquids. The plant is part of Saudi Aramco's plan to produce 3 billion standard cubic feet of unconventional gas over the next decade," he said.
Nasser also announced Saudi Aramco's plans to establish a large and modern women driving school in Al-Mubarraz. The center is expected to train several thousand women candidate drivers annually. It will be managed by qualified Saudi women, and it will train both Saudi Aramco female employees and Saudi women in general.
Saudi Aramco, through its exhibition stand, highlighted investment opportunities in energy related services. A special section with relevant guidelines for investors wishing to invest in Saudi Aramco operations was provided. The section promoted the goals of the In-Kingdom Total Value Add Program (IKTVA), which enhances localization, reduce costing, build a world-class supply chain and strengthen the Company's potential to fulfil its commitments to its customers around the world.
Al-Hasa Investment Forum is a platform for enhancing investment in Al-Hasa through highlighting investment opportunities in the public and private sectors as well as shedding light on its key components and comparative advantages. Participants will discuss investment opportunities in energy industry; conversion industries; healthcare; housing and real estate development; education and training; and the overall investment climate in Al-Hasa.
Media contact information
All media enquiries are handled by Aramco's Media & Executive Communications Department, Dhahran, Saudi Arabia.
For media inquiries, please email us at media.inquiries@aramco.com