Aramco commences operations at Arabian Rig Manufacturing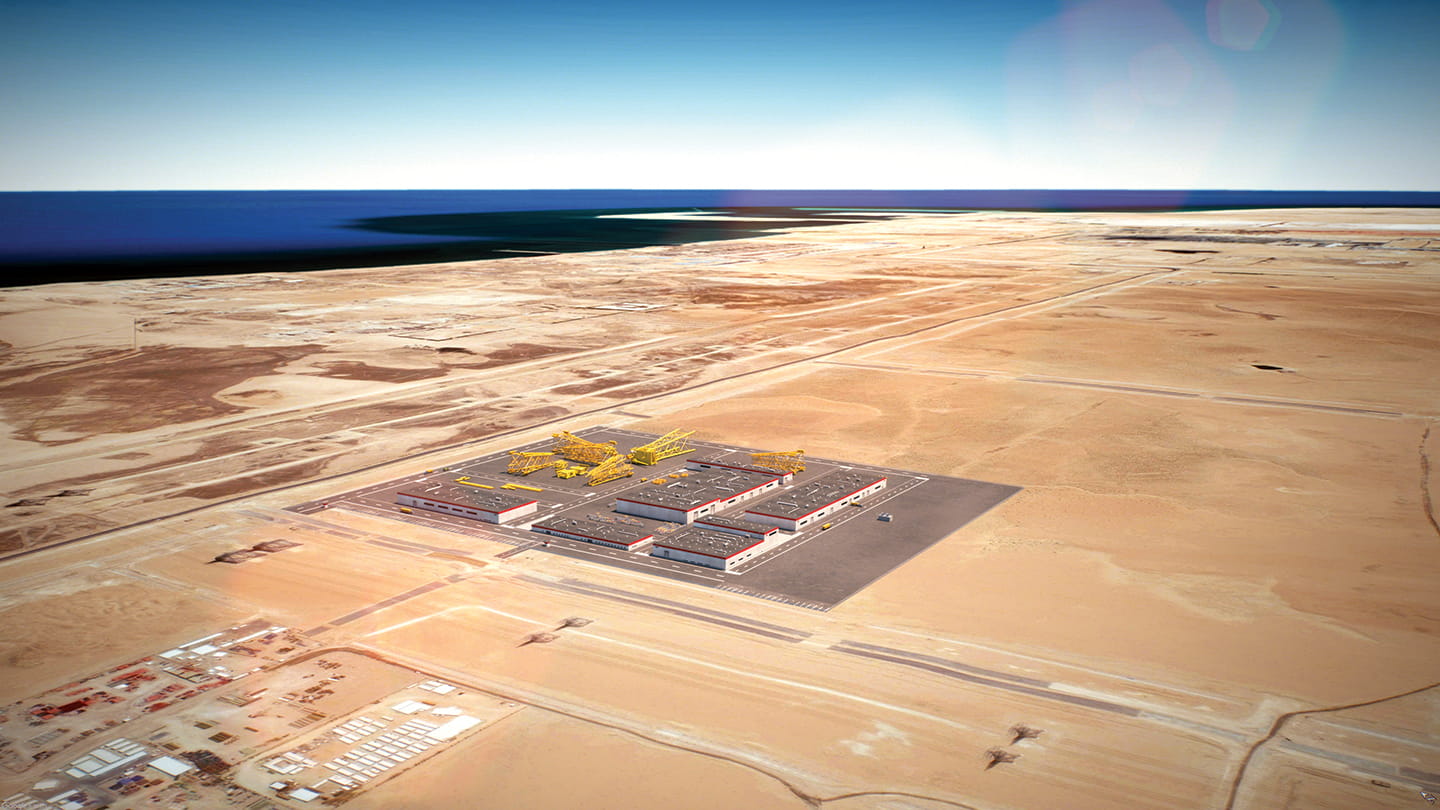 This artist rendition shows what the facility — which will span 500,000 square meters — will look like.
Saudi Aramco and National Oilwell Varco Incorporated (NOV) recently held the first Arabian Rig Manufacturing (ARM) Board of Managers meeting. ARM is a newly formed company, a joint venture (JV) between NOV (owning 70% of the JV's shares) and Saudi Aramco. Highlights of the meeting included the appointment of senior officials and the approval of the company's branding strategy.
The JV partnership will establish a world-class onshore rig and equipment manufacturing and aftermarket facility in Ras al-Khair, 80 kilometers north of Jubail. The modern, integrated facility will have the capacity to produce 10 rigs per year to serve the Middle East and North Africa region. Spanning over 500,000 square meters, ARM will be the single largest state-of-the-art rig, drilling equipment, and aftermarket facility to date.
The complex will complement engineering, training, service, and repair capabilities, with additional cross-functional efficiency and design flexibility to address market requirements and technological advancements.
The fully integrated manufacturing and services hub includes a two-floor office block, warehouse, raw material laydown yard, fabrication shop, machine and assembly shop, total paint and blast, rig-up yard, repair shop, and a future expansion area.
With a commitment to Saudization, it is estimated that the facility will create local employment for 1,100 people in multiple disciplines and across various levels of expertise. Additionally, it will contain a world-class training center installed with the latest equipment and simulators to provide the required training.
ARM will be supported by a commitment from the recently announced Saudi Aramco Nabors Drilling Company to buy drilling rigs from the JV.
Construction work will be completed in two years. Commissioning of the facility is expected by 2020, with the first rig to be delivered by 2021. By 2025, it's expected ARM will have manufactured 55 land rigs, and contributed significantly to Saudization and the creation of local content.
---
NOV is a multinational corporation based in Houston, Texas, in the U.S. As a company that conducts operations in more than 1,200 locations across six continents, NOV is a leading provider of equipment and components used in oil and gas drilling and production operations, oil field services, and supply chain integration services to the upstream oil and gas industry.
NOV has already been operating in Saudi Arabia for more than 40 years with significant investments in local infrastructure and in local employees.
Media contact information
All media enquiries are handled by Aramco's Media & Executive Communications Department, Dhahran, Saudi Arabia.
For media inquiries, please email us at media.inquiries@aramco.com