Geophysicists look to artificial intelligence in digital transformation era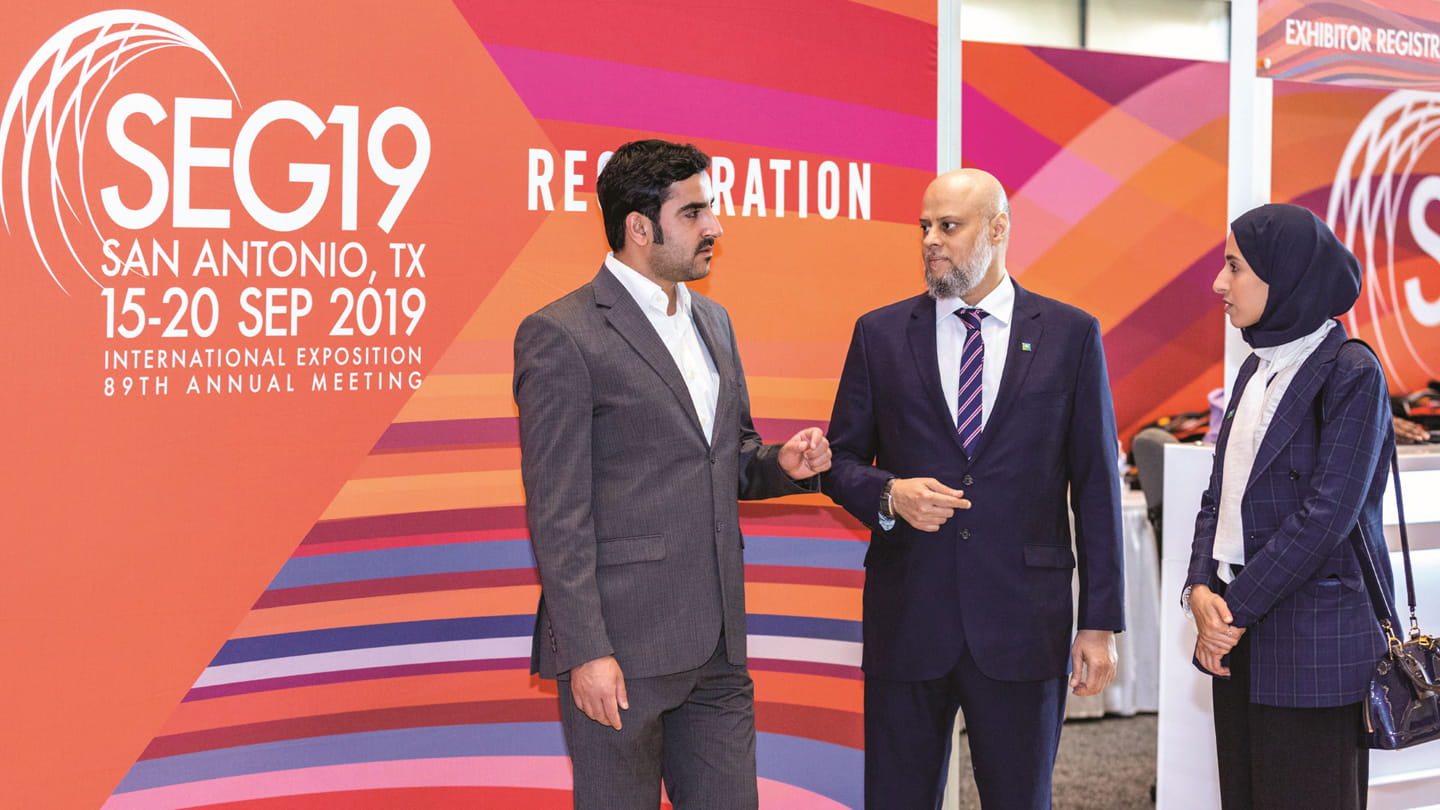 Preparing for the conference are (left to right) Abdulrahman Alqarni from Data Management, Sulaiman Alotmy, who is with the Southern Area Reservoir Characterization Department, and Najoud Alotaibi, from the Geophysical Imaging Department.
News
|
SAN ANTONIO, Texas, U.S.
|
The future of geophysics and how the world's surface and subsurface is viewed increasingly depends on the speed of technology to gather, process, and interpret data to make energy exploration business decisions.
More than 7,000 geoscientists gathered at the Society of Exploration Geophysicists' (SEG) International Exposition and 89th annual meeting in San Antonio in mid-September for an overview of the latest technological innovations in geophysics, highlighting the application of artificial intelligence through machine learning and data analytics.
Other sessions were devoted to novel acquisition methodologies such as distributed acoustic sensing and advances in passive and electromagnetic methods used in gathering seismic data.
The conference, featuring 90 sessions and 20 post-convention workshops, struck a balance between land and marine seismic topics, addressing both conventional and unconventional, as well as shale reservoir characterization challenges.
Keynote speaker Walter Guidroz, coordinator of the Energy Resources Program with the U.S. Geological Survey, noted how play assessments have changed given the advent of unconventionals. The federal science agency maintains a multidisciplinary staff with an expanded scope of geophysical contributions to renewables, including geothermal, hydro, solar, and wind.
Tackling Big Data challenges in Exploration
"Most challenging now is how we make sense of the huge amounts of data we collect, how we write meaningful algorithms to simulate the complex factors in predicting reservoir properties," said Saleh A. Al Maghlouth, manager of the Geophysical Imaging Department in Exploration with Saudi Aramco. While data becomes available faster than ever before, its usage still relies on understanding and interpretation, he added.
With significant industry contributions to land seismic acquisition and processing from our Advanced Research Center (EXPEC ARC) Geology and Geophysics Technology teams and researchers throughout the company's global R&D network, this year's SEG accepted more than 20 Aramco technical papers and posters as well as a post-conference workshop "Deep Learning-based 3-D EM Inversion for Reservoir Monitoring."
Along with a titanium level sponsorship, Aramco sponsored SEG's Evolve — a program designed to transition recent graduates through learning and collaboration with a real-world data exercise.
On the exhibition floor, visitors were treated to in-booth presentations and a look at science, technology, engineering, and math (STEM) community involvement with a video featuring the Aramco sponsored Geology Camp — a 17-day field experience for science teachers conducted by Texas A&M University.
Recruiting staff were on-site for potential career candidates in addition to Houston-based Aramco personnel from Upstream and Public Affairs.