Celebrating OTC's 50th anniversary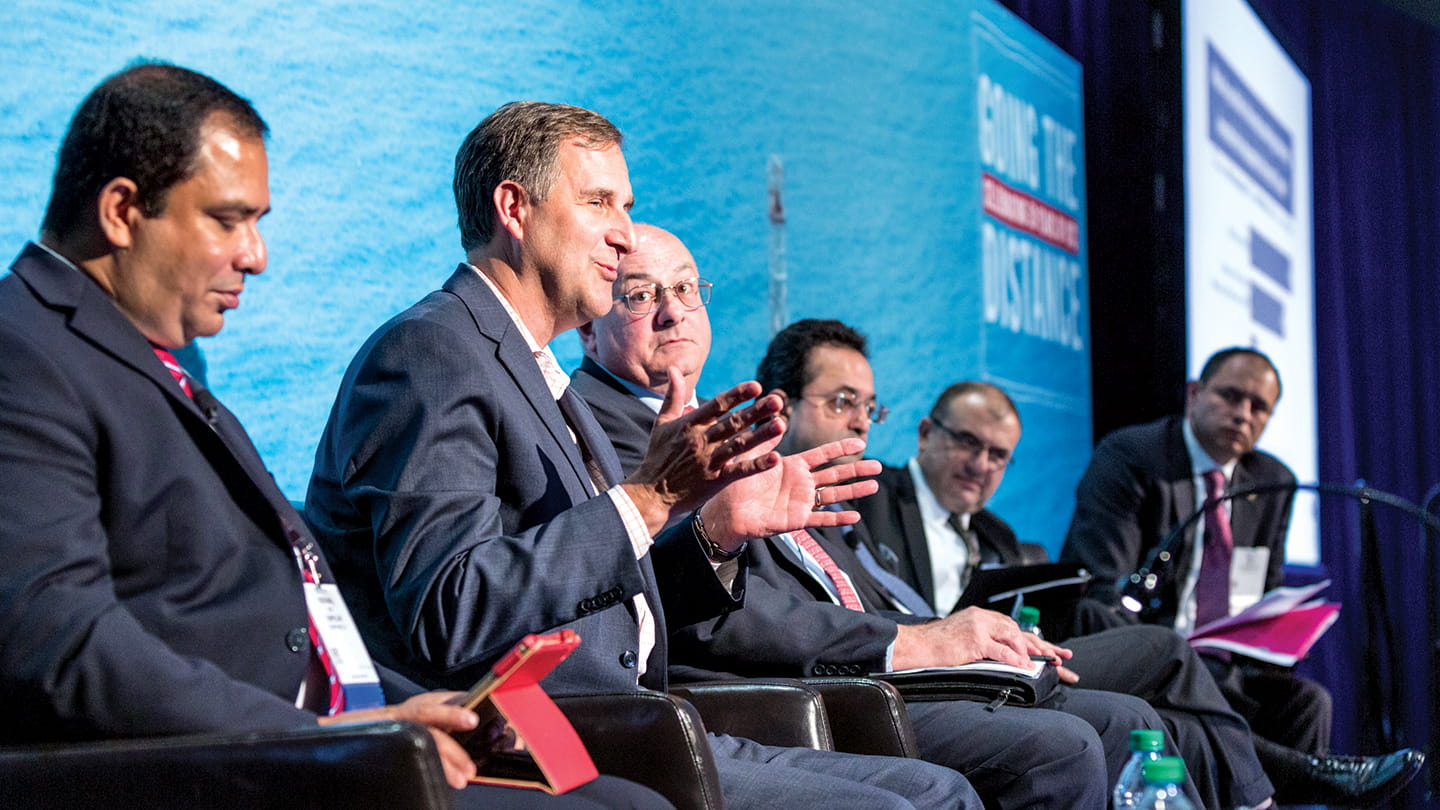 Jim Sledzik participates in the panel discussion "Venture Capital Investment Driving Innovation in Offshore Deepwater," during which he emphasized the strategic value and relevance to a company's operations when investing.

News
|
HOUSTON, Texas, U.S.
|
Aramco's participation in this year's Offshore Technology Conference (OTC) fit the theme of "Going The Distance" as the offshore energy sector prepares for the next five decades of development.
Return to the premier oil and gas show underscored Aramco's long-term investments, partnerships, and technology advances that have enabled it to continue in its role as a world leading energy supplier. The conference is known for its strong technical program. Aramco presented papers in two sessions — Erosion and Corrosion Prediction, and Monitoring and Mitigation and Smart Materials.
Fighting the scourge of corrosion
Corrosion in offshore well completions can lead to serious well integrity problems and costly workover operations. Representatives from Saudi Aramco's Northern Area Oil Operations (NAOO) outlined the use of a nonmetallic glass reinforced epoxy to protect completion equipment against a range of corrosive elements in the paper "Effective Corrosion Mitigation Exploiting Glass Reinforced Epoxy Lined Tubulars in Offshore Producing and Injection Wells."
Smart cement, smart solution
Aramco also contributed to a paper in the Smart Materials session examining the use of additives to cement to modify or improve its strength and resistance to fluid loss or gas leaks to enhance well performance. "Characterizing Smart Cement Modified with Styrene Butadiene Polymer for Quality Control, Curing and to Control and Detect Fluid Loss and Gas Leaks Using Vipulanandan Models" was presented by the University of Houston's Center for Innovative Grouting Materials and Technology, illustrative of the many academic technical collaborations Aramco has around the world.
Saudi sand and fracturing
In the same session, "Nano-Composite Resin Coated Proppant for Hydraulic Fracturing" highlighted the coating of in-Kingdom sand for fracturing in unconventional gas reservoirs. Increasing the mechanical strength of the sand creates Saudi sand strong enough to be used as a proppant for hydraulic fracturing treatments in support of the Kingdom's domestic gas development for unconventional plays.
Technology: from the lab into the field
Supplementing the technical papers, a series of well-attended in-booth presentations showed how the company is moving technology from its global research and development network into the field. Five topics showcased a new class of hybrid acidizing fluids for reservoir stimulation, development of an untethered downhole sensor tool that replaces conventional well logging, toughening of oil well cements and drilling with cement, and finally, work with high temperature fracturing fluids.
An international show, OTC is held annually in Houston recognizing the city as a world energy hub home to more than 5,000 energy-related firms. Aramco's offshore field investments, upgrades, and issuance of long-term agreements with contractors for oil field projects such as Zuluf, Marjan, Safaniyah, and Berri — have far-reaching industry effects.
Recent partnerships and collaborations such as the Arabian Rig Manufacturing JV and a composite pipe facility producing spoolable and jointed pipe, including high-pressure line pipe and downhole tubing and casing has captured the attention of industry observers as Aramco works to become a global leader in nonmetallic applications.
Investing in innovation
Participating in a panel discussion "Venture Capital Investment Driving Innovation in Offshore Deepwater," Jim Sledzik, managing director for Saudi Aramco Energy Ventures-U.S., emphasized the strategic value and relevance to a company's operations when investing. "The ecosystem of R&D is huge. Often, companies look to infuse innovation and technology with corporate venture capital," he said.
Representatives from Saudi Aramco's Houston-based Aramco Services Company supported the conference with representatives from Upstream, Procurement and Logistics, Staffing and Recruitment, Public Affairs, and U.S.-based researchers attending. More than 60,000 attended this year's conference with more than 2,000 exhibiting companies from 40 countries.
Media contact information
All media enquiries are handled by Aramco's Media & Executive Communications Department, Dhahran, Saudi Arabia.
For media inquiries, please email us at media.inquiries@aramco.com