Aramco, Baosteel and PIF sign agreement to establish first integrated steel plate manufacturing complex in Saudi Arabia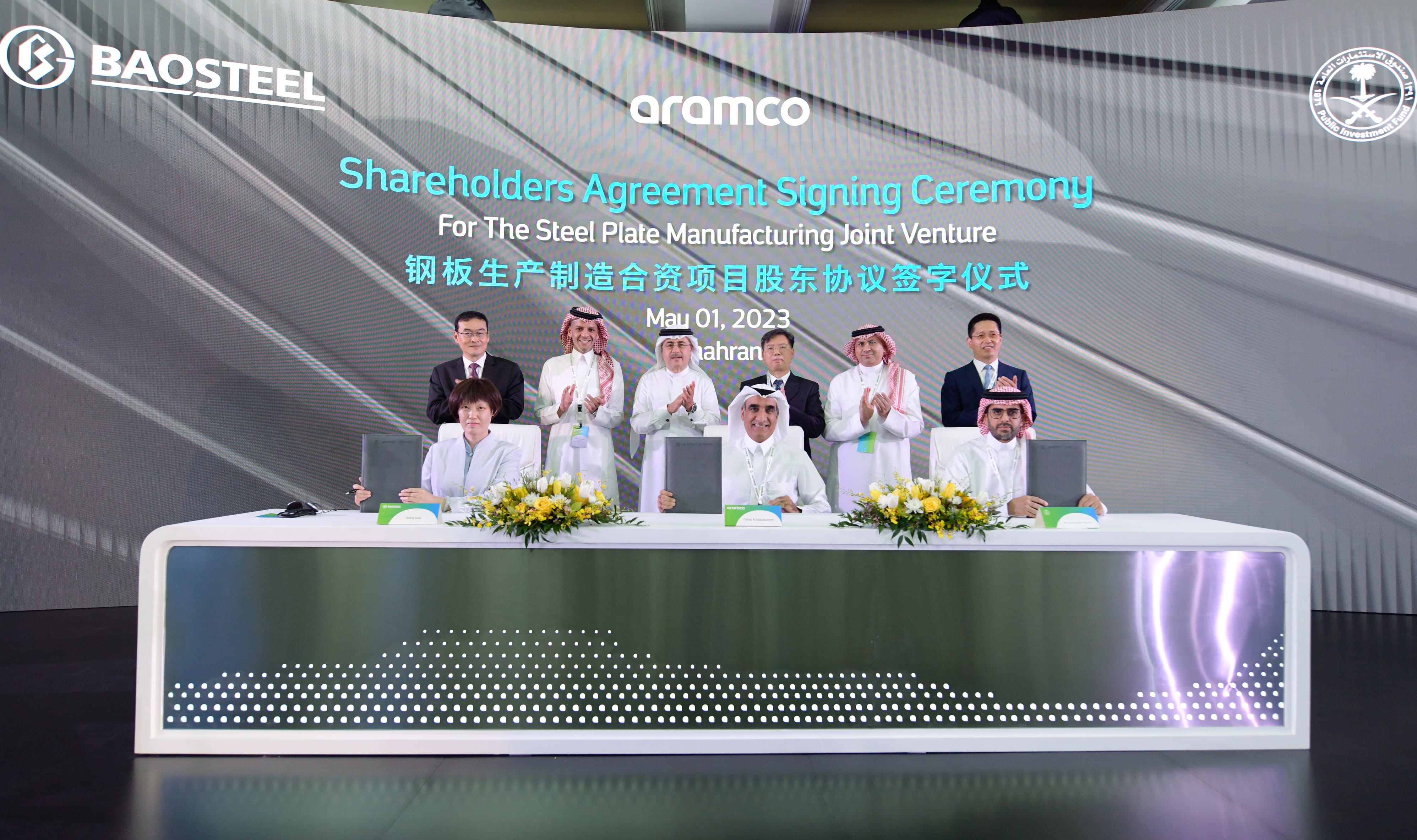 Aramco, Baosteel and PIF signing ceremony for the steel plate manufacturing joint venture in Dhahran, Saudi Arabia, on May 1.
Aramco, one of the world's leading integrated energy and chemicals companies, Baoshan Iron & Steel Co., Ltd. (Baosteel), the world's leading steel conglomerate, and the Public Investment Fund (PIF) have signed a shareholders' agreement to establish an integrated steel plate manufacturing complex in the Kingdom of Saudi Arabia.
Subject to customary regulatory approvals and closing conditions, the joint venture complex is expected to be located in Ras al-Khair Industrial City, one of the four new Special Economic Zones recently announced by His Royal Highness Prince Mohammed bin Salman bin Abdulaziz Al Saud, Crown Prince, Prime Minister and Chairman of the Council of Economic and Development Affairs.
The complex would bring together Aramco's unrivaled energy and industrial services ecosystem, Baosteel's advanced steel plate industry capability and PIF's strong financial capabilities and investment expertise. It would be the first facility of its kind in the Kingdom and the GCC region, advancing the regional steel industry ecosystem. The project aims to enhance the domestic manufacturing sector through localizing the production of heavy steel plates, transferring knowledge and creating export opportunities.
The facility is expected to have a steel plate production capacity of up to 1.5 million tons per year. It would also be equipped with a natural gas-based direct reduced iron (DRI) furnace and an electric arc furnace, which aims to reduce CO2 emissions from the steel-making process by up to 60% compared to a traditional blast furnace. The DRI plant would be compatible with hydrogen without the need for major equipment modifications, potentially reducing CO2 emissions by up to 90% in the future.
Amin H. Nasser, Aramco President & CEO, said: "The Kingdom's first steel plate production facility is expected to enhance Saudi Arabia's steel industry ecosystem and improve supply chain localization. Under Aramco's flagship industrial investment program, Namaat, and supported by the government's Shareek program, this joint venture is expected to create jobs and contribute to economic growth and diversification. This joint venture is also an example of bringing together expertise from other sectors. With Baosteel and PIF supporting in capacity building in the Kingdom's industrial sector, Aramco aims to create additional value for our company and our partners."
Yazeed A. Al-Humied, Deputy Governor and Head of MENA Investments at PIF, said: "PIF is diversifying the Saudi economy by unlocking opportunities and enabling key strategic sectors in the local market. This partnership aims at establishing an integrated steel plate manufacturing facility that will strengthen Saudi Arabia's industrial development and enable its role as a supplier within the metal industry. It will also build on PIF's mandate to establish new strategic partnerships locally and globally; localize technologies and knowledge; enable the private sector; and create more direct and indirect job opportunities in the local market. Since 2017, PIF has invested in 13 strategic sectors and established 77 new companies domestically."
Zou Jixin, Chairman of Baosteel, said: "This project is an active practice by Baosteel to explore lower-carbon paths for the steel industry, a major achievement in promoting the international development strategy of Baosteel. The project aims to contribute positively to the localization of the steel industry chain, job creation and local economic prosperity in Saudi Arabia."
Mr. Chen Derong, Chairman of Baowu Group (the parent company of Baosteel), and Mr. Hu Wangming, President of Baowu Group, have further endorsed the project with full confidence.
Saudi Arabia would be the project's primary target market, with plans to export to the GCC and broader MENA region. It is expected to create new jobs and significantly reduce reliance on imported steel, serving customers in several strategic industrial sectors including pipelines, shipbuilding, rig manufacturing, offshore platform fabrication and tank and pressure vessel manufacturing. It also would aim to serve the construction, renewables and marine sectors.
The investment aligns with PIF's strategy to unlock the capabilities of promising sectors and strategically important industries that can drive the diversification of the local economy. It will support a number of PIF's priority sectors that require steel plate and create a more resilient steel industry in the region.
The steel plate complex is supported by the Kingdom's Shareek program for large companies, which aims to foster greater private-public cooperation, create jobs and enhance the development of the Saudi economy by providing incentives for domestic investment. It also falls under Aramco's Namaat program, which aims to establish strategic partnerships that drive Saudi Arabia's economic, supply chain and industrial investment diversification and expansion.
Media contact information
All media enquiries are handled by Aramco's Media & Executive Communications Department, Dhahran, Saudi Arabia.
For media inquiries, please email us at media.inquiries@aramco.com