Aramco to expand presence in China by acquiring 10% stake in Rongsheng Petrochemical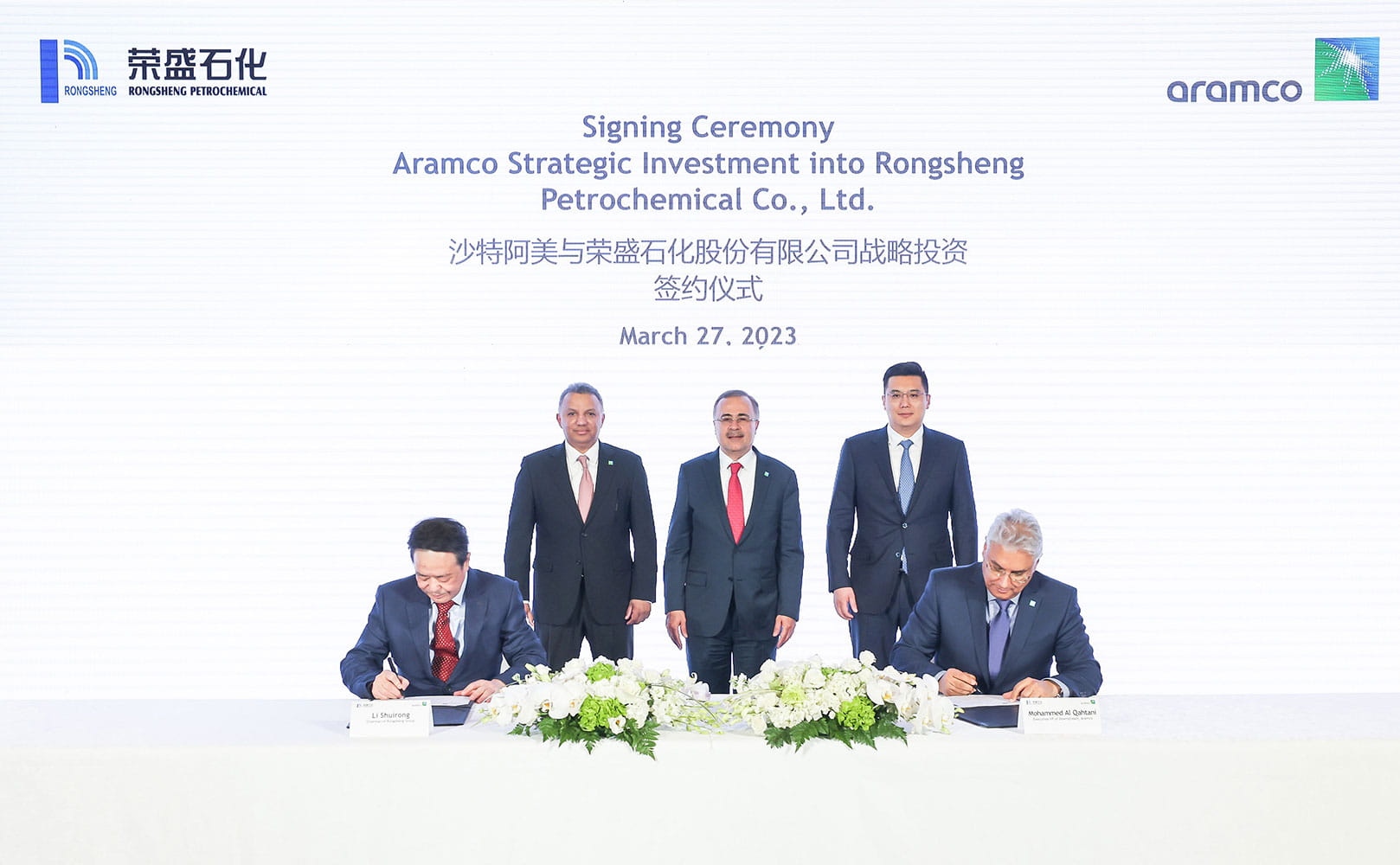 Amin H. Nasser, Aramco President & CEO (center), attends the signing ceremony for Aramco's acquisition of a 10% interest in Rongsheng Petrochemical Co. Ltd. Mohammed Y. Al Qahtani, Aramco Executive Vice President of Downstream (sitting right), and Li Shuirong, Rongsheng Chairman (sitting left), signed the documents in the presence of Anwar Al Hejazi, Aramco Asia President (standing left) and Xiang Jiongjiong, Rongsheng CEO (standing right)
Aramco, one of the world's leading integrated energy and chemicals companies, has signed definitive agreements to acquire a 10% interest in Shenzhen-listed Rongsheng Petrochemical Co. Ltd. ("Rongsheng") for RMB 24.6 billion ($3.6 billion at current exchange rates), in a deal that would significantly expand its downstream presence in China.
Through the strategic arrangement, Aramco would supply 480,000 barrels per day (bpd) of Arabian crude oil to Rongsheng affiliate Zhejiang Petroleum and Chemical Co. Ltd (ZPC), under a long-term sales agreement. Aramco Overseas Company ("AOC"), a wholly-owned subsidiary of Aramco, will acquire the interest in Rongsheng.
Among other assets, Rongsheng owns a 51% equity interest in ZPC, which in turn owns and operates the largest integrated refining and chemicals complex in China with a capacity to process 800,000 bpd of crude oil and to produce 4.2 million metric tons of ethylene per year.
Mohammed Y. Al Qahtani, Aramco Executive Vice President of Downstream, said: "This announcement demonstrates Aramco's long-term commitment to China and belief in the fundamentals of the Chinese petrochemicals sector. It is an important acquisition for Aramco in a key market, supporting our growth ambitions and advancing our liquids to chemicals strategy. It also promises to secure a reliable supply of essential crude to one of China's most important refiners."
Li Shuirong, Rongsheng Chairman, said: "This strategic co-operation will take our long-term friendship and mutual trust to a new level, and paves the way for a bright future for the high-quality development of the world's petrochemicals industry. I believe that Aramco's involvement will greatly help Rongsheng implement its petrochemical growth strategy."
The investment would anchor an important association between Aramco, Rongsheng and ZPC, which operates one of the world's most state-of-the-art chemical conversion assets.
The transaction involves an off-market secondary sale of Rongsheng shares by majority shareholder Zhejiang Rongsheng Holding Group, with potential for future collaboration between the parties in trading, refining, chemicals production and technology licensing. The transaction is expected to close by the end of 2023, and is subject to regulatory approvals.
It follows the announcement on March 26 that the Aramco joint venture, Huajin Aramco Petrochemical Company (HAPCO), planned to start construction of a major integrated refinery and petrochemical complex in northeast China in the second quarter of 2023. Aramco, which has a 30% stake in HAPCO, will supply up to 210,000 bpd of crude oil feedstock to the complex.
Combined, the partnership with Rongsheng and the HAPCO joint venture would see Aramco supply a total of 690,000 bpd of crude to high chemical conversion assets.
Media contact information
All media enquiries are handled by Aramco's Media & Executive Communications Department, Dhahran, Saudi Arabia.
For media inquiries, please email us at media.inquiries@aramco.com