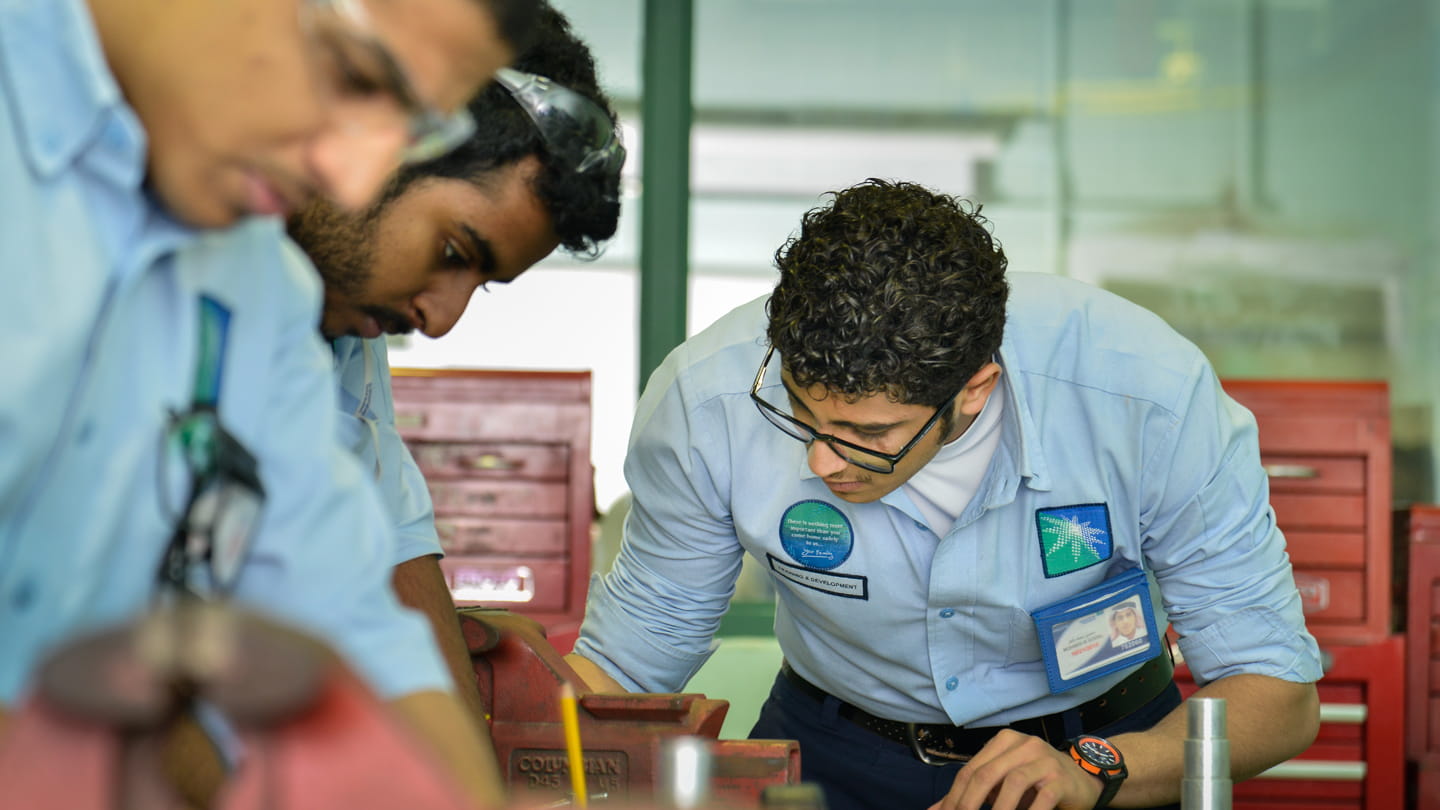 Vocational Colleges Graduates
Aramco's vocational skills training program.
This program helps participants obtain the required skills to fulfill operational, maintenance, administrative and clerical jobs.
The Vocational College Graduates Non-Employee Program (VCGNEP) is designed for: Technical, industrial, telecommunication, community college and institutes of public administration graduates.
Requirements for VCGNE
Candidates who graduated from the below required schools and majors.
Have a minimum GPA of 2.00 out of 4.00 or 3.00 out of 5.00.
Not exceed the age of 28 Hijra years.
Apply within 3 years of their diploma graduation date.
What are the required documents to complete the online application?
To complete the online application, a copy of the following documents must be uploaded:
National ID
Complete college or institute transcript showing all subjects taken
Graduation certificate of the associate degree or a letter states that the applicant is due for graduation before July 9, 2023.

Have you applied to the program before?
Applicants who previously applied for the VCGNE Program and were not selected, and still meet all of this year's eligibility requirement, are able to apply for this year's VCGNE Program. Applicants will only be allowed one retest.
What you need to do:
Complete the online application form.
Attend the English and Math test scheduled from August 08 to August 18, 2023.
To view Sample test items for both the English and math screening tests, click here.
If you are initially nominated for the program, you will be scheduled for an appointment to complete the below processes:
Complete the pre-employment medical examination. You will receive the invitation through email.
Signing the training agreement and issuing your ID card.
Attending the program start-up on Sunday October 29, 2023.
Note: the dates above are subject to change is and will be updated accordingly.
How to Apply
Applications are closed. You can apply online only during the announced registration period.
Benefits while studying as an apprentice
monthly stipend

housing, as per Saudi Aramco's housing policy.

free transportation on Saudi Aramco buses

free medical care, as per the company's policy

access to recreational facilities

use of the company's aviation services inside the Kingdom

discounted tickets on Saudi Arabian Airlines domestic flights

annual Ramadan vacation, plus public and ITC holidays as per the annual training calendar

remedial classes to provide extra support when needed
Job benefits as a Saudi Aramco employee
monthly salaries* plus one Ramadan salary

annual housing allowance

possibility of annual corporate bonus

30 days annual leave balance plus public holidays, as scheduled in the company's operational calendar

medical coverage for you, your wife, children, and your parents

option to participate in the company's savings plan (Thrift Plan)

option to participate in the company's Home Ownership Program

access to recreational facilities

use of the company's aviation services inside the Kingdom

use of the company's bus transportation services

privilege to acquire corporate discounts with various product and service providers in the Kingdom and around the world, such as major hotels, international airlines and car rental companies
*Salary and grade code is determined after completion of the apprenticeship program.
Process overview
Note: Applicants are not considered "accepted" into the program until they have signed the training agreement, been issued an ID, and have reported to the training center.
Choose your program
Apply to the desired program during application period
FAQ
VCGNE - Frequently Asked Questions