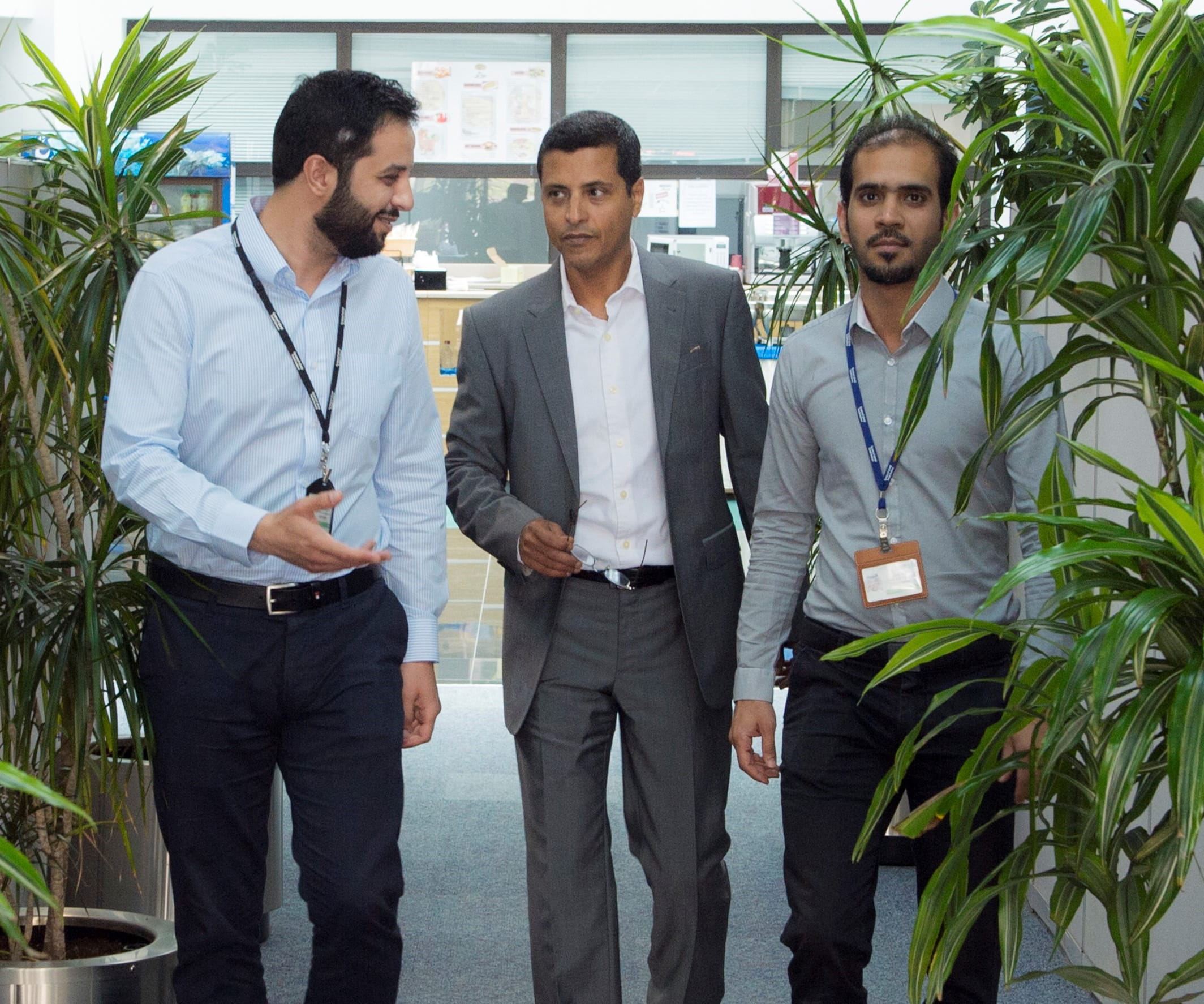 Human Resources Joint Venture Support Division
The local and global expansion of Saudi Aramco through the creation of more business partners translates into an increase in Human Resources (HR) support for these new partners.
The essential role of the Human Resources Joint Venture Support Divison (HRJVSD) is to support Saudi Aramco joint ventures, subsidiaries and affiliates through their journey from startups to fully operational and sustainable entities. Their success will be determined by how they can attract, develop, engage and retain a competent workforce through an effective HR strategy.
The HRJVSD team will provide HR support that makes a difference.
"Our downstream strategy and its chemicals-focused components will enable progress toward multiple objectives, including strengthening the future position of oil and adding greater economic value. In addition to diversifying our business portfolio, it will also make Saudi Aramco more robust and resilient, and deliver results regardless of market volatility."

Remarks by Amin H. Nasser, Saudi Aramco President & CEO, 13th Annual Gulf Petrochemicals & Chemicals Association Forum 2018, DUBAI, United Arab Emirates, November 28, 2018
Creating People Advantage
The HRJVSD team creates people advantage by understanding business drivers and providing innovative workable HR solutions to its clients. The team consists of the Saudi Aramco HR community's experienced consultants, advisers, outside partners and networks.
Collaboration for Success
It is a key objective of the HRJVSD team to bring together HR resources and knowledge from our joint ventures, subsidiaries and affiliates to develop a HR learning community that shares successes, knowledge and lessons learned.
Bringing Knowledge
The HRJVSD team has global HR experience in various industries. It provides advice and solutions that are practical and cost-efficient with an operational focus on achievable outcomes.
"We are all expected to make a significant contribution to our shareholders and value our mission to stay aligned with the strategic goals and deliver the highest value our corporate business. We are required to be able to translate our business vision into practical and rewarding HR strategy."
Muhammad S. Al Abdallah, HRJVSD Director
The HRJVSD team is dedicated to providing our partners with HR support through four principal services: consulting, advising, facilitating and coordinating.
The team has international experience working in joint ventures and subsidiaries across diverse industries. The team's expertise extends into the following areas:
Startup Support
Talent Acquisition
Talent Development
Talent Retention
Organizational Effectiveness
Strategic and Operational HR Excellence
Inter-Joint Venture/Subsidiary Communication
The HRJVSD team comprises more than 20 consultants, analysts and support staff with a variety of backgrounds. The team's consultants hold credentials in a variety of fields, including human resources management, business administration, marketing, industrial relations and management information systems.
Vision
To be the HR solutions focal point for Saudi Aramco's joint ventures and subsidiaries.
Mission
To integrate HR best practices into Saudi Aramco's joint ventures and subsidiaries enabling them to succeed through consultation, facilitation and coordination.
Objectives
Evolving as a strategic consultative HR partner and adviser to Saudi Aramco joint ventures and subsidiaries.
Exploring opportunities for shared HR services by leveraging economies of scale and technologies.
Evaluating the professionals needed to facilitate the formation of HR functions in joint ventures and subsidiaries.
Contributing to the improvement of inter-joint venture communication and cooperation through an effective networking process.
Operating principles
Customer Orientation
Respond to our customers, suppliers, and stakeholders.
Communicate mutual intentions and expectations clearly.
Make it easy for stakeholders to work with us.
Be the vendor of choice.
Quality
Achieve the highest standards of excellence.
Do the right thing.
Learn, develop and improve continuously.
Take pride in our work.
Results Orientation
Set challenging and competitive goals.
Focus on output.
Assume responsibility.
Confront and solve problems constructively.
Execute flawlessly.
Innovation
Foster creative thinking.
Embrace change and challenge the status quo.
Listen to all ideas and viewpoints.
Learn from our successes and mistakes.
Encourage and reward informed risk taking.
Professionalism
Conduct business with integrity.
Ensure a safe, clean, and healthy workplace.
Make and meet commitments.
Plan, fund and staff projects properly.
Rewarding workplace
Be open and direct.
Promote a challenging work environment.
Work as a team with respect and trust for each other.
Recognize and reward accomplishments.
Manage performance fairly and firmly.
Be an asset to our communities worldwide.
"The Human Resources Joint Venture Support Division has been an instrumental business partner to NITI (National Industrial Training Institute). Their support during our start-up for both intakes in Abqaiq and Al-Hasa, which included the facilitation and attraction of stakeholders/trainees in addition to the design and implementation of our critical HR policies and programs, has contributed to the successful launch of our institute. HRJVSD also provided support to NITI in the identification of sponsored students for future classes."
Saad A. Al-Shahrani, Project Manager – NITI
"The Human Resources Joint Venture Support Division has been an invaluable business partner to PCPC (Power Co-Generation Plant Company). Their support during our start-up is ongoing and has allowed our management team to rapidly identify our immediate and long-term Human Resources needs. We look forward to a long-term mutually beneficial relationship with the HRJVSD organization."
Majed A. Al-Othman, Human Resources Manager, PCPC
"YASREF would like to recognize the Human Resources Joint Venture Support Division for its superior and timely professional support, as the department responded to our numerous service requests for HR services critical to the achievement of our goals and ultimate success. HRJVSD's particular areas of assistance include:
Coordination and planning of apprentice program budgeted trained through Saudi Aramco.
The enrollment of 22 apprentices in NITI, despite the last minute notification received from us.
Coordination of the Mentor Certification program for our employees.
Accompanying YASREF HR management to NITI meetings for support in clearly explaining our needs.
Current assistance in the enrollment of the "new batch" of apprentices at NITI.
Please convey our appreciation to the entire HRJVSD team for their kind assistance and support."
Hashim M Mukhtar, HR Manager - YASREF
Together we face similar HR challenges in acquiring, developing and retaining talent in a competitive employment market.
Together as an HR community we collaborate and learn from each other by developing new relationships and ways of conducting business. Together with our domestic and global joint ventures, subsidiaries and affiliates, we will make a difference.
Joint Ventures
Domestic Joint Ventures and Affiliates
JHAH - Johns Hopkins Aramco Healthcare
LUBEREF - Saudi Aramco Lubricating Oil Refining Company
PCPC - Power Cogeneration Plant Company
PETRO RABIGH - Rabigh Refining & Petrochemical Company
SADARA - Sadara Chemicals Company
SAMREF - Saudi Aramco Mobil Refinery Company
SATORP - Saudi Aramco Total Refining & Petrochemical Company
YASREF - Yanbu Aramco Sinopec Refining Company Limited
Arabian Rig Manufacturing Company
IMI - International Maritime Industries
ARO Drilling
SANAD
Engines & Pumps Manufacturing Joint Venture
FPCC - Fadhli Plant Cogeneration Company
Jasara Program Management Company
International Joint Ventures and Affiliates
SUMED - Arab Petroleum Pipelines Company, Egypt
TEAM Terminal, Europe
S-Oil Corporation, South Korea
Showa Shell, Japan
Fujian Refining & Petrochemical Company Limited, China
Motiva Enterprises, Houston, U.S.Saudi Petroleum International Inc, NY, U.S.
Saudi Refining Inc, Houston
Aramco Training Services Company, Houston
KJO - Al Khafji Joint Operations, Saudi Arabia - Kuwait Neutral Zone
Prefchem, Malaysia
Equity Investments
MARAFIQ - Power & Water Utility for Jubail & Yanbu
SABIC
Subsidiaries
Domestic
Aramco Entrepreneurship Center
SAEV - Saudi Aramco Energy Ventures
ATC - Aramco Trading Company
AGOC - Aramco Gulf Operations Company, Saudi Arabia-Kuwait Neutral Zone
Wisayat Al Khaleej Investment Company
Aramco Chemical Company
Aramco Power
King Salman Energy Park
National Cloud Company
National Cybersecurity Company
SASREF - Saudi Aramco Jubail Refinery Company
SARC - Saudi Aramco Retail Company
Saudi Aramco Technologies Company
International
AOC - Aramco Overseas Company, Europe
ASC - Aramco Services Company, North and South America
SAAC - Saudi Aramco Asia Company Ltd. Beiging, China
Government Affiliates
DTVC - Dhahran Techno Valley Company
KAPSRC - King Abdullah Petroleum Studies and Research Center
KAUST - King Abdullah University of Science and Technology
GCC Electrical Testing Laboratory
KFUPM - King Fahd University of Petroleum and Minerals
National Strategic Partnership Office
Women Business Park
Government Affiliates National Academies
NITI - National Industrial Training Institute
SPSP - Saudi Petroleum Services Polytechnic
ITQANI - Inspection Technology & Quality Assurance National Institute
SADA - Saudi Arabian Drilling Academy
National Aviation Academy
National Construction Training Center
National IT Academy
National Leading Academy
National Maritime Academy
National Power Academy
National Training Center for Facilities and Hospitality Management
HRJVSD's services are fully driven by the current HR functional needs of Saudi Aramco joint ventures and subsidiaries.
The services are aimed at adding considerable value for the attainment of their objectives and goals. We consult, advise, facilitate and coordinate to empower our partners toward taking decisive action with achievable and sustainable results.
Nabil Dabal in collaboration meeting
Consult: HRJVSD offers guidance and support with the objective of building our partners' internal competencies. It will bring out the capabilities of our partners to participate fully in a process that drives results.

Advise: HRJVSD will provide exclusive, expert advice based on our vast experience regarding the best course of action while keeping our partners' best interests at heart. It will offer hands-on advice based on proficiency, real-time data and lessons learned.

Facilitate: HRJVSD facilitates communication and knowledge sharing within our HR network to meet desired outcomes effectively and efficiently. It will leverage and mediate HR resources such that our partners are best served.

Coordinate: HRJVSD coordinates essential meetings, workshops and forums with key personnel to fit our partners' needs. It will support our partners through every step with timely, follow-up actions.
Confidentiality code
All HRJVSD staff involved with joint ventures or subsidiaries in the form of consultations, projects or otherwise have a legal and professional obligation to protect the confidentiality of all information provided to them on behalf of the client in the course of their duties. The nature of this information includes business meetings and discussions, presentations, oral and written reports, and information from other associates that are contacted for support or expertise. The aim of the confidentiality code is to protect the company and its partners from any harm.
Partners
| | | | |
| --- | --- | --- | --- |
| Company | Contact person | Position | E-mail |
| Aramco Chemical Company | Elaf Basri | HR Manager | Elaf.Basri@aramco.com |
| Aramco Entrepreneurship Center | Hamad Al-Shaiban | Head of HR | shaiban.hamad@waed.com |
| AGOC, Aramco Gulf Operations Ltd | Tawfiq H. Atiq | HR Executive Director for HR & Industrial Srv. | tawfiq.atiq@aramco.com |
| Fadhili Plant Cogeneration | Kamal Dihan | HR Manager | Kamal.AlDihan@FPCC.KSA.com |
| Aramco Power | Ramzi BuGubaia | HR Head | Ramzi.Bugubaia@aramco.com |
| ARO Drilling | Ameera Al Balushi | HR Manager | aalbalushi@arodrilling.com |
| Aramco Trading Company (ATC) | Faris Almuhawis | HR Manager | faris.almuhawis@aramcotrading.com |
| Dhahran Techno Valley (DTVC) | Abdulrahman Abu Naya | HR Manager | HR@DTVC.com.sa |
| International Maritime Industries | Esam AlRuwaili | VP HR | Esam.alruwaili@IMI-KSA.com |
| ITQAN | Jameel Abdullah | Managing Director | Jameel.abdullah@itqaninstitute.edu.sa |
| JASARA | Ghada Al-Sousy | HR Head | Ghada.Alsousy@jacobs.com |
| JHAH | Moutaz Mashhour | HR Chief | Moutaz.mashhour@JHAH.com |
| KAPSARC, King Abdullah Petroleum Studies and Research Center | Dr. Mansour Al-Mansour | VP Operations & Services | Mansoor.AlMansoor@kapsarc.org |
| UST, King Abdullah University of Science & Technology | Patricia Hughes | VP Human Resources | patriciaann.hughes@kaust.edu.sa |
| King Salman Energy Park | Naseem A. Ahmadi | HR Coordinator | Naseem.Ahmadi.1@aramco.com |
| LRM (Land Rig Manufacturing) | Faisal Nassar | Talent Acquisition | FAISAL.NASSAR@ARAMCO.COM |
| Luberef | Ahmed Yamani | HR Manager | Yamani@luberef.com |
| Marafiq | Homoud S. Al-Zamel | HR Manager | zamelhs@marafiq.com.sa |
| NITI | Waleed Al-Khudhair | Managing Director | walkhudhair@niti.edu.sa |
| PCPC, Power Co-Generation Plant Company | Khalid Alznide | HR Manager | khalid.alznide@pcpc-sa.com |
| Petro Rabigh | Hesham H Azzouz | IR VP | Hesham.azzouz@petrorabigh.com |
| SADA | Mutlaq A. Al-Subaey | Managing Director | Subama0@sadaacademy.edu.com |
| SADARA | Farhan Qahtani | IR VP | farhan.alqahtani@sadara.com |
| SAMREF | Mohammad Al-Moghrabi | HR GM | Mohammed.S.Moghrabi@samref.com.sa |
| SANAD | Maissara Ashmawy | HR Manager | Maissara.Ashmawy@sanad.com |
| Saudi Aramco RetailCo | Ibrahim AlYahya | HR Head | IBRAHIM.YAHYA@ARAMCO.COM |
| SASREF | Ashraf Al-Nezawi | HR GM | A.Al-Nezawi@sasref.com.sa |
| SATORP | Ahmed Sharif | HR Manager | Sharif.Ahmed@satorp.com |
| SPSP, Saudi Petroleum Services Polytechnic | Fahad Al-Ibrahim | HR Manager | f.alibrahim@spsp.edu.sa |
| Tas-helat | Waleed Othman | HR Chief Head | WHO@Tas-helat.com |
| Wisayah Alkhaleej Investment Company | Ibrahim Qahtani | HR Manager | Ibrahim.qahtani@wisayah.com |
| YASREF | Abdulrahman M. AlMesned | IR VP | Abdulrahman.Mesned@YASREF.COM |
Useful links

National technical and vocational training providers
National Industrial Training Institute (NITI)

NITI is a nonprofit training institute that offers industrial training mainly to high school graduates to qualify them to work in the oil & gas, petrochemical, energy or construction industries.
Saudi Petroleum Services Polytechnic (SPSP)
SPSP is a technical training center that aims to graduate quality technical Saudi's for the petroleum service sector. They are located in Dammam and Khafji.
Technical and Vocational Training Corporation (TVTC) -ِArabic
TVTC is a governmental agency responsible for vocational education and training in the Kingdom of Saudi Arabia. TVTC provides vocational and technical training for Saudi men and women, based on international occupational standards, to meet the needs of the labor market.
HR Joint Venture Support Division services
Talent Acquisition covers staffing and recruiting, workforce planning, on-boarding new hires and internal mobility.
Talent Development covers leadership development, professional development, on-job training, industrial certifications, and career planning.
Talent Retention covers policy, rewards, HR services, HR information systems, retention management, communication, and employee engagement.
Organization Effectiveness covers performance management, organizational consulting, benchmarking, research & assessment, change management, and cultural transformation.
For any request, please contact us on HRJVSupport@aramco.com.