STORIES
Driving in-house technology to minimize off-road impacts
'Navigator' is a helpful and reliable friend in remote areas.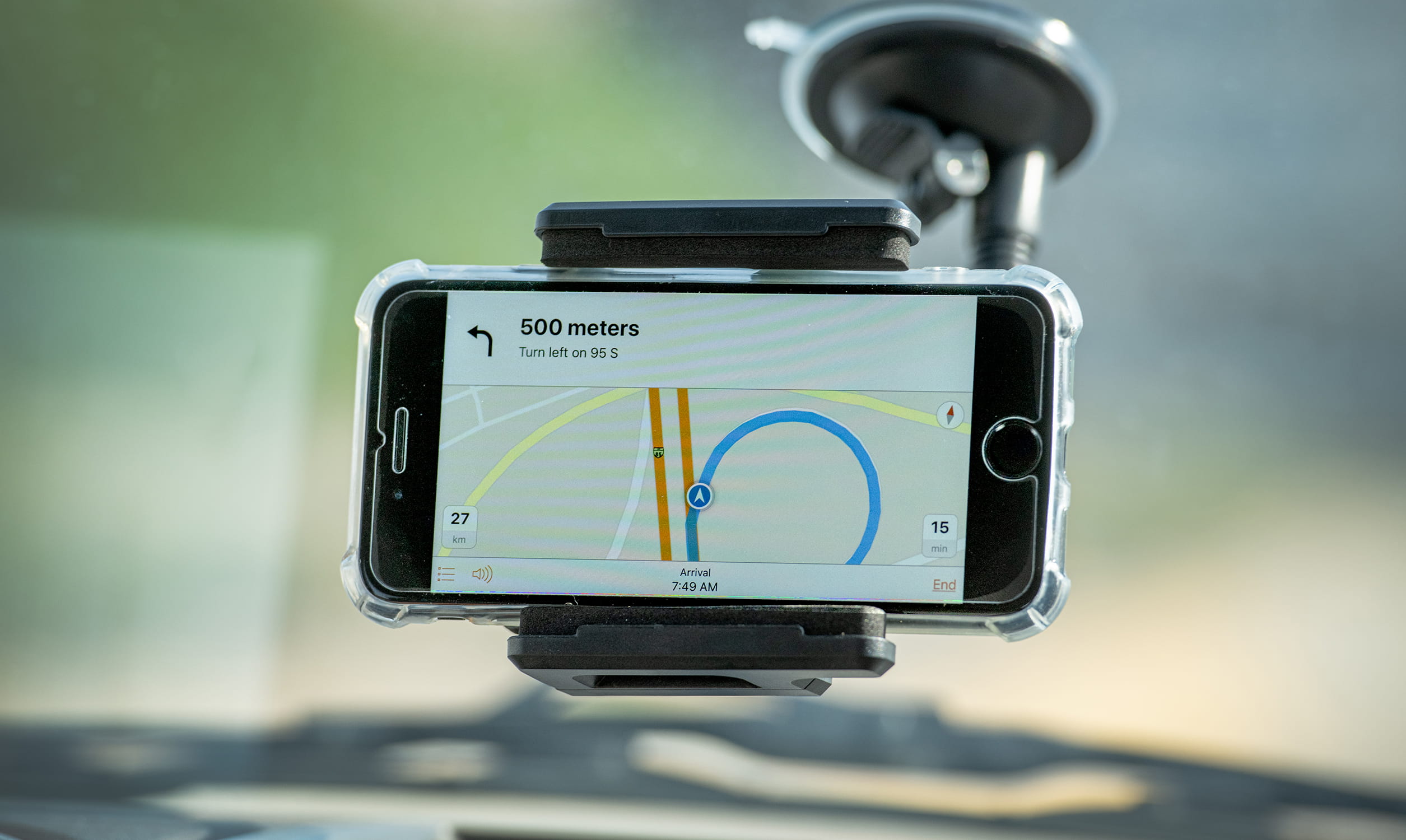 Saudi Aramco innovative mobile app reduces environmental footprint of remote driving in the Kingdom's arid areas
Assists with safety challenges of company's remote work within Saudi Arabia
Easy-to-use app allows authorized workers to quickly search and navigate to wells, pipelines, and flow lines
Saudi Aramco operates within many corners of the Kingdom's mighty horizons, and an innovative mobile navigation application released by our technology experts assists field worker's travel to and within remote locations, lightening our environment footprint.
Safety and the environment are priorities when Saudi Aramco's field workforce ventures across the Kingdom's remote and often unforgiving landscapes to operate our sites, maintain infrastructure, and explore for hidden deposits.
A newly developed app named "Navigator" gives reliable travel directions to the company's sites, facilities, and deposits, helping workers travel more safely and directly to our numerous remote places. By assisting drivers to stay on the company's designated roads and follow optimal routes, the environmental impact of remote driving is reduced.
Reduced environmental footprint
Uncontrolled off-road driving disturbs the Kingdom's ground, vegetation, and wildlife, and is regarded as a significant contributor to land degradation in its arid regions. Desertification — the movement of sand caused by loss of vegetation — is considered one of the largest threats to the world's sustainable development.
Careless driving by off-road vehicles can impact desert ecosystems by disturbing sands, damaging vegetation and root systems, and accelerate erosion. By accurately pinpointing the best travel route, Navigator assists with mitigating the negative impacts of off-road driving, helping to maintain and conserve native biodiversity and ecosystem processes in arid regions.
Saudi Aramco new navigation application
1.
Reduces environmental footprint of remote driving
2.
Keeps our remote workforce safer
3.
Alleviates night driving risks to natural habitats
4.
Optimizes field planning activities
Remote work safety and environment considerations

Working in a remote area has particular challenges such as vast distances and extreme weather, and serious consequences can result if employees become stranded. Environmental impacts from unplanned remote driving leads to loss of biodiversity, and consequences such as more frequent dust storms and increased waterway sedimentation.
"There are a number of concerns when working in remote areas," said Drilling and Workover Services Department manager Nayef K. Al Ghafel. "Having reliable and planned travel directions is a key way to mitigate against the risk of not reaching your destination on schedule, and mitigate against impacts on the surrounding fauna and flora."
Being well prepared and careful about driving in nature reduces negative consequences. Using technology to calculate efficient routes and mitigate against remote driving mishaps equates to less energy, maintenance and repair costs, which computes to lower environmental and business costs.
Works offline and online
Achieved collaboratively by Saudi Aramco's Wellsites Division, North Ghawar Producing Department (NGPD), and Information Technology (IT), Navigator uses satellite-based tracking technology to provide a highly reliable and secure navigation system, which helps to alleviate environmental impacts. The powerful native mobile navigation app combines commercial road data with our own mapping data to search for locations, complete with on-screen routing and voice directions.
Describing Navigator as a great tool that is simple to use, Corporate Applications Department (CAS)/Solution Services Division head Khalid A. Al Arfaj says the app runs on both iOS and android portable devices, and works whether online or offline in a disconnected environment.
"You can select, download, and visualize Saudi Aramco mapping data, search for and add destinations for remote assets, plus navigate using a preplanned route or a field trip created in the office, giving you a systematic way to reach a destination," said Al Arfaj.
CAS manager Abdulaziz S. Al-Shafi said the solution was part of continuous efforts by IT to optimize fieldwork.
"Navigator reduces the chances of drivers getting lost off-road when traveling to remote facilities, bringing a positive impact to both the safety and cost of field operations, as well as the environment."
Saudi Aramco's new mobile application quickly finds routes to wells, pipelines, and flow lines, and was tested with 25 workers, including (from left) North Ghawar Producing Department assistant superintendent Hussain Khaiwani, field services foreman Nasser Al-Qahtani, and Northern Exploration Unit survey party chief Ali A. Al Gamdi.
Company testing
NGPD tested the app with five of its employees. Assistant superintendent Hussain Khaiwani, who has worked with Saudi Aramco for 29 years, noted that Navigator was particularly useful in an emergency situation. Substantive environmental benefits result from the efficient control and remediation of emergencies such as pipeline damage.
"The area managed by NGPD covers approximately 14,000 square kilometers," said Khaiwani. "Navigator assists us to go directly to where we need to be."
"As well as directions, the app calculates distance and time, which makes you feel safer when traveling remotely," said Ali A. Gamdi, a survey party chief who is one of 20 Wellsites Division remote workers testing the app since earlier this year.
As well as directions, the app calculates distance and time, which makes you feel safer when traveling remotely.
Wellsites Division survey party chief Ali A. Gamdi
Secure digital transformation
Navigator is one of Saudi Aramco's approved suite of applications, complying with our strict security standards. If a device is mislaid, the company can quickly delete the data. Development of the app is part of the company's "Digital Transformation Program," which looks to transform Saudi Aramco by 2022 into the world's leading digitalized energy corporation.