STORIES
An invention with great flare
When innovation and industry combine.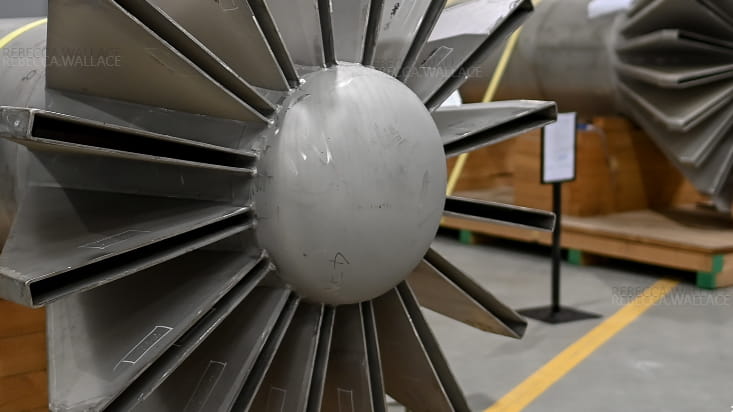 Aramco has partnered with a flare company that will manufacture and distribute an innovative smokeless flare technology in the Kingdom

The High-Pressure Air Assist System (HPAAS) smokeless flare tip was the invention of an Aramco engineer, Mazen M. Mashour

From invention to localization, this is a success story for the Company and the Kingdom
Two decades ago, Aramco patented a new invention; a smokeless flare technology, which would create a more sustainable flare system that could be retrofitted over complex systems. Its inventor, engineer Mazen M. Mashour, spent several years developing the technology, testing and optimizing prototypes before it was ready for deployment. This new invention was the High-Pressure Air Assist System (HPAAS).
This is a story of far more than the technology. Fast forward 20 years, and it is a story of success through Aramco's In-Kingdom Total Value Add (iktva) program, which aims to grow a localized manufacturing sector, increase global competitiveness by supporting a diverse economic environment, and drive future prosperity within the Kingdom.
Berri Gas Plant – part of the Master Gas System – which captures associated gas for use in domestic industry. Some gas still needs to be flared off as sustainably and efficiently as possible, which is why the HPAAS is such an ingenious invention.
A need for efficient flaring
Many will be familiar with the iconic image of a flame atop an oil rig. During oil production, associated gas is produced from the reservoir alongside the oil and brought to the surface, historically flared off as a waste product.
Since 1977, Aramco has been capturing and processing this associated gas as part of its Master Gas System, to be utilized for domestic power generation and other industries. As a result, the Company has already achieved near zero flaring status, with one of the lowest intensities in the industry. But some routine flaring remains necessary for safety, acting as a "pressure-valve" for the flammable gas that builds up during the process, and so flare stacks must be made as efficient and as clean as possible.
As part of Aramco's ongoing commitment to energy efficiency, the Company had already introduced smokeless technology at new installations, with further plans to upgrade existing operational flares. A comprehensive evaluation was conducted on all the smokeless flare technologies available at that time, including steam-pressured or sonic flare tips, to ascertain feasibility and efficiency in retrofitting. However, these were either not cost-effective, too complex, or unsuitable for retrofitting or for facilities where, for example, steam was unavailable.
With hundreds of flare systems in operation, it was clear to Aramco that a better solution was needed.
An ingenious solution to reduce emissions
Aramco engineer Mashour took on the task of developing a new design, eventually inventing and patenting the HPAAS. This technology uses air, under high pressure, supplied from the plant air system or a dedicated air compressor at each site. The high-pressure air is delivered into an air-distribution ring, and then jets — contained in a wind shield — create the turbulence needed for smokeless operation. The increased airflow creates a much hotter flame, which burns off the impurities rather than releasing them into the environment.
The technology was shown to be quick, cost-effective, and easy to retrofit, with an average installation time of three days — a significant factor when the entire plant must shut down for safety reasons; a costly process. Its robust design, too, was intentional; most of Aramco's flares are located in remote areas, where equipment needs to operate for long periods with little maintenance. The invention won a gold award at the International Inventors Conference in Geneva in 2006 for its ingenious solution to reduce emissions.
Easy
to retrofit with minimal installation time
Minor
impact to existing flare structures
Low
installation and operating costs
An iktva success story
The HPAAS was first installed at Shaybah, in June 2000, followed by 29 large-scale operations that were upgraded as part of Aramco's Southern Area Smokeless Flare Project. This project was contracted to an international combustion company called Zeeco, which provided the HPAAS flare tips, pilots, and ignition systems, while the well-established Saudi Arabian Al-Rushaid Construction Company provided the air delivery system and managed installation.
The HPAAS was a success; its suitability for retrofitting, its low air requirements, and its quick installation time in particular, made it advantageous over other technologies. And with ambitious plans to upgrade other facilities within the Kingdom, as well as to spread the technology worldwide, Aramco partnered with Zeeco to establish the first flare company based in Saudi Arabia, providing a key location for serving the Middle East and beyond. Mashour's invention is now designed, manufactured and sold exclusively from within the Kingdom.
Building the HPAAS at the dedicated manufacturing facility in Dammam Industrial City 2. The success of the invention will have more reach thanks to iktva and Aramco's partnership with Zeeco, a global flare manufacturing company.
This partnership with Zeeco encapsulates the benefits of the Company's iktva program, with Aramco's manager of Industrial Development and Strategic Supply, Abdullah B. Al Thaaly, remarking, "In addition to creating jobs and promoting investment, iktva has resulted in transferring the latest technologies and creating a robust local ecosystem."
Aramco worked hand in hand with Zeeco throughout their localization journey, culminating in 5,000 square feet of plant and manufacturing facilities in Dammam Industrial City 2. Al Thaaly continues, "We always work in partnership with our suppliers, and we are delighted to see Zeeco operating locally and manufacturing products for the first time in the Kingdom." Zeeco will also purchase many components and raw materials from local suppliers, including pressure vessels, spool fabrications, control panels, and cables that are used in fabricating its equipment line.
From invention to localization, the HPAAS is a success story for Company and Kingdom.
"In addition to creating jobs and promoting investment, iktva has resulted in transferring the latest technologies and creating a robust local ecosystem."
Abdullah B. Al Thaaly, Manager of Industrial Development and Strategic Supply