STORIES
The sophisticated supercomputer opening up new frontiers
Managing some of the largest proven reservoirs in the world demands extraordinary capabilities. Enter "Dammam-7," Aramco's new supercomputer and the most powerful computing system in the Middle East.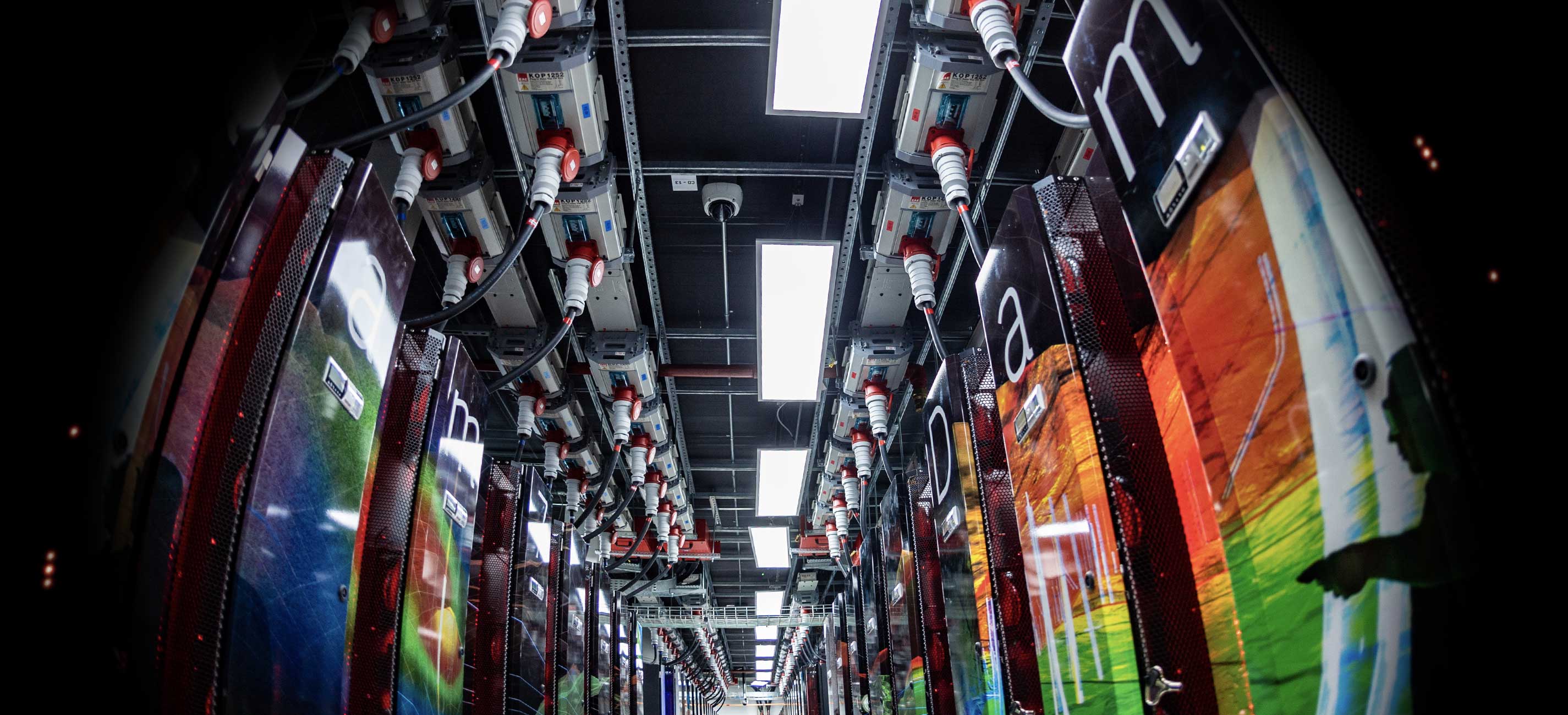 Dammam-7 is among the most powerful supercomputers in the world, providing Aramco with unprecedented computing capabilities to image some of the world's largest and most challenging geophysical assets

The highly sophisticated subsurface imaging, detailed 3D models, and advanced algorithms, improve the Company's ability to discover and recover oil and gas, even more safely and efficiently

The supercomputer is named after Well7, the Company's first commercially-viable oil well discovered over 80 years ago
In the desert climate of Saudi Arabia's Eastern Province resides Aramco's new supercomputer, Dammam-7, so powerful that its engineers use outdoor batteries with water to cool the heat it generates, rather than the usual air conditioning units used by regular supercomputers.
Among the top 10 supercomputers in the world, and the most powerful in the Middle East, it is a game-changer for the Company and the Kingdom. It will allow Aramco to redefine the relationship between the physical and digital worlds, and see into earth like never before, by enabling higher resolution subsurface imaging and enhanced assessments of oil and gas reserves.
Boost
Aramco's computing capacity by 55.4 petaflops of peak performance
Build
3D earth models with a faster turnaround time, better image quality, and greater intelligence
Improve
the Company's ability to discover and recover oil and gas
Reduce
exploration and development risks
The evolution of hydrocarbon exploration
Early oil exploration is filled with quixotic quests combining geographical and geological knowledge with a little bit of luck and derring-do, as entrepreneurs sought to strike "liquid gold." Aramco's own journey to become the world's largest oil provider began with such a tale; surveying the land with motorcars and small planes, and with the help of local trackers, geologists used their expertise and their naked eye to determine where to drill. After drilling six wells with disappointing yields, their determination paid off when they struck oil at Well 7, declared a commercial producer in March 1938.
As the search for oil and gas became more challenging, technological advancements allowed for more accuracy and more efficiency. This started with the introduction of the 2D seismic exploration programs in the 1960s, which allowed geologists a glimpse a small thin slice of the earth for the very first time. The advent of computational power and 3D technology in the 1990s and early 2000s made exploration even more accurate.
An early leader in this digital transformation, Aramco was soon able to deploy 3D seismic technology, which allowed geoscientists to see hundreds of kilometers below the Earth's surface, revealing high-quality geophysical data to more accurately determine drilling locations from 3D subsurface images.
But as more complex and detailed seismic images of the subsurface were desired, there became an ever-increasing need for advanced complex computing power to process this enormous data with advanced techniques.
Enter Dammam-7.
A supercomputer for the subterranean
Named after Well 7, paying homage to a landmark site rooted in bold exploration, the new supercomputer guides decision making in a way that would have been science fiction only a short time ago.
With its high-performance computing capability of 55.4 petaflops of peak (roughly 10 times faster than the current five models in the Kingdom), and with over 1000 graphics processing unit (GPU) nodes, Dammam-7 digitally pierces deep into the Earth's surface. Some key algorithms can run 40 times faster on Dammam-7 than conventional computing hardware, and is able to integrate sophisticated algorithms into current-run software that will increase the resolution quality of subsurface seismic images.
The incredible power that Dammam-7 harnesses, therefore, presents new opportunities in both exploration and development, enhancing Aramco's ability to predict the location of new reserves, build more accurate subsurface models, and reduce decision-making uncertainty. What used to take months to compute can now take days. Additionally, Dammam-7 is coupled with Fourth Industrial Revolution (4IR) technologies, such as artificial intelligence and deep learning, that will aid with unlocking more oil and gas resources and boosting reserves.
New developments, new frontiers
Aramco's role as a hydrocarbon explorer would be impeded without the role surface seismic data has played over the last half century, but Dammam-7 will simply catapult the Company into a new era. Over the last decade alone, the amount of populated data in the field has grown tremendously, and experts anticipate the trend to continue as geological targets become more complex. Also, processing such vast data with sophisticated imaging and deep learning algorithms requires a huge leap in computing capacity.
Dammam-7 will catapult Aramco into a new era, presenting new opportunities in exploration and development and strengthening the Company's ability to predict the location of new reserves.
Dammam-7, then, will enable Aramco to continue its legacy of being one of the world's leading digitalized energy companies, representing a new chapter for high-performance computing capabilities and changing forever the way the Company works. And, while it certainly applies a more accurate, less speculative approach than that of the early Aramco geologists, who experienced the disappointing results of wells 1-6 before discovering the commercially viable Well 7, Dammam-7 follows the same pioneering spirit that Aramco embodies, opening new frontiers of opportunity, for the Company and for the Kingdom.