A solid foundation in Japan for strengthening friendships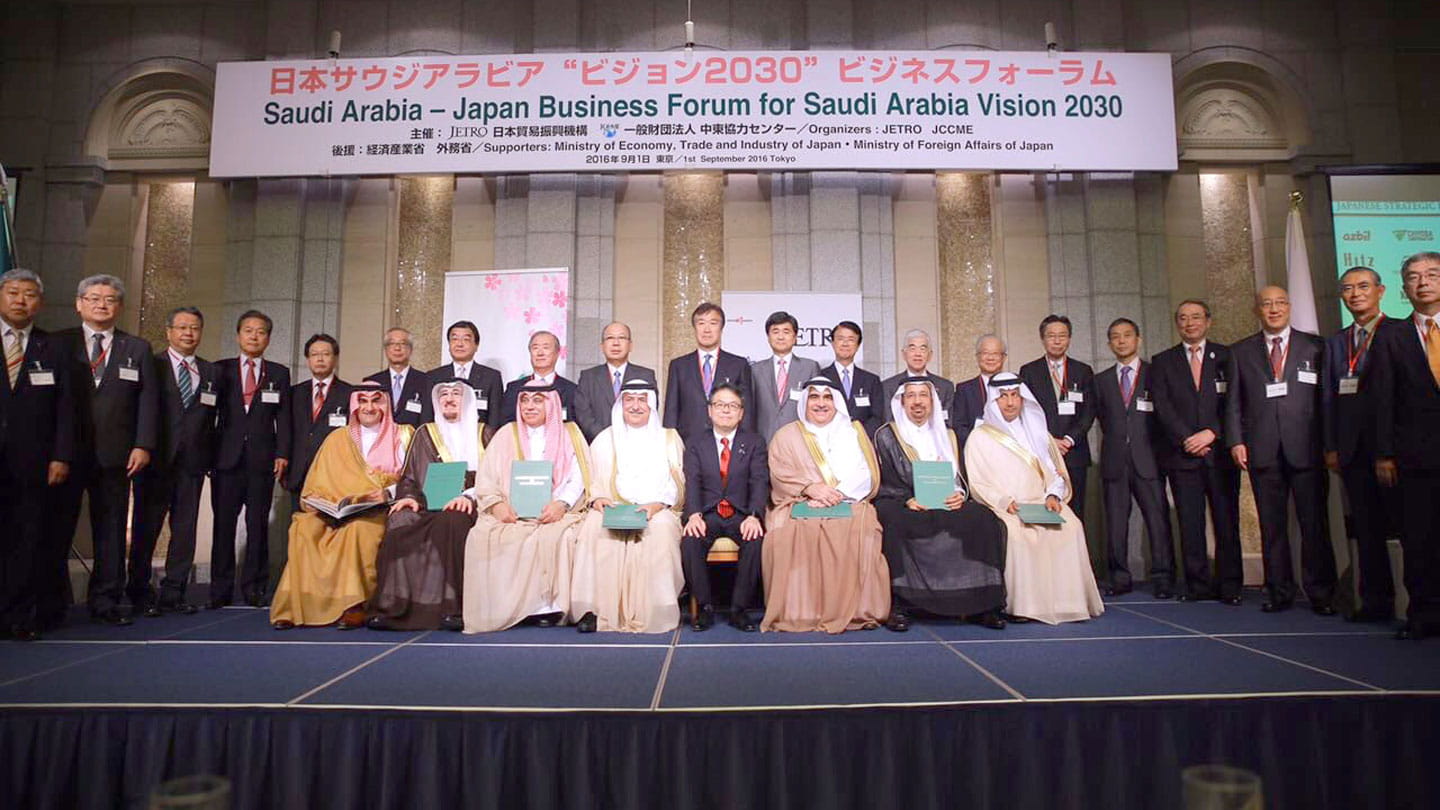 More than 500 representatives of private firms, industry officials, and other guests attended the Saudi Arabia — Japan Business Forum for Saudi Arabia Vision 2030 at the Okura Hotel on September 1. The forum provides a venue for Japanese business leaders to be introduced to Vision 2030 and learn about the investment opportunities it creates for Japanese businesses in the Kingdom.
Last year, Japan and Saudi Arabia celebrated the 60th anniversary of official diplomatic relations. Over the course of those 60 years, both countries have invested in each other's economic growth, technology development, infrastructure improvement, knowledge enhancement, and cultural enrichment.
During that time, Japan has grown in importance to become Saudi Arabia's third-largest trading partner, importing $45.4 billion in petroleum products and exporting $7.5 billion in finished goods. The amount of foreign trade between our two countries reached a new high of $56 billion in 2015. The Kingdom supplies Japan with over 35% of its crude oil, making Saudi Arabia a key pillar of the country's energy security architecture.
A history of partnership
Many prominent Japanese companies have looked to the Kingdom for investment and business partnerships. For instance, Sumitomo Chemical is a joint venture partner with Saudi Aramco in Petro Rabigh, an integrated refining and petrochemicals facility on Saudi Arabia's west coast. Showa Shell is a Saudi Aramco joint venture partner in Solar Frontier, an alternative energy business based in Japan.
Other Japanese firms — such as Yokogawa with their research center in Dhahran Techno Valley and Isuzu with their truck manufacturing facility — have also found the Kingdom an attractive partner and investment environment. In addition, more than 100 Japanese companies are successfully operating in Saudi Arabia today.
Japan's economic roadmap is founded on the principles of The 4th Industrial Revolution that promote the use of digital technologies, data exchange, advanced robotics, and artificial intelligence to enhance manufacturing automation and facilitate human-to-human and human-to-machine connections. Vision 2030 is the Kingdom's plan to continuing growing its core industries while accelerating new economic sectors such as the digital economy, renewable energy, services, and tourism.
Complementary strategies
Vision 2030 and Japan's 4th Industrial Revolution are complementary development strategies. They intersect at crucial points that encourage Saudi/Japanese investment in sectors the Kingdom has identified for growth and development.
To expand its manufacturing base, Saudi Arabia is building conversion parks in close proximity to its chemicals facilities. This will spur abundant opportunities in the manufacturing of tier 2 products. Communications and information technology (CIT) is an essential component of Saudi Arabia's advancing economy and a sector where Japan is a global leader. The opportunity to integrate high-efficiency CIT into industrial robotics is a natural fit for new local manufacturing sectors seeking to leverage on-shore chemicals feedstocks into finished and semi-finished goods.
Targeted growth in non-oil sectors encompasses infrastructure projects, including rail and marine, mining and mineral production, telecommunications and IT, industrial manufacturing, and automotive manufacturing. Japanese companies are already partnering with the Kingdom in some of these sectors. Both countries can benefit from further exchange of technical expertise and world-scale project management capabilities in these and other sectors.
Solar energy, in particular, is a key area of overlap where the Kingdom is keen to expand existing partnerships to leverage Japanese renewable technology to build power generation capacity and domestic manufacturing of alternative energy systems and equipment.
Japan's private sector can certainly complement and leverage the Kingdom's Vision 2030 for mutual benefit. But Vision 2030 is about more than just business; it is also driving value in intangible connections through people-to-people cross-cultural exchange. Those exchanges can build lasting bridges of prosperity for Japan and Saudi Arabia, and Saudi Arabia hopes to create more of these connections between the two countries.
Aramco's MOUs with Japan
Sumitomo Corporation
A new agreement that will see both parties explore the potential of developing a plant for producing corrosion-resistant alloy pipes and tubular goods in Saudi Arabia, and to study opportunities in areas such as manufacturing, chemicals, and new technology industries, as well as human resource development.
Iwatani Corporation
An amendment to an existing MoU to further enhance the liquefied petroleum gas (LP Gas) emergency relief program introduced in 2009. The purpose of the LP Gas emergency relief program is to provide, as emergency relief items, gas canisters and portable gas stoves to populations affected by large-scale natural disasters in Japan, such as the tragic Fukushima earthquake and tsunami in 2011.
Showa Shell Sekiyu and Solar Frontier
A new agreement to conduct a joint feasibility study (under the auspices of the National Industrial Cluster Development Program) with Showa Shell and Solar Frontier for the development of a solar photovoltaic (PV) panel manufacturing plant in Saudi Arabia. The plant would have an annual nameplate capacity of 570 megawatts per year.
Mizuho Financial Group, Sumitomo Mitsui Banking Corporation, The Bank of Tokyo-Mitsubishi UFJ, Ltd.
MoUs with three major Japanese financial institutions to facilitate foreign direct investment into Saudi Arabia, thereby contributing to Saudi Aramco's — and the Kingdom's — investments and growth.
Ministry MoU
Japan: Agreement to Enhance Energy Ties and Cooperation
A new agreement to further strengthen energy sector cooperation calling for both countries to endeavor to pursue new and emerging areas that will increase bilateral trade and investments, including cooperation in the area of clean energy to develop and utilize cleaner fossil fuel technology through the application of optimal available mechanisms and practices.
Under this agreement, Japan's Ministry of Economy, Trade and Industry (METI) authorized a renewed partnership with the Japan Oil, Gas and Metals National Corporation (JOGMEC) for usage of the Okinawa commercial crude oil storage facility.
This extends Saudi Aramco's agreement with JOGMEC for utilization of the crude oil storage facilities in Okinawa and includes a planned storage capacity increase from 6 million to 8 million barrels.
Media contact information
All media enquiries are handled by Aramco's Media & Executive Communications Department, Dhahran, Saudi Arabia.
For media inquiries, please email us at media.inquiries@aramco.com