Bringing Vision 2030 to the United States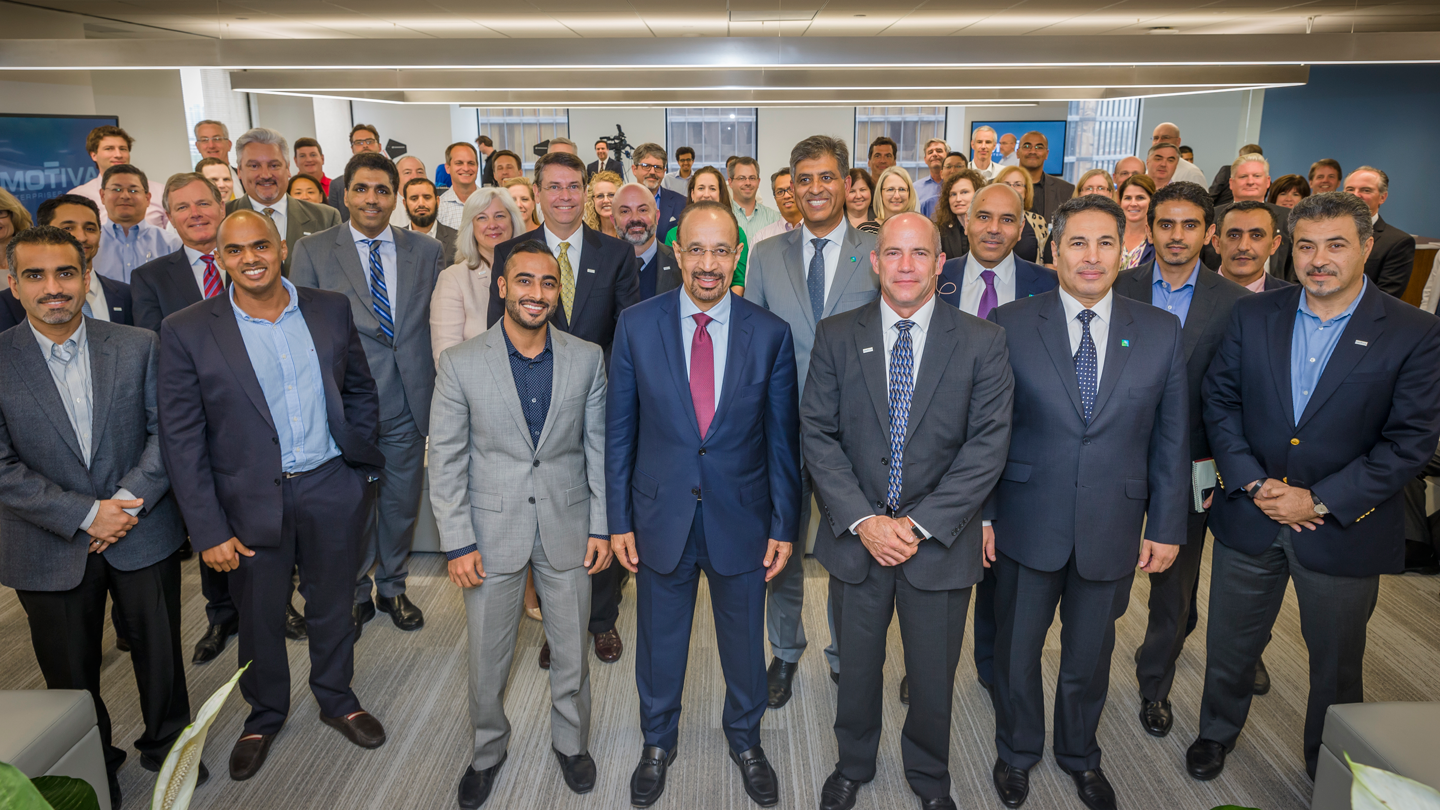 During his visit to the Motiva headquarters, HE Khalid A. Al-Falih, joined employees for a town hall discussion.
On the sidelines of HRH Deputy Crown Prince Mohammad ibn Salman ibn 'Abd al- 'Aziz Al Saud's recent visit to the United States to convey Saudi Vision 2030 and invite collaboration in its execution, HE Khalid A. Al-Falih, Minister of Energy, Industry and Mineral Resources, and Chairman of the Saudi Aramco Board of Directors, took part in disseminating the message, also taking time to share Saudi Aramco's strategy to help implement Vision 2030 in Houston and Boston through a series of town halls and meetings with business, financial and academic leaders.
Motiva at a pivotal time
Al-Falih kicked off his first town hall at Motiva's downtown Houston headquarters.
"Although Motiva is out of physical sight from where I serve in Saudi Arabia, it is always present in my mind as a valued organization with great people and a best-in-class asset," said Al-Falih.
Saudi Refining Inc. (SRI), a subsidiary of Aramco Services Company (ASC), and Shell are dissolving the 50-50 Motiva joint venture (JV) that has been in place in its current form since 2002, and dividing the assets. From 1998 to 2002, SRI played a key role in the future of Motiva, with a three-way partnership among Saudi Aramco, Shell and Texaco. Prior to 1998, SRI partnered with Texaco in a JV called Star Enterprise, starting in 1989, which gives Aramco a combined 27 years of service in the U.S. downstream sector.
When the deal closes, SRI will have sole ownership of the 600,000 barrels per day produced at Port Arthur Refinery — the largest in the U.S. — as well as 26 distribution terminals along the U.S. Gulf Coast, and an exclusive license to use the Shell brand for gas and diesel sales in several U.S. market regions. SRI will also maintain the Motiva name.
Al-Falih said the Motiva restructuring will become a platform for growth and mark a new beginning as Aramco grows its global refining footprint, almost doubling its refining capacity from over five million barrels per day (MMbpd) currently to 8-10 MMbpd over the coming decade. This growth is currently being pursued with transactions in many parts of rapidly developing Asia.
Breakthroughs at Houston research center
On his next stop, Al-Falih visited Saudi Aramco's Houston research center that was inaugurated in 2014. The global R&D program, which was part of the Accelerated Transformation Program journey and comprises eight international research centers spread around the world directed from the corporate R&D centers in Dhahran, is beginning to turn out exciting results in terms of technology enhancements and breakthroughs.
In lab tours, Al-Falih saw an ultrasonic tomographic meter built in collaboration with the Production Technology team at EXPEC ARC — the upstream R&D center in Dhahran. The meter was developed entirely within Saudi Aramco and does not use radioactive sources, which is better for the environment and less costly to build and service.
Another area of interest was a downhole electromagnetic receiver wireline tool, which was a collaborative project with EXPEC ARC's Geophysics Technology Team. The tool, currently in field trials, is expected to provide better front mapping and the detection of bypassed oil.
In the area of drilling, several novel technologies were showcased and they are expected to undergo field trials this year. These include a new advanced material to repair high-pressure gas wells suffering from defects in the well's cement sheath, as well as a new material for improving the wellbore construction process, avoiding a significant amount of downtime. Another interesting area currently being researched is a high-value drilling fluid chemical that could be manufactured in the Kingdom, reducing imports.
Following the lab tours, Al-Falih held a town hall meeting with R&D Center employees and discussed the company's increasing globalization and the critical importance of people and technology. He said that for the company to progress, "we must lead in upstream innovation." He said he was pleased to see the strong connection between all of the company's research centers and the value it creates for the Kingdom.
"The company's R&D program is only going to grow as an important strategic area," he said.
'Laying the groundwork'
At ASC headquarters, Al-Falih attended his third town hall of the day, noting that Saudi Aramco will take center stage in helping to implement Vision 2030. He said the company's assignment to assist in the effort can be attributed to its history of excellence.
He spoke about the importance of the Saudi-U.S. partnership, saying the Saudi delegation to the U.S. was "laying the groundwork" for the next phase of that strategic relationship, which was launched by the Custodian of the Two Holy Mosques in September. Al-Falih described the transformation taking place in Saudi Arabia as being both bold and visionary, and in step with a changing world, an evolving global economy, emerging technologies, geopolitical trends, and more. Furthermore, as Saudi Arabia diversifies, so will Saudi Aramco. Al-Falih noted that Saudi Aramco began its own transformation program a few years ago, which will now be updated to be in step with Vision 2030, which has, in effect, turbocharged that effort.
The company, he said, will seek to move, change, and expand into areas that will not only make it more agile and responsive, but also lead the industry into a better energy future.
"We will become a much more technology and knowledge-driven organization," said Al-Falih. He added that Saudi Aramco will develop a stronger downstream business, double refining capacity, expanding into chemicals, do more with renewables, create new technologies through its R&D efforts, and develop new business lines through investments and acquisitions."
Al-Falih also touched on the topic of the anticipated initial public offering, saying it will open up Saudi Aramco — and Saudi Arabia — to the wider world, also showcasing our achievements to the investment community.
Research investment paying dividends
On his visit, Al-Falih also toured Aramco's research center in Cambridge, Massachusets, where he saw that, in collaboration with colleagues in Dhahran, researchers are improving catalysis for chemical conversions, creating new membranes that outperform commercial ones to process raw gas for impurities, and looking for the onset of corrosion that could save hundreds of billions of dollars by avoiding the deterioration of facilities and pipelines.
In upstream, researchers are developing new nanoscale materials that can be injected into wells to enhance understanding of reservoirs and improve oil recovery. This technology, once realized, will become part of the solution to help Saudi Aramco secure a 70% oil recovery rate, compared to an industry average of less than 35%. Another important area is nano-surfactants, which are used to enhance oil recovery. On this project, rapid progress is being made toward a successful formulation and field trials as a result of a close collaboration with EXPEC ARC in Dhahran.
MIT president Rafael Reif hosted Al-Falih, and the two met with leaders in the academic and business circles of Massachusetts. Al-Falih delivered the welcoming address and then engaged in roundtable discussions on Vision 2030, as well as special focus areas of ongoing importance to the Kingdom, including education, HR development, and science and technology. Reif noted that Saudi Arabia's large young population makes it, "a country of the future."
Media contact information
All media enquiries are handled by Aramco's Media & Executive Communications Department, Dhahran, Saudi Arabia.
For media inquiries, please email us at media.inquiries@aramco.com