Forging stronger ties with China and Japan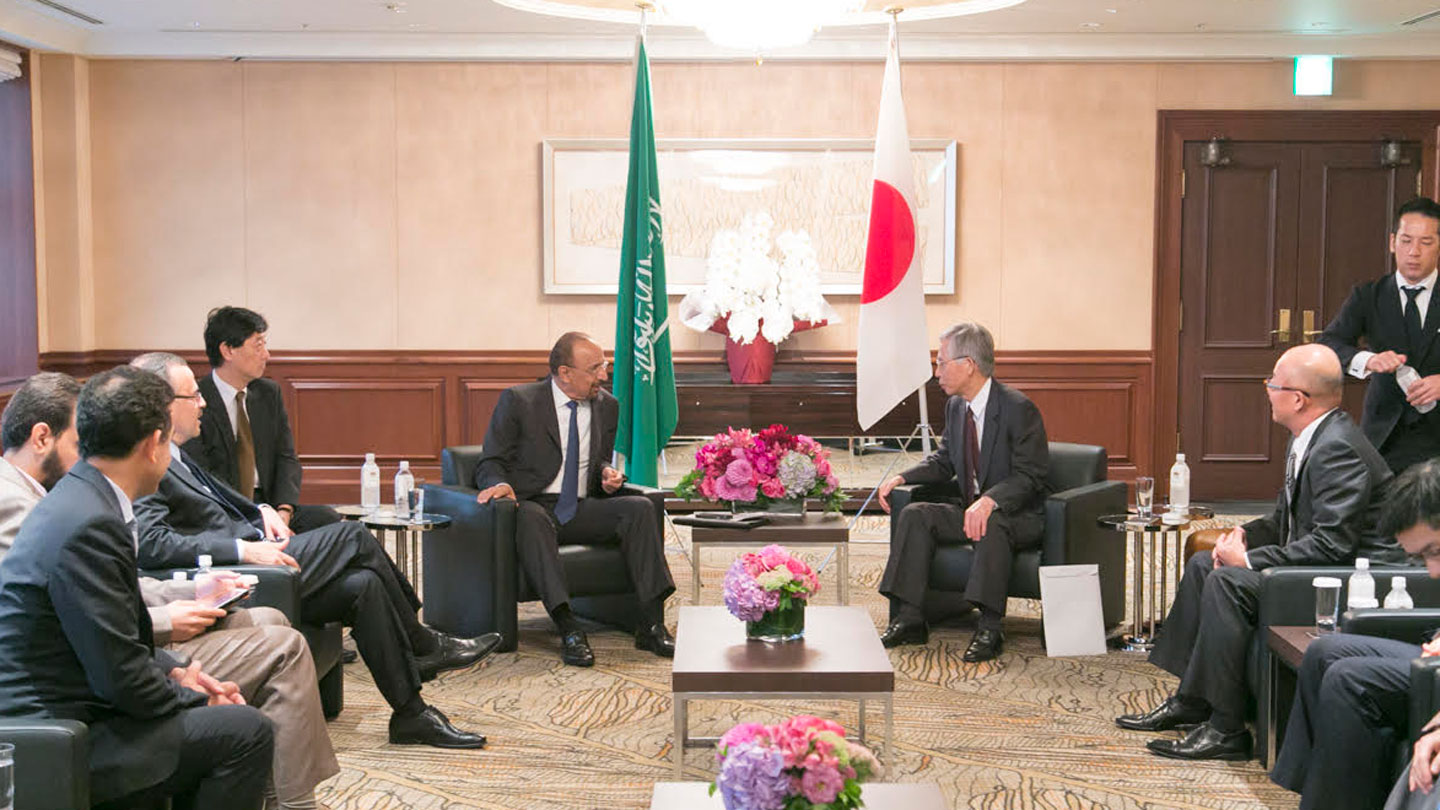 HE Khalid A. Al-Falih and Amin Nasser attend a bilateral meeting with Sumitomo Chemical chairman Osamu Ishitobi. The discussion was focused on current as well as future business opportunities resulting from Vision 2030.
A royal delegation led by HRH Deputy Crown Prince Muhammad Bin Salman convened a series of strategically important bilateral meetings in China and Japan between August 28 and September 9, the results of which promise to produce long-term positive impacts for the Kingdom. The purpose of the visit was to unveil Saudi Vision 2030 to Chinese and Japanese government and business leaders and to discuss the opportunities it affords for further partnership, collaboration, and investment for their respective countries.
The week's events consisted of highly organized and structured business forums, ministerial events, negotiations, customer meetings, agreement signings, and media interviews. Many of the Kingdom's ministers, including the Minister of Energy, Industry and Mineral Resources, HE Khalid A. Al-Falih, participated in the Asia visit.
"I'm confident that as we seek to realize Saudi Vision 2030 and to forge an even more prosperous tomorrow for our citizens, the spirit of partnership and the shared values between our nations and our peoples will further flourish in the years to come, while offering tremendous new opportunities to Japanese and Chinese companies and investors," said Al-Falih.
Saudi Aramco's president and CEO, Amin Nasser, was also an active contributor to the proceedings, along with a number of other Saudi business leaders.
"This week I signed a number of MOUs with Chinese and Japanese institutions, ranging from crude oil storage agreements to commitments to jointly explore opportunities in chemicals, technology, manufacturing, finance and investment, and solar energy. Some of these MOUs enhance or extend existing cooperative agreements, while others set out new paths for prospective partnerships."
Saudi Aramco's president and CEO, Amin Nasser said
Each delegation member helped advance Saudi Vision 2030 by expanding and deepening existing relationships, creating new partnerships, and structuring agreements to open up new areas of cooperation. Several Saudi companies and government entities signed Memorandums of Understanding (MOUs) with Chinese and Japanese businesses during their time in Asia.
A sweeping blueprint for success
Vision 2030, launched by the Custodian of the Two Holy Mosques King Salman ibn 'Abd Al-'Aziz Al Sa'ud and conceived under the leadership of the Deputy Crown Prince, is a sweeping blueprint for extending Saudi Arabia's economic success.
Asia was the destination of the royal delegation because China and Japan each possess skills and capabilities that has propelled them to the status of global leader in many sectors — sectors which have also been identified within Vision 2030 as areas ripe for growth within Saudi Arabia. And, like Saudi Arabia, both China and Japan have developed ambitious programs for the sustainable economic development of their respective countries. The intersection of all of these elements creates the conditions for promising synergies in areas of mutual benefit for all three countries.
Traditionally, through its business dealings, Saudi Aramco has been the main link between Saudi Arabia and both China and Japan. The company has provided the Chinese and Japanese economies with energy security while structuring joint venture opportunities in some of its major projects for companies from both countries. Saudi Aramco has also built cultural bridges by sending many of its young people to study in the region and by establishing affiliate offices in Beijing and Tokyo.
The Kingdom is increasingly becoming the destination for foreign investment for both Chinese and Japanese firms. Saudi Vision 2030 is the launch pad that will usher in a new era of expanded relations between not only the company and its two largest customers, but also between the Kingdom and its two largest trading and investment partners in Asia.
Saudi Aramco has a critical role to play in helping the Kingdom achieve Vision 2030. By facilitating strategic foreign investment in the energy sector, contributing to increased localization of supplies and services, and enabling new and emerging industries locally through investments in industrial infrastructure ecosystems, Saudi Aramco continues to do its part to support the Kingdom and its citizens.
Media contact information
All media enquiries are handled by Aramco's Media & Executive Communications Department, Dhahran, Saudi Arabia.
For media inquiries, please email us at media.inquiries@aramco.com