Innovation and young talent take the helm in Tanajib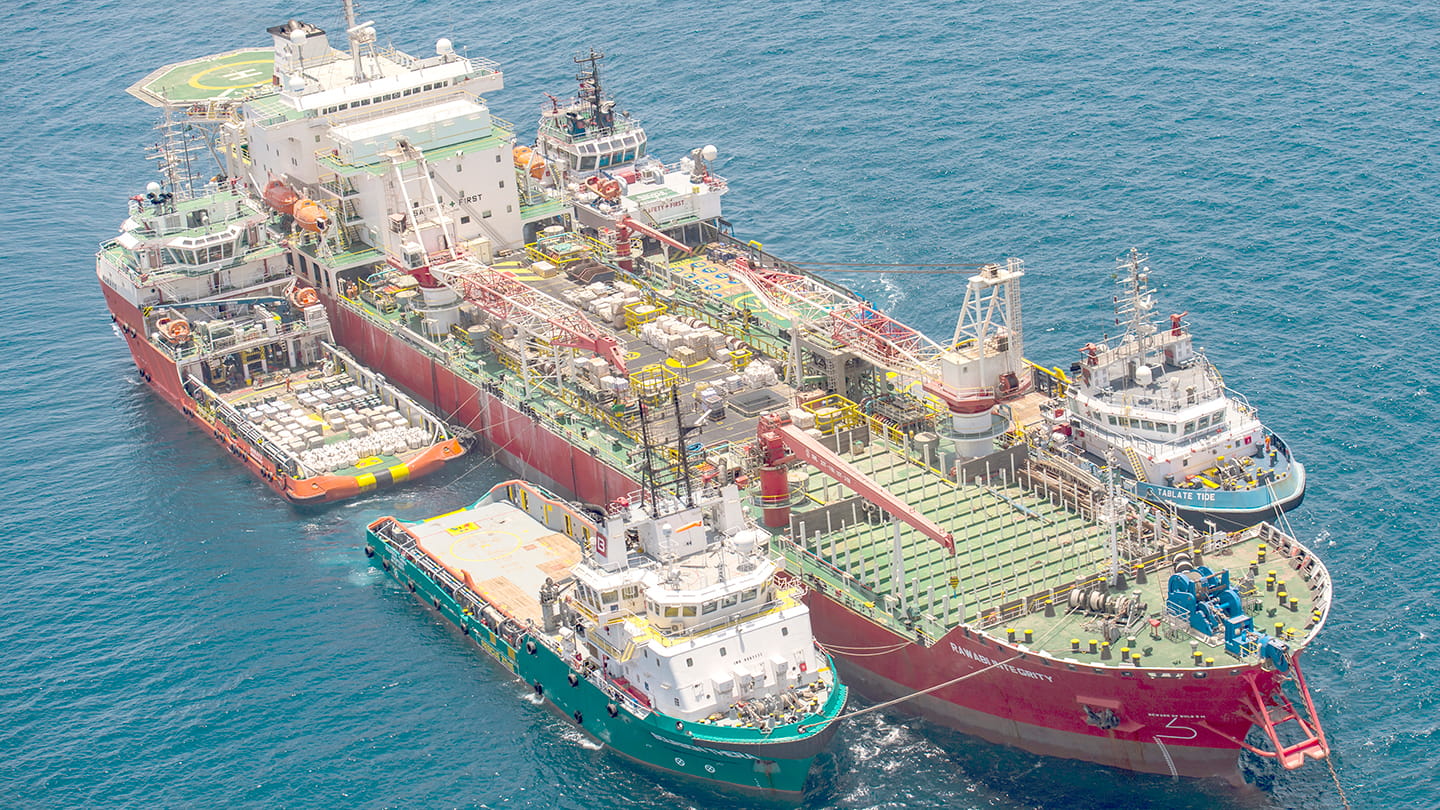 The new Marine Offshore Floating Hub, the first of its kind in the world, has revolutionized the way offshore rigs are supplied.
Tanajib port is a hive of activity. Forklifts come and go and spin around the dock with precision in what looks like a well-rehearsed waltz.
Ships wait in line to be restocked with supplies, from drilling equipment to mud tanks for the critical drilling operations taking place deep in Gulf waters offshore. Some of the world's largest oil and gas fields lie beyond the blue horizon. Everything here has to be well rehearsed, because having these critical supplies arrive on time to their assigned rigs keeps production in these huge fields running smoothly, 24/7.
There is no room for error; Saudi Aramco depends on these offshore rigs receiving crew and supplies on time, otherwise there could be costly shutdowns. What we see is an example of logistics at its most fine-tuned and an environment where efficiency and teamwork means everything.
Saudi talent
The Marine Logistics Department's office mobilizes all of this activity together and ensures that everything from shore to rigs operates seamlessly. What is most impressive is that a good measure of the weight of responsibility is shouldered by young Saudi talent, entrusted, empowered and mentored by their management team to carry out these critical tasks around the clock.
At the age of 36, Abdulaziz S. Abuali oversees a young team of planners, shippers and loadmasters. He explains the role and the unexpected challenges often faced by the team.
"My day job is a senior planner and a senior planner's duties are to supervise the other planners and to make sure that we are always giving the customer the best service that we can and exceed their expectations.
"Marine Logistics started in 2013 to extend the offshore supply for drilling offshore rigs. Basically, we received work requests through the SAP system and we processed every request with a particular category, according to whether it was an emergency or a normal request. We always look at the drilling and the drilling operations and their requirements in case they have a specific operation that requires additional support."
All in a day's work
Without the hard work of young Saudi talent and others, the deployment of the new Marine Offshore Floating Hub in Tanajib could not have been accomplished. Abuali says that for the young Saudi team, the new business model with the deployment of the Marine Offshore Floating Hub is a unique opportunity to learn and flourish in a culture of teamwork.
"It is really a great experience for the young Saudi talent. I have learned a lot here. For them, it is really a golden opportunity at their age to gain knowledge of all of these processes of offshore drilling and the processes of different logistics. This extended offshore operation really is a great opportunity for them."
While the introduction of an unparalleled and unique asset like the Hub to Saudi Aramco offshore operations is a tremendous achievement, the development and integration of the young Saudi workforce to operate such an asset is also worthy of recognition.
The company's future is in our youth and Saudi Aramco seeks to ensure that they have the right tools and training to meet the challenges — both for the benefit of Saudi Aramco and the Kingdom at large.
Media contact information
All media enquiries are handled by Aramco's Media & Executive Communications Department, Dhahran, Saudi Arabia.
For media inquiries, please email us at media.inquiries@aramco.com