Promoting creativity through 'MAD' competition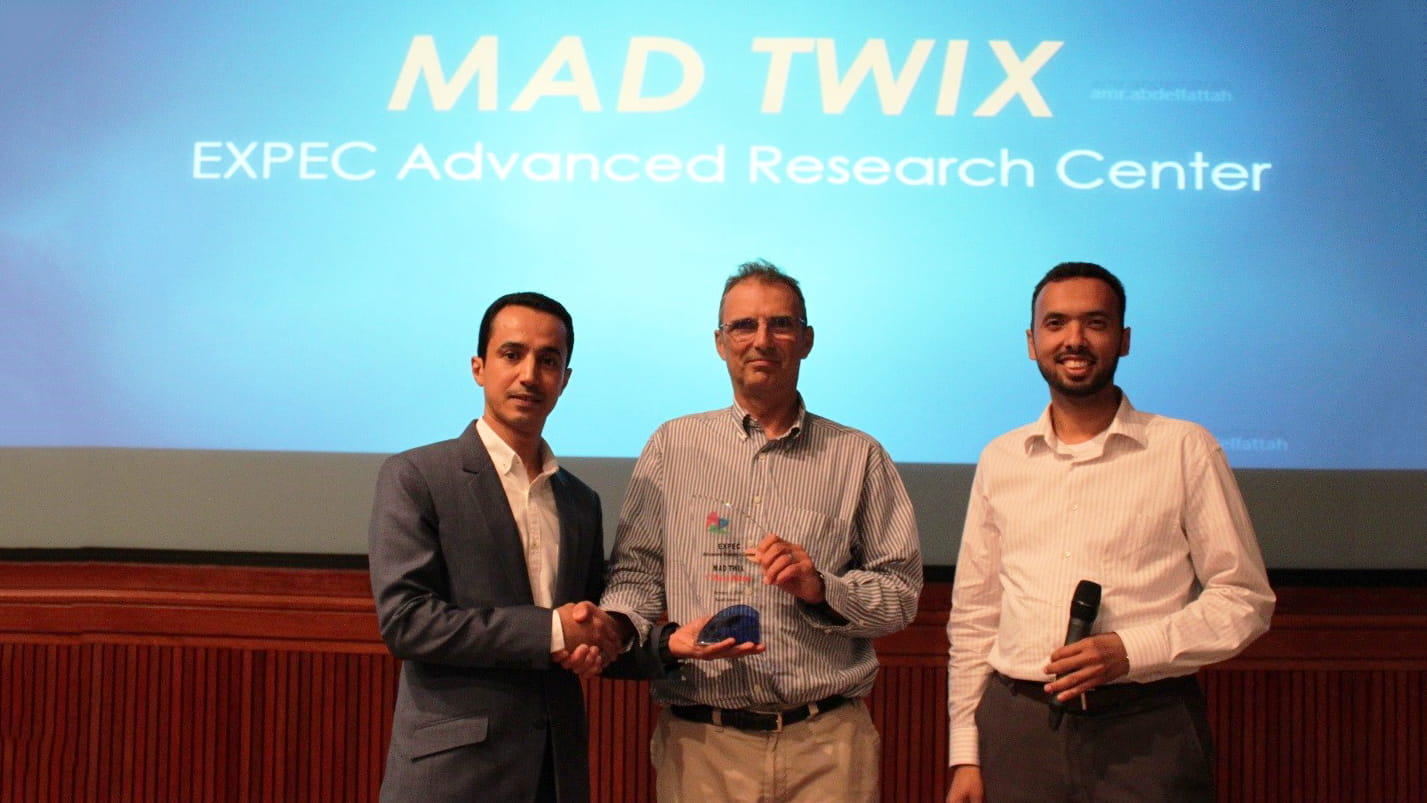 Paul Crumpton, a petroleum engineer consultant, center, receives the award designed to recognize the most innovative "MAD" ideas.
In the pursuit of promoting a collaborative, free-thinking environment that encourages brainstorming and pushes creativity, Saudi Aramco's EXPEC Advanced Research Center (EXPEC ARC) members recently participated in a competition to present the "MADdest" idea.
MAD ideas
The Mentally Advanced Discussion (MAD) is an interdisciplinary version of EXPEC's regular Technology Weekly Information eXchange (TWIX) seminar where teams rotate in presenting their challenges and creative solutions, which in turn generates lively discussion and stimulates idea creation. MAD TWIX adds a twist to the process by creating a healthy, competitive environment in which all teams present their latest research or novel ideas sequentially at one single session.
"Moderating this challenging, and exciting, technical event has always been very rewarding," said Amr Abdel-Fattah, who has been coordinating the TWIX program for more than three years. "It is astonishing to see the TWIX program increasingly impact our business through producing out-of-the-box research ideas and collaborations that can transform current technologies and the way we do things today.
"The value of these ideas is not only in their MADness and novelty, but also in their ability to stimulate scientists to produce unconventional multidisciplinary solutions to current challenges. It was particularly intriguing to see the dynamics during MAD TWIX and eager engagement among EXPEC ARC scientists and researchers at the event — they all felt the true ownership of such a great accomplishment."
MAD TWIX objectives are directly aligned with EXPEC ARC business goals and strategies. The competition stimulates far-reaching idea creation as members from each research team brainstorm and prepare out-of-the-box ideas. It also promotes increasing interaction across teams to share ideas that push the limits of science, thereby sparking new, high-potential research relating to our upstream business.
The winners
Seven talks were delivered by EXPEC ARC researchers — representing six upstream technology disciplines — to attendees and peer judges selected from each technology team.
"The tough questions we asked presenters upon each talk led to enthusiastic debating," said Abdulkareem AlSofi, who chaired the judging committee. "Our discussions afterward in judging and ranking the MAD ideas were equally challenging."
The judges presented the distinct MAD TWIX award to the Computational Modeling Technology Team for its "Petro-interpretation Crowd Sourcing Smartphone Game." Paul Crumpton introduced the novel concept that packages geo- and petro-interpretations into a fun smartphone game utilizing crowd-sourcing to obtain potentially millions of human interpretations of petro-data.
"Our team held lively brainstorming sessions to come up with several MAD, out-of-the-box ideas that would impact the way we do business," said Crumpton. "We chose the crowd-sourcing technology to infuse a contemporary successful concept into a rather methodical aspect of our petroleum engineering sciences."
The second most captivating concept was the Drilling Technology Team's "3-D Surgical Downhole Solutions," which was presented by young professionals Mohammad Aljubran and Hussain AlBahrani. It explained how the team would use downhole 3-D ranging/visualization technology and advanced laser welding to develop a solution for a wide variety of both cased and open hole wellbore problems.
Third place went to the Production Technology Team's "Frac-Map: Mapping the Fractured Zones Using Smart Chips." Muhammad Arsalan proposed an idea will help accurately map induced fractures — their depth and spread during and after the hydraulic fracturing process — in the zones of interest.
"The ingenuity of our researchers never fails to provoke and stimulate further discussion — and brings team strengths together to solve technical challenges collaboratively," said Ali A. Al-Meshari, acting manager of EXPEC ARC. "Many research projects and deployed technologies are a product of these engaging forums. Collaboration with our upstream proponents has put numerous TWIX ideas into action in the field."
TWIX and MAD TWIX are examples of the many forums EXPEC ARC offers for young professionals to step up and shine. EXPEC ARC also holds a special Young Researcher Grand Challenge to provide young employees a venue to share research with the department and to improve presentation skills.
Media contact information
All media enquiries are handled by Aramco's Media & Executive Communications Department, Dhahran, Saudi Arabia.
For media inquiries, please email us at media.inquiries@aramco.com