11th GIS Symposium provides platform for collaboration and knowledge sharing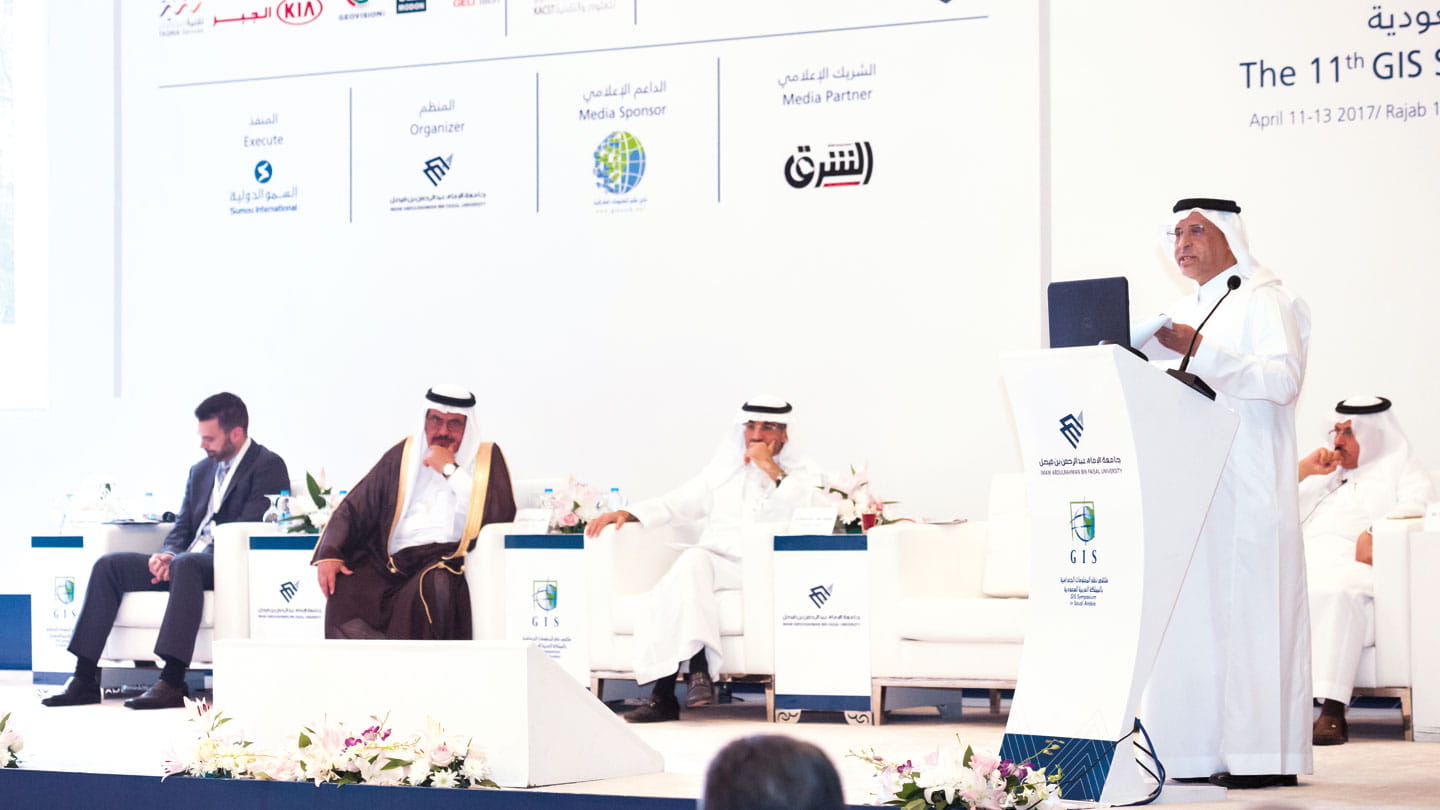 Fahad E. Al-Helal speaks about the important role Geographic Information Systems play for the company in maximizing efficiencies, improving safety and safeguarding operations. Al-Helal was a keynote speaker at the 11th GIS Symposium held recently in Dammam.
Investing in state-of-the-art geographical information systems (GIS) to capture, store, check, and display deep layers of highly detailed geographical data will be critical to advancing the ambitions of Saudi Aramco and the Kingdom, the 11th GIS Symposium in Saudi Arabia heard recently.
The annual conference, drawing experts from government bodies, geospatial scientists, and representatives of academic and research institutions, provided a unique opportunity for knowledge sharing and collaboration in a field that is a critical function for Saudi Aramco, said keynote speaker Fahad E. Al-Helal, vice president of Project Management.
Under the patronage of HRH Prince Saud Bin Naif, Governor of Eastern Province, the Imam Abdulrahman Bin Faisal University in Dammam hosted the symposium, which featured a state-of-the-art exhibit, keynote speeches, and a range of technical sessions.
maximizing efficiency, improving safety
For Saudi Aramco, Al-Helal said, GIS is a critical part in enhancing the company's ability to maximize efficiencies, improve safety, and safeguard operations onshore and offshore, alike. He revealed that Saudi Aramco deploys a wide array of technologies to extract value-adding geospatial data.
"Saudi Aramco's commitment comes in the form of implementing new technologies, new efficiencies, and our continuous aspiration to expand the value of geospatial information for the benefit of more users, and ultimately, the Kingdom.
"GIS is one of the most important fronts. Saudi Aramco's network of domestic operations in terms of exploration, producing, refining, petrochemicals, and distribution is spread across the Kingdom," Al-Helal said.
Saudi Aramco has an infrastructure and facilities that span over 250,000km2 across the Kingdom, including the company's reservations and pipeline networks.
"When managing projects of this magnitude across the Kingdom," Al-Helal added, "geographical services and specifically GIS needs to be continuously invested in for Saudi Aramco's ever-expanding operations. We not only conduct and manage geospatial information, but also provide value-added solutions for users."
The deployment of the most up-to-date systems of GIS has contributed to the company's exploration, production, safety, and project-management activities.
"GIS and geospatial data are really important in our field, whether collecting geospatial data, by land, air, satellite, or at sea. We understand that this data needs to be gathered accurately and efficiently. At Saudi Aramco, we have dedicated, experienced, and skilled teams to handle the collection and processes of our geospatial data," Al-Helal noted.
Geographic services in Saudi Aramco include the responsibility for companywide onshore and offshore geospatial data the positioning, processing, and dissemination of data in a timely and cost-effective manner. Also, Saudi Aramco is committed to supporting the company's business interests by using GIS applications for monitoring and assessing land encroachment, land preservation, land records, and other potential issues.
cutting-edge technology
"Our data capture and processing through utilized geomatics operations uses the latest in global satellite navigation technology, scanning, and optical equipment. This is to provide precise and accurate geospatial information for our projects — for planning purposes, for engineering design, construction, exploration, facility maintenance, and management of Saudi Aramco's land," Al-Helal said.
Saudi Aramco deploys an array of technologies — both onshore and offshore — to get the best layered picture of the geography of the Kingdom.
From the air, a fleet of aircraft uses digital aerial cameras to collect photography. These aerial photographs are used to populate the Saudi Aramco data map, which is the foundation of the Saudi Aramco GIS.
Offshore technologies include underwater survey equipment, cutting-edge navigation equipment, environmental technologies and autonomous underwater vehicles. These methods combine to create a deep layered map.
GIS technologies also contribute significantly to safety across the company and are used in traffic safety initiatives, desert search-and-rescue and offshore and onshore emergency preparedness. The real-time monitoring of pipelines is also made possible by GIS.
"We are committed to our national GIS and geomatics. With the right collaboration, we can advance further our national GIS infrastructure," Al-Helal said.
Saudi Aramco's Tareq Al Qahtani, Dawood Al Najjad, Krzysztof Baczynski, Abdulmajeed Anezi and Jameel Khalaf of the Geomatics Services Division gave a presentation on the first day of the symposium titled "Geospatial Technology in support of Saudi Aramco's Construction Projects."
Media contact information
All media enquiries are handled by Aramco's Media & Executive Communications Department, Dhahran, Saudi Arabia.
For media inquiries, please email us at media.inquiries@aramco.com