Pioneering ecological research project at the Shaybah Wildlife Sanctuary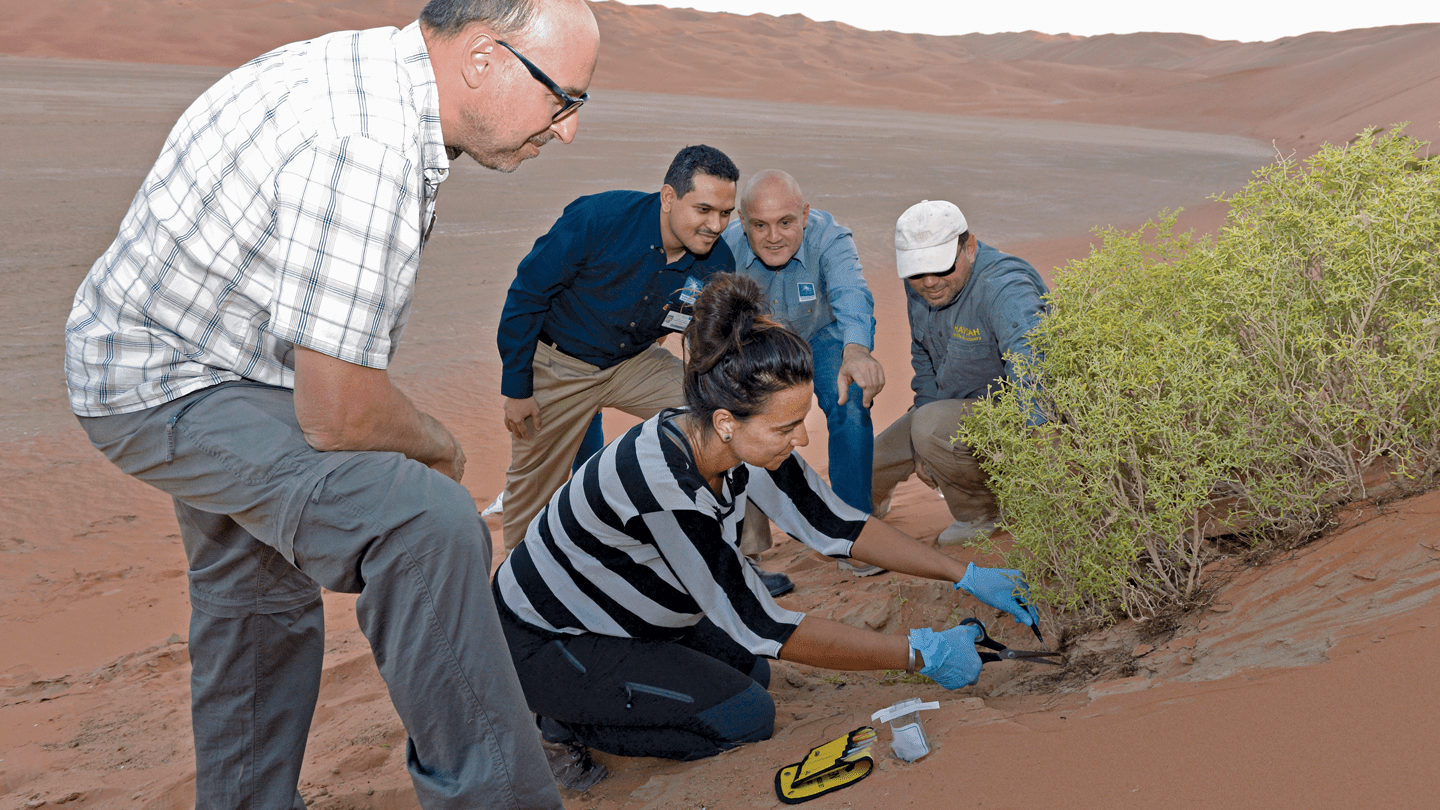 From left to right: Professor Daniele Daffonchio; research scientist Dr. Ramona Marasco; Samer Abduljabbar; Wayne Sweeting and sanctuary ranger Hashim Al Dairi take microbiological samples from the roots of a desert shrub.
Professor Daniele Daffonchio and research scientist Dr. Ramona Marasco of King Abdullah University of Science and Technology (KAUST) recently spent three days in Shaybah undertaking deep desert ecological fieldwork, which formally commences the collaborative biodiversity research within Saudi Aramco's newly created Shaybah Wildlife Sanctuary (SWS).
Deep within the Rub' al-Khali (Empty Quarter) desert, unusual plant species grow that seem to defy all logic. Despite a summer heat of 50 degrees, no irrigation, near zero rainfall, and a lack of organic material in the desert sands, a few unique plant species have found a way to survive, where all other plants cannot.
Unanswered questions
"How is this possible? What specialized properties do these plants possess? Why do they grow in some areas of the Rub' al-Khali, but are absent in others? To safeguard and increase the numbers of these rare species inside the SWS, questions such as these will need to be answered," explains Wayne Sweeting, scientific and operations coordinator at SWS.
"KAUST and our company have an established and enduring relationship. As soon as we were ready to commence ecological research within the sanctuary, they were naturally our first point of call. We look forward to collaboratively working on biodiversity research projects and jointly publishing the results in the future," says Samer Abduljabbar, superintendent, Shaybah Producing Engineering Division.
Daffonchio leads the Extreme Systems Microbiology Lab (ESM Lab) within KAUST that investigates soil microbial ecology in extreme arid environments. His current projects include studies in the Sahara and Namib deserts. He proposes that a key factor to the plant's survivorship in the Empty Quarter may actually be due to the tiniest of creatures, including bacteria, fungi and other micro-sized lifeforms, which form a microbial community inhabiting the golden desert sands.
KAUST researchers and the SWS rangers installed a suite of underground probes, which will log temperature and other environmental parameters for six months to characterize and compare soil conditions in areas comprising sand dunes and salt flats (sabkhas). Additionally, a number of soil, root and vegetation samples were collected. These will be analyzed in the KAUST ESM Lab in Thuwal to identify and describe the microbial lifeforms present inside the SWS for the first time.
Media contact information
All media enquiries are handled by Aramco's Media & Executive Communications Department, Dhahran, Saudi Arabia.
For media inquiries, please email us at media.inquiries@aramco.com