UAVs take flight for exploration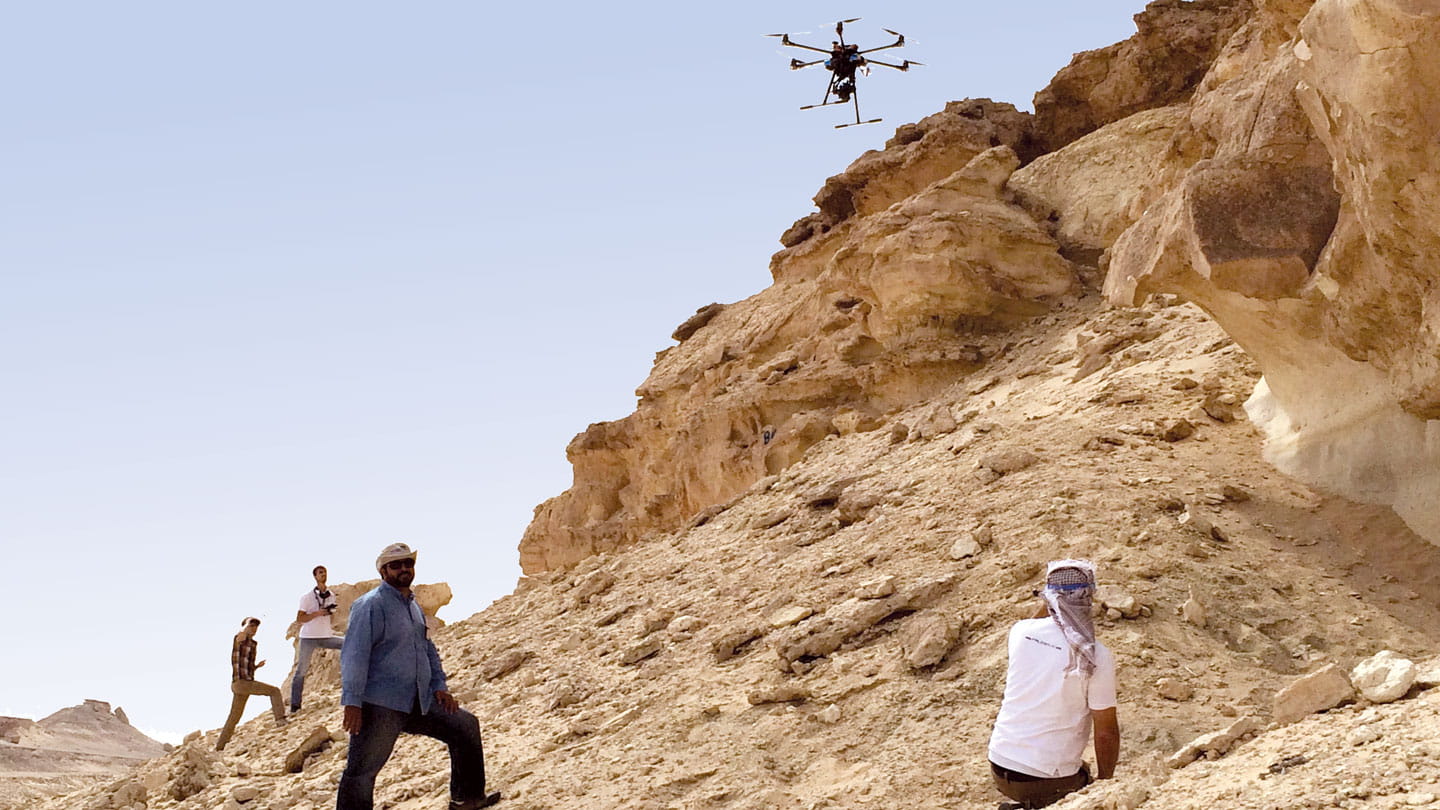 Salem Al Shammari, EXPEC ARC Geology Technology/UAV project lead, center, and his team conduct a field test of a UAV.
The search for oil and gas requires geologists and explorationists to conduct studies on outcrops of rock layers that hold hydrocarbon. Understanding the characteristics of such layers is essential in assessing their potential to hold and produce oil and gas.
There are many difficulties that explorationists face in the field. Accessing steep, rocky outcrops in remote sections of the desert to analyze and chart the structure in pursuit of new hydrocarbon deposits is challenging and physically takes time. The formations are also often hazardous to access or climb.
To eliminate such difficulties and reduce man-hours spent in the field, Geology Technology (GTT) researchers at the EXPEC Advanced Research Center (EXPEC ARC) have been developing a new concept and are now sending unmanned aerial vehicles (UAVs) to conduct "virtual geological field trips" easily gliding over and more accurately documenting challenging geological features and terrain. Bringing a "virtual" outcrop to the office and working with it on a computer screen is a dream come true.
Reducing time in the field
EXPEC ARC conducted the first field trip to the Lidam area to trial test the new concept. About 5,000 aerial photos were acquired covering the entire outcrop. Despite difficult weather conditions including rain, wind and turbulence, a resolution of 0.25 mm per pixel was achieved in some vertical sections. Two half-day missions were needed to achieve this first milestone.
"This mission would have taken over two days and required more people by the conventional method of acquiring several geological measured sections and would not have provided us the detailed results of the UAV's capabilities," said Salem H. Al Shammari, GTT geological consultant and project leader. "This technology definitely saves us time and effort and will become quicker after a few more trials."
"We are building high resolution digital models of the outcrops from the UAV photos using photogrammetry techniques and can interact with these models directly from our offices using standard workstations," said Mokhles Mezghani, GTT Multiscale Geological Modeling focus area champion. "The technology is truly cost saving and more accurate."
Business impact
"The novel application has significant business impact," said Maher Marhoon, GTT chief technologist, "which we plan to fully implement to improve geological analysis for our exploration customers and training for Saudi Aramco earth scientists."
The UAVs improve several areas:
Safety — geologists can safely and remotely navigate the UAV to acquire close-range photos of unsafe areas (e.g., cliffs, karsts, etc.).
Accuracy — geologists are able to extract a complete high resolution (up to mm scale) vertical section from any location in the outcrop by using the digital model.
Effectiveness — geologists can easily interact with the digital model to extract more vertical sections, or to focus on a specific area of the outcrop without any need to physically revisit the outcrop.
Reduced operating cost — fewer people required, travel time and cost eliminated.
"This new technique will revolutionize the way we conduct aspects of our field work," said Ali A. Al-Meshari, EXPEC ARC acting manager, "and illustrates how our researchers strive to deliver creative and effective technology solutions to Saudi Aramco's upstream business challenges."
Next steps
The next expansive stage for this EXPEC ARC technology development is in collaboration with the eMap Division/Remote Sensing Services group of the Support Business Applications Department to locate specific minerals, such as bentonite and barite, used in Saudi Aramco drilling operations. In addition to the high resolution digital camera, other tools and sensors can be attached to the UAV for various purposes, which are required in identifying the properties of minerals.
"Once this technology is deployed, it will open a highly advantageous window of field mapping for our explorationists, greatly facilitating how they conduct their field work," said Al Shammari.
Media contact information
All media enquiries are handled by Aramco's Media & Executive Communications Department, Dhahran, Saudi Arabia.
For media inquiries, please email us at media.inquiries@aramco.com