Saudi Aramco steps up to deliver landmark global fire operations conference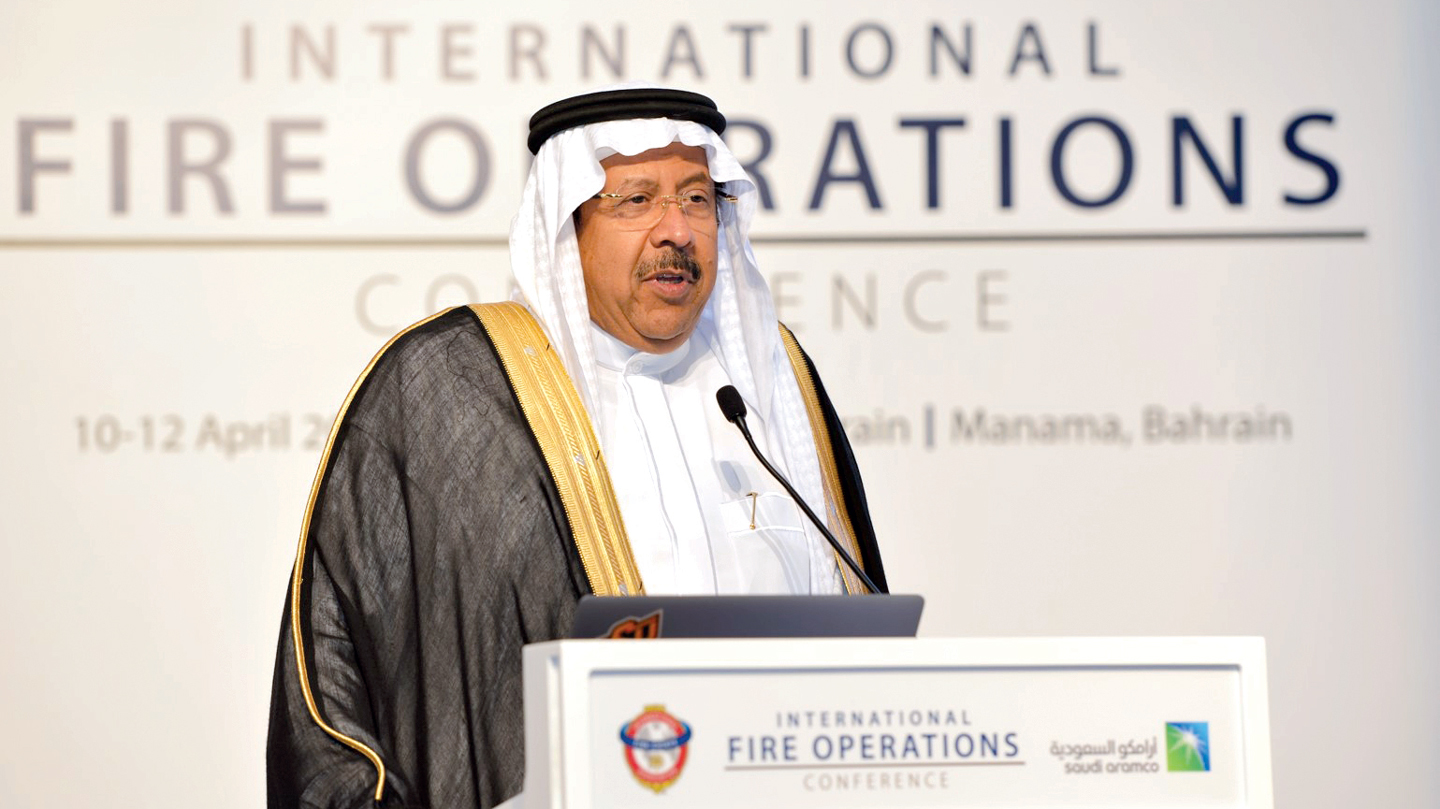 Bader F. Al Qadran delivers opening remarks at the first International Fire Operations Conference held recently in Manama, Bahrain. Al Qadran was joined by Ghassan G. Abulfaraj and other members of Saudi Aramco Safety and Industrial Security at the global conference, which was hosted in collaboration between the company and the International Association of Fire Chiefs under the patronage of Lt. General Sheikh Rashed Bin Abdullah Al Khalifa.
The Saudi Aramco Fire Protection Department (FrPD) recently collaborated with the International Association of Fire Chiefs (IAFC) to deliver the First International Fire Operations Conference. Held at a Manama-area hotel under the patronage of Lt. General Sheikh Rashed Bin Abdullah Al Khalifa, Minister of Interior for the Kingdom of Bahrain, the historic forum created a platform for fire operations education on a global platform.
The IAFC is the preeminent organization representing leadership of emergency responders worldwide and is well versed in such events, but this was the first on a global scale — a springboard off the success of the FrPD/IAFC Fire Officers Fellowship Program.
The event opened with a series of fire technology exhibitions and pre-conference workshops hosted by fire protection experts from around the world. Topics included fire service leadership, complex challenges in commercial and residential fires, and dissecting how lessons from the past are helping fire service leaders in shaping the future.
International collaboration and recognitions
Among those from Saudi Aramco taking part in the forum were Bader F. Al Qadran, executive director of Safety and Industrial Security (S&IS); Ghassan G. Abulfaraj, FrPD manager; and other members of the S&IS management team. The event also saw key participation from high-level government officials, as well as fire chief Thomas Jenkins, president of the IAFC.
Al Qadran and Jenkins each delivered opening remarks, speaking on the future challenges facing the fire protection profession and the importance of international collaboration in finding solutions. They also expressed their gratitude to those who made the conference possible.
Saudi Aramco also received recognition, with Al Qadran accepting an award for his ongoing support to the development of international firefighters, and Abulfaraj receiving the IAFC Presidents Award for outstanding visionary leadership contributions to fire protection. Abulfaraj is the first ever recipient in the 20-year history of the award from outside of North America.
Other awards included a recognition for representatives of U.S. fire services that hosted Saudi Aramco firefighters as part of the Fire Officers Fellowship program.
Key topics in global fire operations
More than 300 participants attended the two-day conference, including firefighters, fire officers, and fire chiefs from across the Middle East and beyond. FrPD representatives Waleed Abdulhadi, general supervisor of the Engineering and Training Division; Rami Kurdi, head of the Training Section; and Hamad Melaihi, Training Group leader, led the organization and execution of all conference activities.
A series of events were held over the two days, including classes and panel discussions hosted by speakers from Saudi Arabia, the U.S., South Africa, South Korea, and the U.K. Among the topics covered in the varied sessions ranged from frontline leadership to special operations required in complex emergencies, to fire ground safety and major disaster responses.
Saudi Aramco personnel played a key role in the sessions, with workshops being delivered by Mezher N. Al Qahtani, superintendent of the Ras Tanura Fire Protection Division; Mohammed AbuHussain, Fire Operations Technical Support Group engineer; and Majed Marri, also a Fire Operations Technical Support Group engineer.
Meetings like this bring together our fire officers and act as a platform to promote and learn, and it is greatly inspiring to see such an international assembly of fire service professionals in one location.
Ghassan G. Abulfaraj, FrPD manager
A success
Overall, the conference's success was evident from the long discussions and connections made by the attendees, more than 300 delegates, presenters, exhibitors, and sponsors, who overwhelmingly asked for the opportunity to attend future conferences of the same nature.
"Saudi Aramco proved that it is the world leader not just in energy production, but also in the furthering and exploration of excellence in all fields by providing a forum to delve deep into the pressing questions faced by the global fire service," said Jenkins. "This was truly a historic gathering of experts in fire operations and fire service leaders. We are very proud to offer these educational opportunities in collaboration with Saudi Aramco as part of the first conference dedicated to fire operations ever held in the Middle East."
Abulfaraj echoed Jenkins comments. "We are very proud of our collaborative efforts with IAFC to launch the First International Fire Operations Conference in the region — a truly momentous initiative. This platform will allow our fire leaders to learn from past experiences, contemplate game-changing concepts in the field of fire protection, and move forward in shaping the future," he said.
Finally, the conference was brought to a close with a panel session featuring fire service leaders from around the world to compare and contrast experiences in dealing with common fire protection challenges. Among those participating was Majed Almarri of FrPD.
Media contact information
All media enquiries are handled by Aramco's Media & Executive Communications Department, Dhahran, Saudi Arabia.
For media inquiries, please email us at media.inquiries@aramco.com