Saudi Aramco CEO Nasser addresses future of oil at annual CeraWeek conference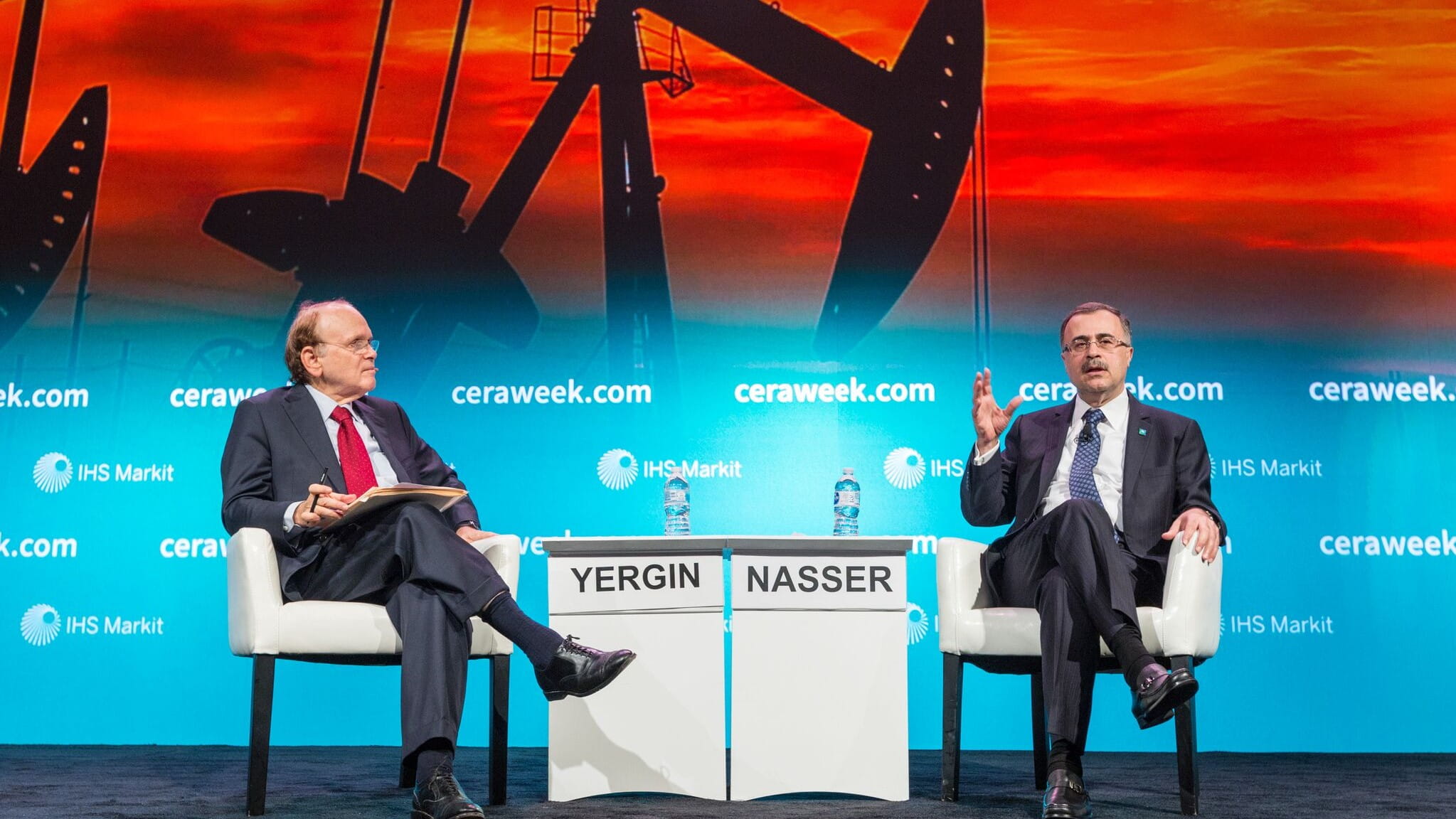 News
|
HOUSTON, Texas, U.S.
|
Speaking at the annual CeraWeek conference in Houston, President and CEO Amin H. Nasser said Saudi Aramco is actively pursuing and investing in several innovative and promising new technologies and initiatives, not only in oil, but also in its multiple uses, such as in transportation, petrochemicals, advanced materials, as well as in carbon emissions reduction.
He added that "oil will maintain its key role in the global energy mix for the foreseeable future, despite the increasing growth of renewables. The growth of the world's population requires the continuing development of several types of energy sources simultaneously."
In a special address before an audience of energy executives, experts, government officials and policymakers, Nasser noted that strong economic growth in emerging and developing markets, an additional two billion energy consumers by 2050, in addition to new non-combustible uses for oil, will continue to drive demand for hydrocarbons. He added that the resulting transition to sustainable energy will be lengthy and complex which alternative sources cannot adequately support.
"It's particularly encouraging to see expectations of stronger economic growth in the emerging and developing markets because that's where most oil demand growth is expected to be," Nasser said. He also addressed growing demand for non-combustion uses for oil and gas: "We see huge potential in producing advanced materials for use in a wide range of high-growth industries like automotive, construction, and housing, as well as in our own industry," he said.
Saudi Aramco CEO warned against some misconceptions around the future of oil, such as an impending peak demand. He explained that these erroneous and misleading notions are sending negative signals which do not encourage investment in hydrocarbons needed to meet future demand. He reassured that the market's fundamentals are healthy, despite fluctuations, expressing his confidence that global oil demand will continue to grow and that oil will maintain its preeminence in the global energy mix for the foreseeable future.
Nasser called on the energy industry to take bold action in four key areas to ensure that global oil and gas demand continue to be met in the years ahead, which included: expanding exploration, offsetting declines in legacy fields, new and continued investment, as well as enhancing and creating new game-changing technologies.
Saudi Aramco participation at CeraWeek included Chief Technology Officer Ahmad O. Al Khowaiter, who took part in discussion sessions onOil and the Future of Mobility, Strategies for the Energy Future and Game Changing Technologies for Oil and Gas.
The theme of this year's CeraWeek was "Tipping Point: Strategies for a New Energy Future. This year marks the 37th anniversary of CeraWeek, an energy conference ranked among the top five "corporate leader" conferences in the world, providing insights and critically important dialogue on the future of the energy industry.
CeraWeek also coincided with the 80th anniversary of the discovery of oil in Saudi Arabia, an event which led to the transformation of, not only the economic landscape in Saudi Arabia, but also of the global energy industry. And just as oil played a key role as an energy source in the 20th century, it will equally maintain its preeminence as the leading and an even more sustainable energy source in the 21st century.
Media contact information
All media enquiries are handled by Aramco's Media & Executive Communications Department, Dhahran, Saudi Arabia.
For media inquiries, please email us at media.inquiries@aramco.com