STORIES
The AI Hub at Aramco
The home of our next-generation of digital innovation.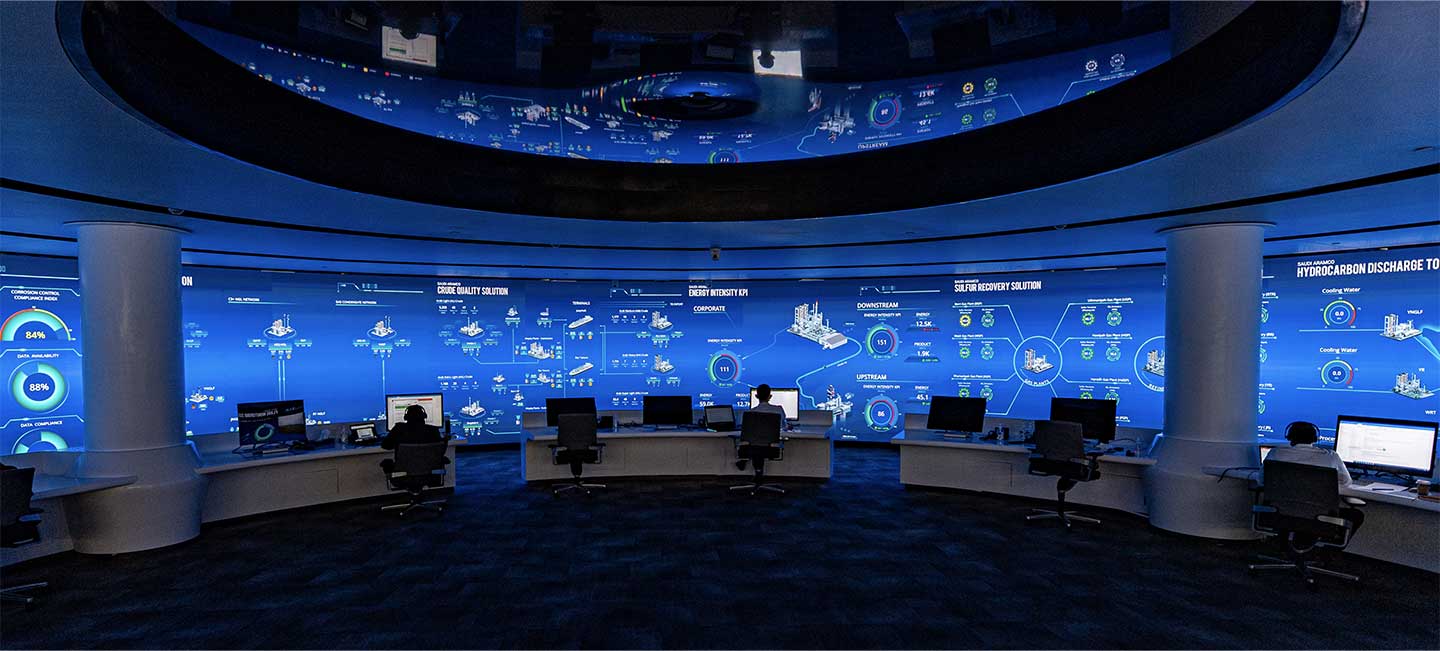 Our 4IR Center is where we develop our digital transformation solutions and it houses the AI Hub which specializes in creating programs to support the productivity and performance of our oil and gas production
At the AI Hub our field specialists and developers work together to identify areas of our operations where artificial intelligence could make the most impact
We deploy, manage and build smart software solutions to improve efficiency, optimize response times, ensure safety, and reduce emissions
Our 4IR Center (4th Industrial Revolution Center), located in the city of Dhahran, is a cutting-edge facility dedicated to the innovation and application of next-generation, disruptive technologies — such as augmented reality and drones — in the energy industry.
At the heart of the Center lies the futuristic Artificial Intelligence (AI) Hub — a bright space circled by a massive concave video screen displaying the latest AI solution readouts, from flaring predictions to the risk of component failures.
The Hub is home to a team of engineers, developers, data scientists and field experts, all focused on creating, monitoring and managing AI solutions — using advanced analytics, Big Data and machine learning — for our operations and facilities.
The small and highly-skilled team is divided into four units, each of which is dedicated to one specific key area of business transformation: Sustainability, Energy Intensity/Efficiency, Product Quality, or Asset Health and Integrity.
The new energy revolution
The 4IR Center was established in 2019 as part of our drive to become the world's leading digitalized energy company, and to create a technology-enabled collaborative environment.
At work in the 4IR center
4IR technologies such as robotics and Virtual Reality are quickly transforming the oil and gas industry — improving safety, response times, operational efficiency, emissions reduction, and approaches to training.
At its launch the Center immediately provided the Company with a quantum leap in technological advancement in computational capability, development and testing capacity, setting the stage for a new level in operational excellence.
The Center connects to more than three million real time process measurements, receiving data from well-heads in the oil and gas fields, and from processing facilities across the Kingdom, which is then translated to more than five billion data points per day.
These data points are then combined with over two million lab measurements, readings from more than 3,000 analyzers and five million engineering drawings, in addition to millions of maintenance and inspection records.
But out of all the 4IR technologies housed here, it's AI — the powerful tool that is machine learning applied to Big Data, in particular — that's having the greatest impact. Through powerful machines connected to consoles in the AI Hub, and the use of advanced analytics, our subject matter experts translate this operational Big Data into meaningful insights to proactively detect and predict potential issues before they occur.
What is the AI Hub?
Sat alongside spaces dedicated to and equipped with the latest in air, ground, and underwater robots, as well as augmented and virtual reality, is the AI Hub. With its banks of monitors it is the 'brains' of the Center's high-tech operation, enabling our employees to predict the performance of critical Aramco facilities, such as our oil and gas fields and refineries, and make advance and real time data-driven decisions to improve asset availability, utilization, and efficiency.
In the past three years alone, the AI Hub has deployed 55 solutions and generated $125 million from in-house solution development and commercialization.
By capitalizing on the power of artificial intelligence, and our unique scale, we are able to use AI in improving business operations and performance at a remarkable pace, advancing our decision-making, and aiding us in remaining at the forefront of supplying the world's growing demand for reliable, affordable, lower-upstream-carbon-intensity energy.
Data-driven development
Designed, built and run in-house, our Flare Monitoring solution was created when an existing, non-mechanical flaring reduction technology was sought and none could be found. So, a decision was made to produce our own.
Flaring is the release and combustion of hydrocarbon gases due to the build-up of pressure in the pipeline and processing facilities. With the majority of flared gas being methane, a potent greenhouse gas, reducing flaring is vital to our strategy to reduce our environmental impact.
Using data from across 170 operating facilities in Saudi Arabia, and benchmarking the performance of each of those facilities, enabled us to develop an in-house algorithm to predict and minimize gas flaring.
This model, which predicts total flaring from 18,000 sources of data, without the need to install additional instrumentation and the associated capital investment, is now patented and being commercialized.
By comparing the real-time data to the model, the system can predict when a facility is going to exceed its flaring targets, so remedial action can be taken in advance.
When integrated with our other flare minimization initiatives, this solution has contributed to reducing total flaring by more than 50 percent since 2010, helping us achieve one of the industry's lowest flaring rates.
This initiative is just the first stepping stone in what AI can help us achieve by way of flaring reduction. Several other projects, including 'machine vision' — a product that performs video and image analytics on the flare tip to analyze flare angle, length and 'flare to smoke' ratio, predicting flare size before it happens — are already making an impact, and taking us closer and closer to our aim of achieving zero routine flaring and the goal of zero total flaring in the near future.
And data gathering and analytics from this AI program has enabled our Hub team to differentiate between hydrocarbon flaring and non-hydrocarbon flaring. This gives operators insight into when hydrogen gas, instead of methane, is being produced in wells and allows us to instead capture and use this valuable resource as opposed to burning it.
In-house innovations
Other projects from the Hub team so far include an in-house energy intensity solution that can review and analyze plant efficiency from the floor to corporate level. As part of our Energy Management Program, this solution has contributed to an estimated energy saving of 263,600 barrels per day of oil equivalent since it was first deployed in 2017.
The team has also developed multiple solutions to predict product quality, including a crude oil quality solution that can predict crude quality issues from upstream to shipping, and has managed to reduce water — an unwanted by-product of the drilling process — mixed in with the crude, by approximately 40 percent.
Predicting crude oil quality
Smarter solutions
Another major success has been in the area of corrosion management. By measuring and monitoring 40,000 structural and performance parameters from across our pipe network, a custom AI program has been crafted that can mitigate the long-term impact of corrosion, the associated maintenance costs, and the environmentally-damaging related spills.
This three-phase flow simulation model monitors the integrity of our pipelines, and is able to provide real-time prediction of flow velocity and water accumulation in each pipeline segment. The build-up of water and variation in flow-speed both contribute to pipeline corrosion. This AI simulation allows engineers to inject corrosion inhibitors to mitigate water damage or trigger pipe scrapers to clear build-up that could reduce flow-speed and result in thinning of the pipes.
The predictive system detects an issue and sends notifications instantly to all those who need to be alerted, and can combine with autonomous technology to carry out actions to correct the identified issue as soon as possible.
While the AI Hub is not a 24/7 operational control center, it provides timely alerts and recommendation capabilities to our Oil Supply Planning and Scheduling system, and other corporate emergency support centers, who then provide the required special and immediate technical support during emergencies.
We were early adopters of AI, and the Hub has given the Company new focus, drive, and direction. Our multi-disciplinary team work with other organizations to find new opportunities where AI can make a lasting impact. And people from across the Company leverage the Hub to access data and find new insights that can be utilized to improve a process or reshape a system.
Taking the lead
The increasing ability of software and technical applications to adopt near-human levels of understanding, reasoning, planning and communication — what we refer to as artificial intelligence — allows us, and the energy industry as a whole, to maximize operational efficiencies and lower costs, all while redeploying valuable talent on future-focused projects.
We have set ourselves the ambitious goal of attaining leadership in the world of industrial AI, and the AI Hub is where this ambition is brought to life. Projects here help us set the pace by developing and deploying advanced technologies across the energy sector, to boost performance and maintain a competitive edge locally, regionally, and internationally. Contributing to a future where energy is not only more reliable and affordable, but is also produced with lower emissions, and widely available for everyone.