Fighting fire with science, engineering, and now — diversity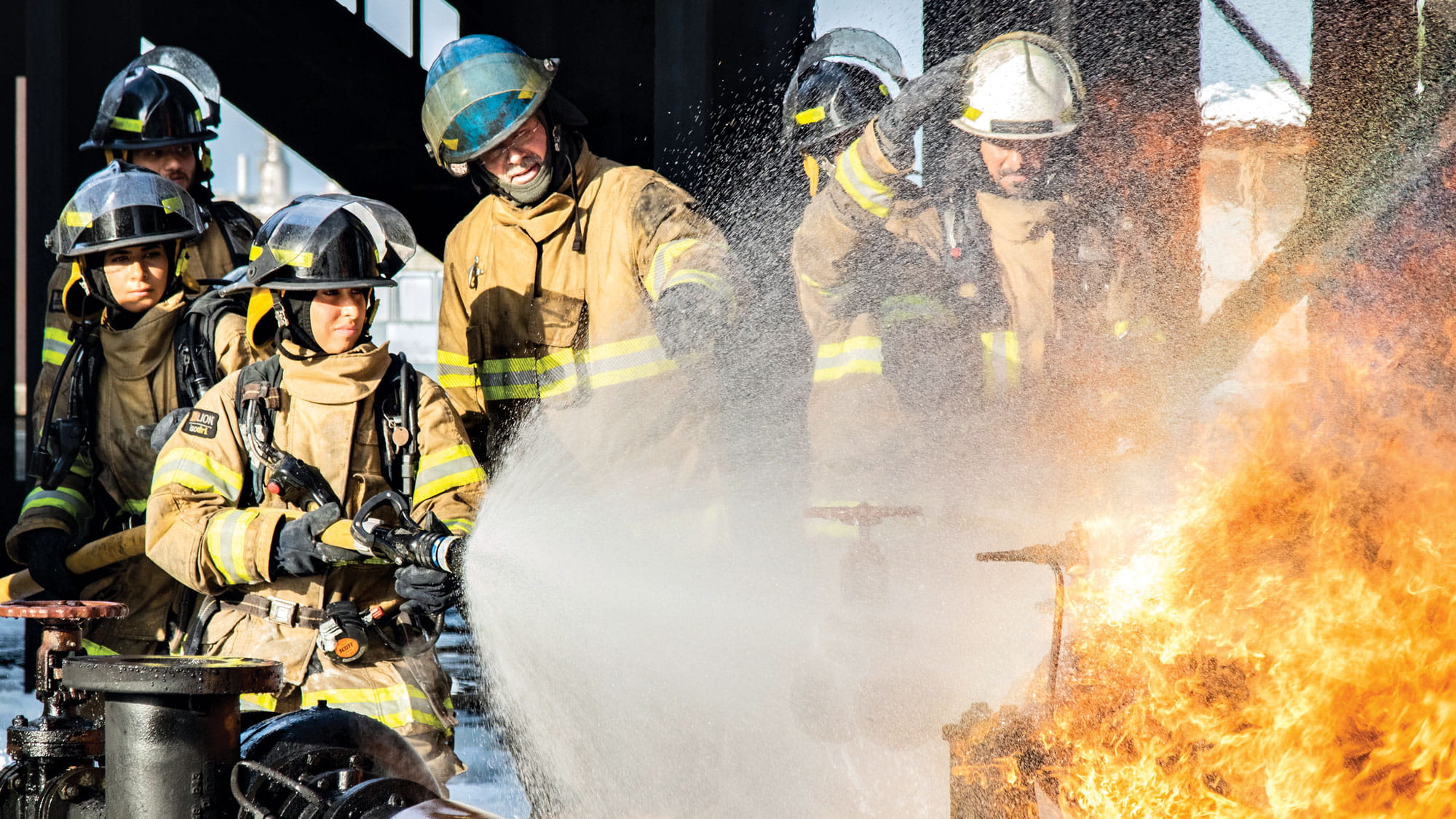 Jazyah E. Aldossary - "on the nozzle" - leads a team of PDP engineers in a coordinated maneuver to isolate the discharge valve on a typical live fire scenario involving a liquid hydrocarbon process pump.

Standing at a distance, intrigued guests stand mesmerized as they watch a team of Saudi Aramco firefighters advancing deliberately, methodically moving forward into a wall of dense smoke and roaring flames during a training exercise designed to challenge firefighters' skills.
In an orchestrated maneuver, team members suddenly disappear into the billowing smoke as flames race overhead — their presence now indicated only by the pulsing hoses that trail out of every door and window.
Soon the torrent of dense smoke is joined by intermittent puffs of bright white steam, and eventually, the thick plume of smoke and steam diminish as the firefighters' silhouettes once again appear in the building's doorways and window openings. They exit the building, pulling hoses out of doors, carefully descending ladders, and pushing open windows to allow fresh air to sweep the remaining wisps of smoke from the structure.
Abeer O. Aljabr, seen here performing the most demanding position on an attack team — "dashing, pulling, straining, and untying the tangle of charged hoses, then quickly back, relieving the hose pressure from the nozzleman and allowing him to focus on the objective — laying down a blanket of smothering foam as the team methodically approaches a spraying pump seal fire.
As the firefighters shed their airpacks and fire coats, our guests learn the firefighters who marched into the storm of smoke and flames are actually a team of engineers — including two women from the Fire Protection Department's Engineering and Training Services Division. Abeer O. Aljabr, an Industrial Engineering and Engineering Management graduate from the University of Sharjah, UAE, and Jazyah E. Aldossary, a chemical engineering graduate from the University of Missouri in the United States, are the first Saudi women to be trained as Saudi Aramco firefighters — meeting the National Fire Protection Association's (NFPA) rigorous Professional Qualifications Standards.


A new paradigm
The paradigm is rapidly evolving for the firefighters and engineering professionals who serve our communities and industrial facilities in the Fire Protection Department (FrPD). Individuals who were once relegated to the sidelines of fire protection are now serving critical front line roles in a more comprehensive approach to identifying, analyzing, and engineering solutions that will redefine the way we think about firefighting.
Diversity is now taking root in the traditionally male role of the firefighter, and the benefits are proving to be many. The inevitable competition among trainees is elevated by the challenge of women competing in this traditionally male-dominated job.
PDP engineers take a quick break from the difficult tasks of firefighting as an instructor coaches them on the nuances of interior firefighting. 
"These young engineers, including our female colleagues, are challenging themselves to be the very best," said Ghassan G. Abulfaraj, FrPD manager. "By doing this, they are awakening the entire fire service community — challenging the status quo and raising the bar for all of us.
"I am also thrilled to witness this historic moment of having the Kingdom's first certified female firefighters," Abulfaraj added.
After participating in the training program, Aldossary said she was inspired by her father, who was a fire chief in the 1990s. "He was passionate about his job, and that passion was instilled in me from an early age," said Aldossary. "Joining FrPD is a dream come true. My dad was very proud as the second generation of his family is continuing his legacy."
Aldossary added that although the process to obtain firefighter certification required significant physical demands on a daily basis, the experience has been rewarding.
Aljabr, her fellow engineering professional, said the experience was an eye-opener about the demands all firefighters must meet. "Walking a mile in their shoes allowed me to better understand what firefighters go through on a day-to-day basis," she said.
"I'm proud to become a firefighter and be part of an organization that gives equal opportunities," Aljabr added. "I'm especially proud to be part of a department that believed in us and supported us as we went through the training."
The changing paradigm is not limited to women in the workforce. FrPD engineers are fully engaged in the many arduous tasks that comprise hands-on firefighting. Through this immersed learning process, FrPD engineers are experiencing firsthand the practical application of physics, chemistry, fire dynamics, and the broad spectrum of sciences that govern fire behavior.
"Physically demanding and mentally challenging training is a critical component of our strategic plan. We must ensure our firefighters are skilled tacticians, our officers are talented leaders, and our engineers are gifted designers who understand the challenges of those they support," said Abulfaraj.

Unsurpassed scenarios
To appreciate the grueling conditions presented by live fire conditions, these young engineers are being trained at FrPD's Advanced Fire Training Center in Ju'aymah, where real fires are deliberately set to emulate specific fire scenarios. The facility was designed to replicate real world conditions such as those present in a raging building fire or hydrocarbon processing unit.

The level of realism and difficulty presented by live fire scenarios at Ju'aymah is unsurpassed. To ensure realism, the designers of this world-class facility selected process equipment earmarked for the scrap yard from across Saudi Aramco operations — a huge spheroid 15 meters in diameter was salvaged from the old Qatif gas-oil separation plant 1, pressure vessels made their way to Ju'aymah from Jiddah, Shedgum, and Yanbu', and three enormous 100-ton process columns were shipped from Abqaiq. Pumps, heat exchangers, compressors, and hundreds of valves that once served in operating plants were assembled in a specially designed fire resistant process unit.
Qualified and ready
To ensure that these engineers are fully qualified and truly appreciate the difficult tasks required of Saudi Aramco firefighters, they are completing a series of certifications dictated in the Standard for Firefighter Professional Qualifications established by the NFPA Committee on Fire Service Training as the model of professional competencies for firefighters and fire officers in North America.

Certification goes beyond the firefighter's performance. To be certified, the student must successfully complete a course of study and practical exercises from an accredited training provider. The training provider's curriculum, testing methods, instructional staff, training facilities, and safety programs are audited to ensure they meet the strict requirements of either the National Board on Fire Service Professional Qualifications or the International Fire Service Accreditation Congress. FrPD is accredited by both organizations to certify firefighters who meet these demanding standards.

FrPD is laying the groundwork for continued excellence in the future through investing in our workforce today.