Upstream professionals selected as SPE lecturers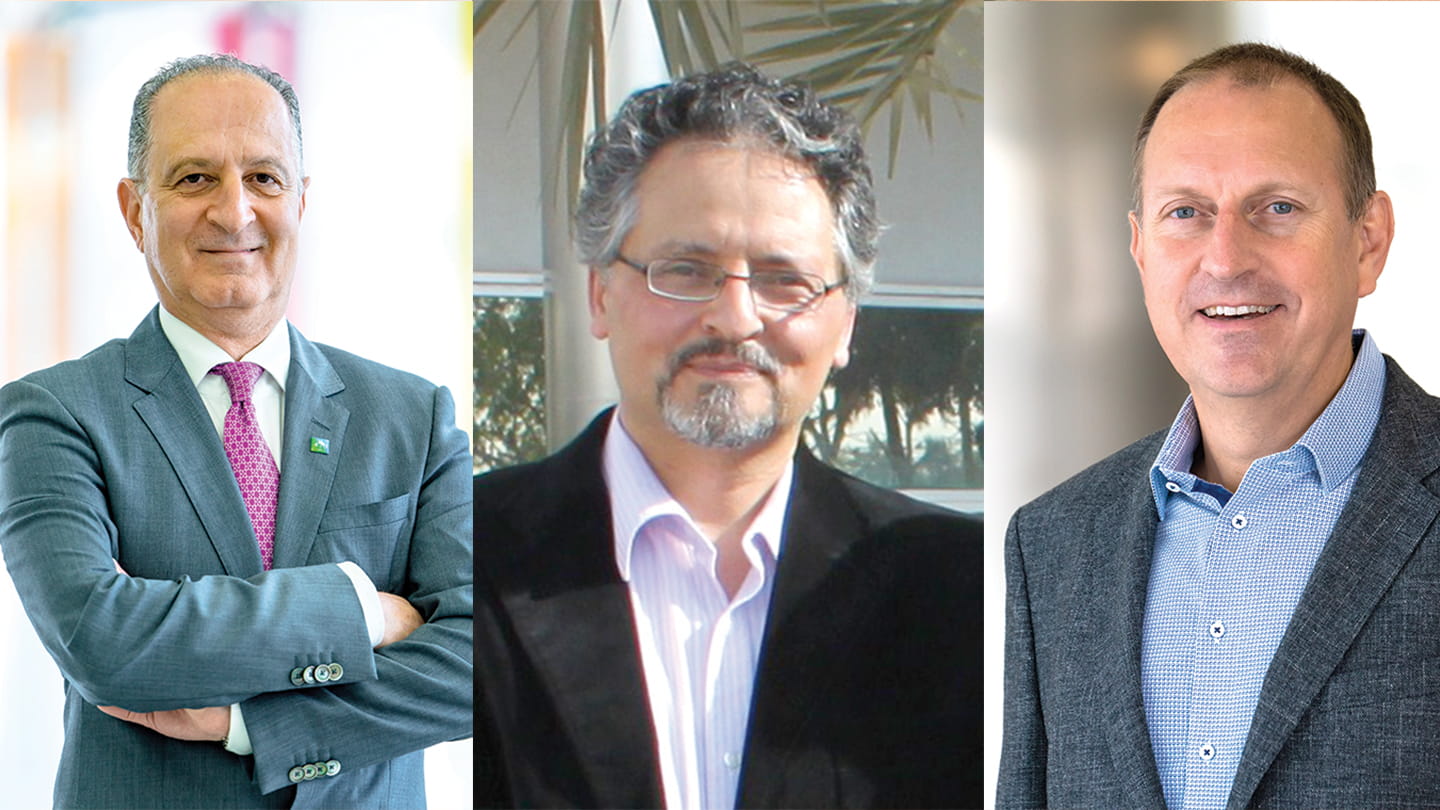 A prestigious honor: Aramco Upstream professionals (from left) Salam P. Salamy, Khaled Arouri, and Gabor G. Hursan, were selected as SPE International distinguished lecturers among more than 200 nominees.
The Society for Petroleum Engineers (SPE) has selected three Saudi Aramco Upstream professionals as SPE International distinguished lecturers for the 2019-2020 lecture season.
The SPE Distinguished Lecturer Program (DLP) is a platform to share industry leading trends through outstanding speakers, with more than 158,000 members in 143 countries, 203 sections, and 382 student chapters. The platform is one way SPE meets its principal objective of disseminating technical knowledge. It is also an opportunity for petroleum engineering professionals to enhance their professional competence.
SPE DLP panels received more than 200 peer nominations, selecting 32 lecturers from around the world for the 2019-2020 season. The three selected from Aramco are Salam P. Salamy, senior petroleum engineering consultant and head of the Upstream Professional Development Center (UPDC); Khaled Arouri, geological consultant and focus area champion with the EXPEC Advanced Research Center (ARC); and Gabor G. Hursan, senior petrophysicist with the Reservoir Description and Simulation Department.
Nasir K. Al Naimi, Saudi Aramco's vice president of Petroleum Engineering and Development and the SPE-KSA chairman of the board, commented on the accomplishments: "We are proud to have our experts exploring solutions to real problems, leading the emerging concepts in oil and gas exploration and production, and benchmarking concepts against the industry's best," said Al Naimi. "To address our challenges and keep our preeminence in the upstream sector, our people must stay open to current thinking, views, and technologies; incorporate experience and learning from all industries; and consider human factors that unlock the full potential of the Kingdom's resources to meet energy demands for decades to come."
Salam P. Salamy
In "A Performance-based Approach for Developing Upstream Professionals," Salamy details Saudi Aramco Upstream leadership's decade-long effort to establish a continuously engaged learning organization through professional development programs using contemporary performance-based curricula focused on job outcomes.
Salamy is a two-time SPE distinguished lecturer. His first selection was in the 2004-2005 season for his lecture "Maximum Reservoir Contact (MRC) Wells: A New Generation of Wells for Developing Tight Reservoir Facies," which detailed his efforts developing and implementing the MRC well concept at Shaybah.
Khaled Arouri
Arouri is the Geofluids and Basin Modeling Focus Area lead with EXPEC ARC. His area of focus is predictive geochemical solutions to increase hydrocarbon discovery and recovery. He was selected for his lecture, "Regional to Reservoir Geochemistry for Fluid Property Prediction," which highlights challenges where geochemistry can play a key role for successful exploration and production by tracking fluid history, from the source to the reservoir.
Using case studies, he detailed how the deconvolution of geochemical-geological controls over petroleum properties, the integration with basin modeling and reservoir engineering, and simulation can lower uncertainty and improve fluid prediction at regional and reservoir scales. Arouri also showed that key opportunities exist in using these methods to identify, assess, and better manage bypassed hydrocarbons.
Gabor G. Hursan
Hursan is the third Upstream professional the SPE selected as a distinguished lecturer. Hursan presented his lecture, "Nuclear Magnetic Resonance Technology (NMR): from Medical to the Oil Industry." The lecture details how NMR technology, mostly known for its medical imaging applications, has been customized for in-place examination of rock formations using miniaturized borehole scanners operating inside oil and gas wells. He presents data acquisition, processing, and diagnostics techniques with applications that reduce oil field operational costs, discovering previously undetectable productive zones and increasing recovered hydrocarbons from existing fields by using new reservoir navigation capabilities. Hursan is a lead technical expert in NMR well logging with Saudi Aramco.