Al Saggaf touts 'Efficiency, Resiliency, and Sustainability' at HSE conference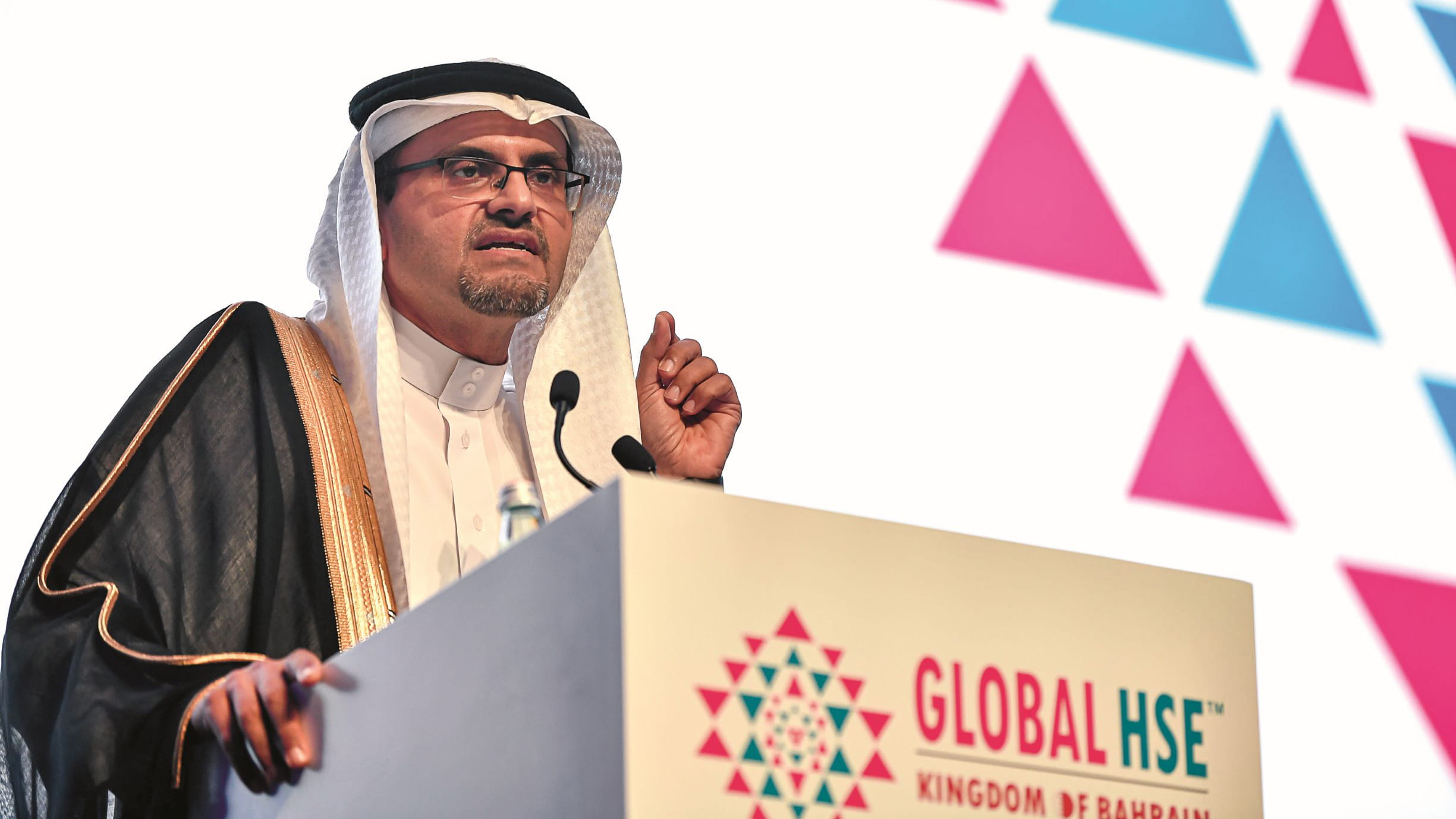 Muhammad M. Al Saggaf speaks about developing strategies toward achieving the right balance between continued economic developments and protecting the planet during his keynote address at the Seventh Global HSE Conference and Exhibition in Bahrain last week.
Attendees of the seventh Global HSE Conference and Exhibition in Bahrain last week were told that "a strong foundation of health, safety, and environmental (HSE) protection" is a must for companies such as Saudi Aramco to maintain its social license to operate.
While finding the right balance of those factors can appear at times to be "elusive", Muhammad M. Al Saggaf, senior vice president of Operations and Business Services with Saudi Aramco, said a committed effort throughout the oil and gas industry is achievable.
"I believe anything is within our reach if we fully commit ourselves, with dedication and resilience," Al Saggaf said in delivering the keynote address at the event. And the resilience that is required, said Al Saggaf, was never more evident than last month when the company's facilities in Abqaiq and Khurais came under attack.
"Ultimately, fires that were intended to break us revealed a company far more resilient than anyone could have imagined," he noted. Al Saggaf said Saudi Aramco's resilience is built upon three cornerstones — "our dedicated and committed people … our vast hydrocarbon resources, and our world-class infrastructure."
The profound challenges that major oil and gas companies face each day demand "Efficiency, Resilience, and Sustainability," Al Saggaf noted in highlighting the theme of the conference.
Sustainability built on safety, moral obligation
Al Saggaf talked about three co-centric circles of HSE, starting with safety, which he said is key to the sustainability of business success. "We must begin with safety, because this is the field of the most direct impact on our employees," said Al Saggaf.
"But safety is more than an investment. I believe that the safety of our employees is a contract with them — whether it is explicit or implicit — that we keep the workplace safe, not only because it is good for business, but because it is our moral obligation."
Another component of that moral obligation, he said, is the well-being of employees and their dependents. "The challenges are complex to achieve the right balance between quality and affordability … but smart companies must explore and innovate solutions, and we must be drivers of that change within our organizations."
Turning his attention to the environment, Al Saggaf said, "This tests our social responsibility toward our families, our people, and our ecosystem."
He cited Saudi Aramco examples of where that commitment is paying off. "Decades of investment in our well management capabilities and technologies have resulted in Saudi Aramco having the lowest upstream carbon intensity of any of the world's major producers. At the same time, our methane intensity is also one of the lowest in the industry."
Balancing economic and environmental concerns
Al Saggaf said a collective strategy toward achieving the right balance between continued economic developments and protecting the planet must be based on several factors, including:
Developing rational, well-rounded policies
Investing in the appropriate technologies
The proper education of all stakeholders
"And we must do all of this with a high degree of transparency and openness, because the world is watching."
Technology, said Al Saggaf, is the key to solving most challenging problems faced with regard to HSE. "But we must be the drivers — the adaptors and the adopters — of the technologies best suited for our businesses.
"The breakthroughs of the Fourth Industrial Revolution are redefining, in real time, what is possible. But these breakthroughs require vision, and they require investment."
Al Saggaf told attendees of the conference that sharing experiences, knowledge, and best practices is important to finding the right balance on all matters pertaining to HSE.
Saudi Aramco served as a co-sponsor of the four-day event, which brought together more than 5,000 professionals representing over 150 companies from more than 30 countries.