STORIES
Real stories inspire — A beautiful career
Ayshah always wanted to work in the cosmetic industry and brings that passion to her role making cosmetic products from the Arabia's famed Taif roses . She's now generating an income for herself and her family.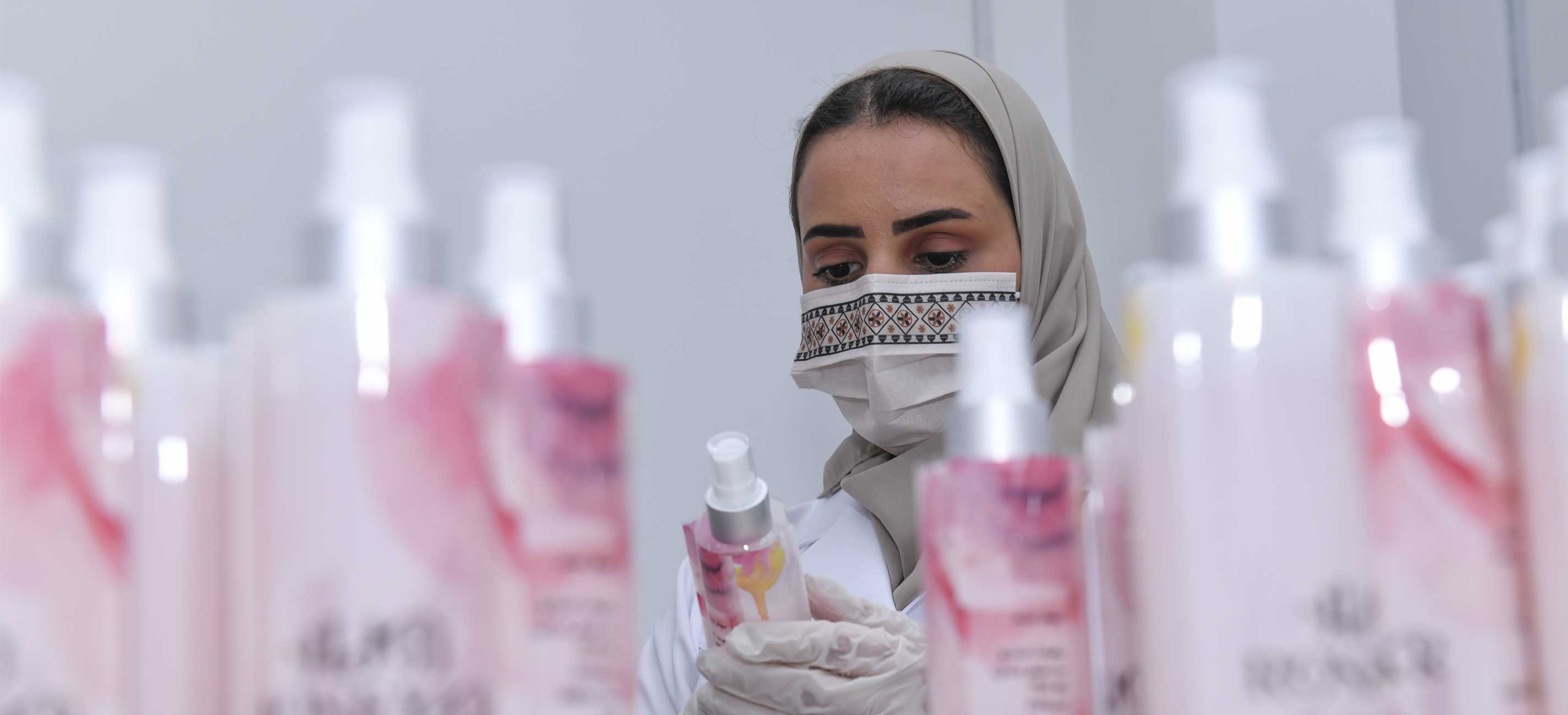 When her mother died, Ayshah had to support her family
She found work at Roseyar which hires local women with limited income to manufacture bodycare products perfumed with Taif rose oil
Two years on, Ayshah — and her career — are flourishing
Real Stories inspires
As a young girl, Ayshah grew up intrigued by the world of beauty.
She had a hole in her heart – a medical condition she was born with. Ayshah's mother was especially protective of her because of her health condition, but encouraged her to pursue her dreams.
When Ayshah finished high school, the most appealing option at her local technical college was training to become a make-up artist. So, she signed up for the three-year course.
While she was studying, her mother passed away, prompting 21-year-old Ayshah to become the supporter of her father, younger sister, and brother.

"From that moment on, I knew I had to turn from being dependent to becoming stronger and I was determined to support my family," she says.
Illustration from Ayshah's story - Ayshah as a young girl
A lifeline
In three years Ayshah completed her course at the technical college, along with her training. But her father, suffering from a kidney failure at the time, was unable to work.
Then a friend told her about the opening of Roseyar, an Aramco initiative that supports women by training and employing them at the rose factory in Taif, where she lives. The project is part of the Company's citizenship efforts to support and enable communities.
Just a few hours' drive from Jeddah, Taif is the heart of the rose-growing industry in western Saudi Arabia.
Known as the Taif rose, these flowers are prized for their intense fragrance and are used by the world's leading perfume makers. Around 900 rose farms are scattered across the western region, where Taif roses have been grown for centuries.
The rose is harvested to produce one of the world's most expensive rose oils, or attar, as well as rose water.
And Taif is where Aramco supported the creation of this factory, one that enables local women to support themselves through utilizing the oil of Taif roses to manufacture cosmetic products.
Quote from Ayshah - "Being part of the Roseyar story is so rewarding, as well as knowing that I am giving back to the community."
New skills
The initiative is registered with the Al Yakaza Women's Charity Association in Taif and aims to employ local women at a purpose-built factory, giving them new skills with sustainable income, and boosting the local economy.

Ayshah joined Roseyar and trained as a production technician, reconnecting with the cosmetic industry she loved as a child. She enjoys overseeing the process from start to finish, producing a range of bodycare products including body lotion, body butter, hand cream, shower gel and liquid hand soap.

"I truly love knowing that I am contributing to making something so beautiful," she says.

"My colleagues make me feel as if Roseyar is my second home. They are so supportive and I feel more motivated and productive whenever I am around them."
Just rewards
The job at Roseyar has enabled Ayshah to meet her various responsibilities while being surrounded by the sweet, floral aromas of the Taif rose.

As Ayshah learned how to take care of the Taif roses, she finally felt as if she could take care of herself too, growing into a strong and successful young woman.
"I've been able to balance having my medical treatment sessions done in Jeddah for my heart condition, supporting my family financially and being able to fend for myself — I was even able to buy a car," she says.

"Being part of the Roseyar story is so rewarding, as well as knowing that I am giving back to the community."
Illustration from Ayshah's story - Ayshah in the gardens of Roseyar
This series celebrates some of the stories of the people from across the Kingdom whose lives have been transformed by projects that Aramco is proud to support. We brought their stories to life through illustrated tales, including Ayshah's story.
Media contact information
All media enquiries are handled by Aramco's Media & Executive Communications Department, Dhahran, Saudi Arabia.
For media inquiries, please email us at media.inquiries@aramco.com
Seeding tomorrow
Hassan grew up exploring the mangrove forests along the shores of the Kingdom's Eastern Province. He has since dedicated his professional life to replanting and protecting them.
Words of wisdom
Ali Sulais has a way with words. This talent led him to participate in the iRead competition, where his work first received national acclaim.