Keynote address by Abdulaziz Judaimi, Business Line Head of Saudi Aramco at 11th GPCA Forum 2016, Dubai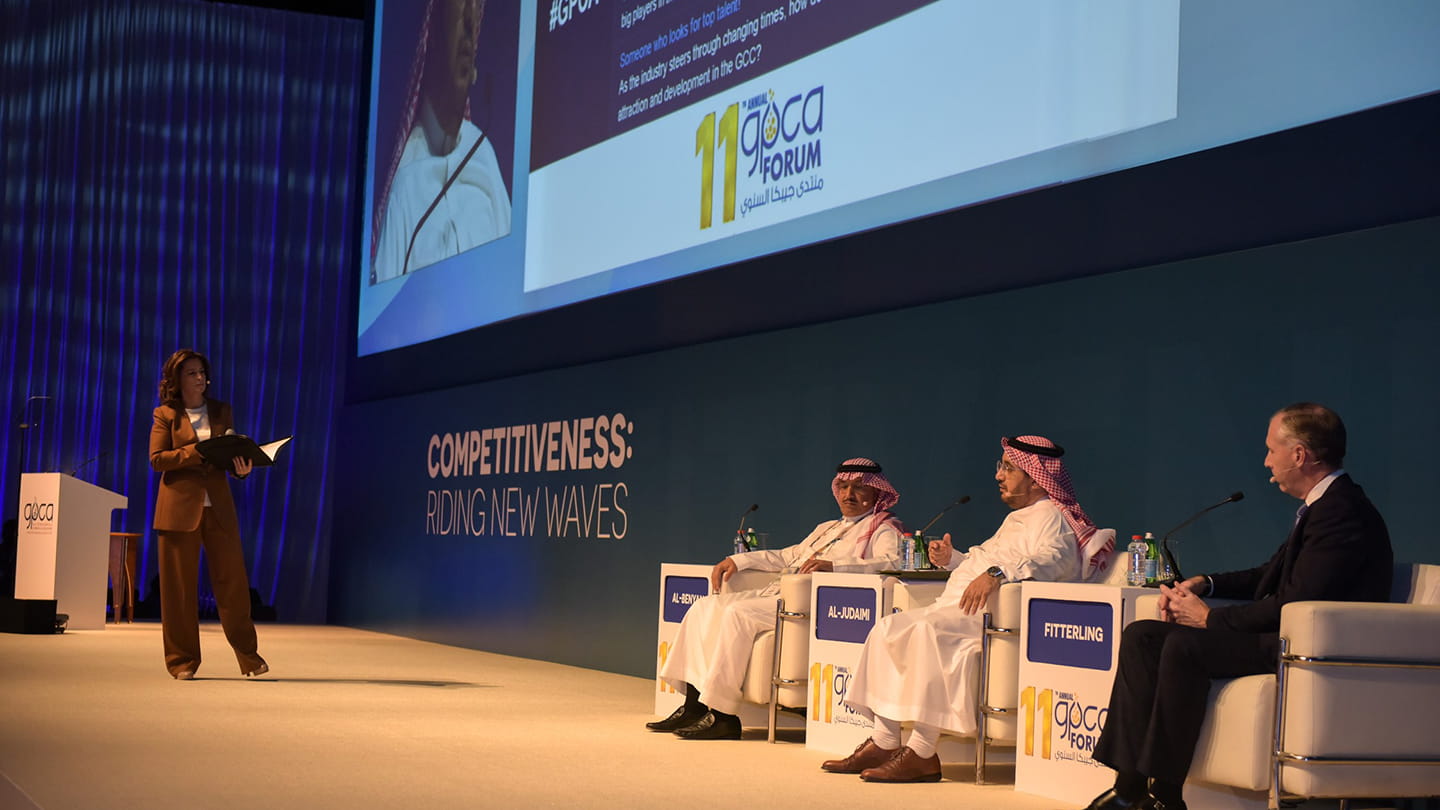 Speech
|
DUBAI, United Arab Emirates
|
By Abdulaziz Judaimi, Business Line Head, Downstream Dubai
Your Excellencies, distinguished guests, ladies and gentlemen: good morning.
Let me first add my thanks to His Excellency Dr. Sultan Al Jaber, Minister of State & CEO, ADNOC, for joining us today.
Let me also convey a message from Saudi Aramco's President and CEO, Mr. Amin Nasser.
He considers GPCA the forum to discuss the waves of change our region's chemicals industry faces, and conveys his apologies that he could not deliver this keynote in person.
I am honored to do so on his behalf, particularly because of the long history I share with the Association.
We are lucky to have GPCA's help, with the networking, thought leadership, and advocacy that the membership has afforded.
And I think that's shown most clearly in the fivefold increase in membership that we have seen in the past decade.
Ladies and gentlemen, today, I would like to address three main topics:
I want to take a broad look at some of the changing business currents in recent decades.
I want to briefly consider the economic drivers of change in our region today.
And I want to share why I see the region's chemicals industry playing a pivotal role in making those changes a reality over the long-term.
Global Business: Past and Future
Let me begin by looking at the changing nature of business over the past three decades.
During that time, global corporate earnings have grown more than threefold to over $7 trillion.
Yet, between them, companies from advanced economies in North America, Western Europe, Japan, South Korea, and a few others have captured more than two-thirds of global profits.
China accounts for another 14%, and rising.
Innovation, technology, and competitiveness are at the root of their success.
By contrast, gaps in these areas explain why developing countries lag some distance behind.
Furthermore, while technological imitation might work in the short-term, long-term success will remain elusive without novel innovation.
The only way to sustain competitiveness and growth – which is the theme of this conference – is to continue developing more differentiated, higher value products; continue creating strong brand identities; and continue upgrading to stay ahead of the curve.
Because profits are shifting to idea-intensive industries that revolve around R&D, digitalization, knowledge-content, and brands, while capital-intensive companies face growing pressures.
On the positive side, when it comes to the customer base, the next decade will see an additional 2 billion people added to the pool.
The lesson for our region is clear: companies that adapt quickly to these new realities can capture enormous opportunities.
So let us move to the second topic and further understand the impact of regional economic drivers of change.
We are beginning to see this play out in terms of the region's changing economic policies.
For more than 80 years, our preeminence in the global Upstream has been the bedrock of our strength, and it has allowed us to become a global petrochemicals hub.
But we are at a development point where we cannot continue to depend on a single economic engine.
Instead, the development of the non-oil private sector, including the chemicals industry, has become a strategic necessity for the region.
And, in Saudi Arabia, we have formalized this with our Vision 2030.
Pivotal Role of Chemicals Industry in Creating a Prosperous Future
To some, there are fast-moving currents that are overwhelming challenges to cope with.
To me, they are the green light for our industry to shift gears rapidly by applying the lessons of innovation, technology, and competitiveness.
But what should our strategy be?
Clearly, there will continue to be opportunities to invest in the large-scale integrated base petrochemicals projects, underpinned by advantaged feedstocks, which have defined the development of our region's chemical industry.
But when just 2.5 percent of the global petrochemicals industry's revenue is made here, and less than 1 percent of the industry's workforce is employed here, that is neither good nor sustainable.
To change this situation, at pace, I believe we must target our collective efforts in four key areas.
Refining-Petrochemical Integration
First, we need to better balance and integrate our Upstream and Downstream businesses.
As our CEO said to the World Energy Congress in Istanbul last month, Saudi Aramco plans to invest more than $300 billion over the coming decade.
This will reinforce our preeminent position in oil; maintain our spare oil production capacity; and allow us to pursue a large exploration and production program centering on conventional and unconventional gas resources.
But with our crude oil production capacity at 12 million barrels per day, we have also grown our global refining capacity to more than 5 million barrels per day currently, and plan to raise it to 8-10 before 2030.
And, in chemicals, our equity capacity, across our global operations, is expected to grow from 12 million metric tons per year to 34 over the same period.
Altering the equation in this way calls for maximizing the value of Saudi Arabia's hydrocarbon production, including vertical and horizontal integration across the value chain.
A base level of integration can be achieved by adding value through shared infrastructure, utilities, and services, without compromising operations on either side.
Higher levels of integration can be achieved with stream transfers, capital improvements that benefit both refineries and chemicals, and overall site optimization of operations.
Next year, nine out of Saudi Aramco's 15 refineries will produce chemicals, with conversion rates that can go to 20 percent of the total crude processed.
And of course, done right, integration triggers multiplier effects in jobs and industries. By integrating our domestic and international refining network with chemicals production, we enable manufacturing hubs and conversion parks connected to our plants – which is an important driver of the enormous value being created by the North American and European chemicals industries.
Our Plus Tech Park at Petro Rabigh on the west coast of Saudi Arabia, and the PlasChem Park at Sadara on the east are examples of our own conversion strategy in action.
Differentiated Commodities and Specialty Chemicals
The second area, we will need far greater expansion into differentiated products, including differentiated commodities and specialties.
As you all know, commodity margins are volatile and driven by conditions of supply, demand, and capacity utilization.
Production differentiation, by contrast, brings added value and a higher degree of margin stability. In fact, that kind of potential was the vision for Sadara.
As the source of an entirely new product slate to the region, Sadara will launch new industries, including water treatment chemicals, automotive parts, personal care products, and detergents.
We also see growth prospects with ARLANXEO, our joint venture with Lanxess of Germany. Its high-performance synthetic rubber and elastomer products have applications beyond the automotive and tire industry, including construction and oil and gas.
Innovation & Technology
Moving to the third area, we need knowledge-based innovation to stimulate new technologies and processes, leading to new products and industries, is clearly mission critical, as I highlighted earlier.
As the GPCA Innovation Survey found last year, the region's major petrochemical and chemical producers are thankfully putting innovation and technology at the top of their agendas at last.
Certainly, some of Saudi Aramco's most significant recent achievements have been in domestic Downstream partnerships aimed at value creation through innovation.
For example, this summer, SABIC and Saudi Aramco signed a commitment to study the conversion of crude oil directly to high-value petrochemicals.
This is precisely the kind of technology that will leverage the region's vast oil reserve base, maximize chemical yield, transform and recycle by-products, and diversify the Kingdom's petrochemical feedstock mix.
We are hugely excited by it.
Elsewhere, we recently acquired the Converge® polyol technology from the US-based company, Novomer.
This breakthrough technology uses waste carbon dioxide and carbon monoxide as feedstocks to manufacture valuable polymers, marrying improved product quality and lower cost with environmental benefits.
We are also driving innovation through our corporate venturing subsidiary, Saudi Aramco Energy Ventures, which invests in high-end start-ups here and abroad with technologies of value to us.
Talent
And finally, none of this will work without a highly skilled workforce. We need to focus our attention on the region's skills base, and leverage the demographic advantage that a wide talent pool of youth has blessed us with.
This in turn will require a broad mobilization to build the technical and managerial capabilities to develop the workforce of the future. That underlines the importance of quality education and training at all stages, and the importance of partnerships between the government, industry, and academia.
Because there is no better investment we can make in the future of our countries than developing the minds of our young men and women.
Ladies and gentlemen, our industry faces towering waves of change.
But we can also create towering waves of opportunity to achieve greater competitiveness, and open new paths to grow our global market share.
So, let's integrate and enhance the value chain. Let's expand into differentiated commodities and specialty chemicals. Let's prioritize innovation and technology, through partnerships.
And let's build the workforce that takes our nations to the next level.
Thank you, and I wish you a productive conference.
Media contact information
All media enquiries are handled by Aramco's Media & Executive Communications Department, Dhahran, Saudi Arabia.
For media inquiries, please email us at media.inquiries@aramco.com