STORIES
Harnessing the Energy of Generations Y and Z
Aramco's young workforce has helped to shape a dynamic corporate culture that values their unique priorities and employs their energy for change. Here's how the Company is supporting the development of their leaders of tomorrow.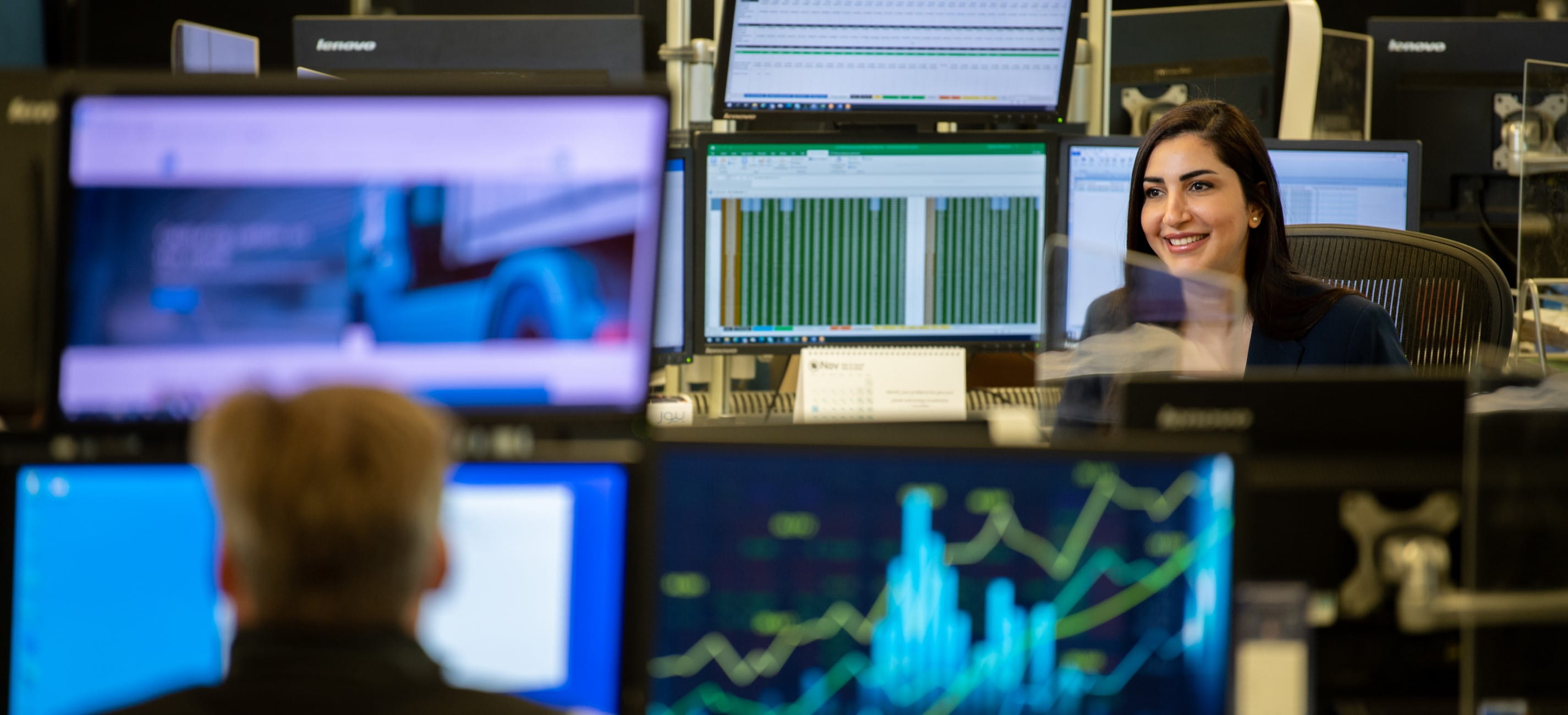 A majority of Aramco's workforce is age 35 or under
Retaining and engaging a younger workforce means catering for their needs — ranging from lifelong learning to a good work-life balance
The Company's culture enables young people to develop thrive
As the oldest members of Generation Y (aka "millennials") turn 40 this year, our youth is on the rise with a majority of our employees age 35 or under, where young people are creating a culture ripe for change and improvement.
Generations Y (born 1980-1994) and Z (born 1995-2010) have different priorities than previous generations. They are looking for much more than just a paycheck, and expect one or more of the following from their jobs:
Purpose-driven work
Lifelong learning
Flexible careers
Work-life balance
Opportunities to influence their organization
Emphasis on digital technology
In light of the demographic trends and changing expectations, Aramco has been working to adapt to these changing expectations, creating an environment that offers all generations opportunities to excel in their best work, every day.
Working with a purpose
Generations Y and Z are particularly motivated by work with a sense of purpose. Aramco is much more than just an oil and gas company, with a history and legacy of serving a much greater purpose in the community and the country. This has been a foundation for the Company and our people, beginning from its early days and continuing today.

"It's about my personal footprint I leave behind," says 29-year-old Abdullah Bahamdan, an advanced process control engineer. Among the things he values most is: "feeling how critical and crucial we are to developing the Kingdom's diverse economy" and the ability to address "key challenges with a global impact."
Speaking out, being heard
Another important expectation from Generations Y and Z is the opportunity to influence their organization. They want to speak out and be heard — especially by leadership.
Our Young Leaders Advisory Board (YLAB) was started in 2011 and has acted as a bridge between the youth of the company and its upper management, reporting directly to the Company's Strategy Council. The 16 members of each YLAB cohort are selected from thousands of applicants. These emerging leaders are consulted on a wide range of corporate issues, such as innovation, training, and engagement.
It's a rewarding experience for those selected.
YLAB helps build a culture that is fit for every generation — one that encourages young workers to contribute, and values their voices. Danyah Alshebel, a 28-year-old planning and performance analyst, says YLAB is effective in keeping the Company in touch with young people's views. "I've answered YLAB surveys about issues like our knowledge of finance and then seen the results acted on," she says. "It connects us with management."
A desire for lifelong learning
Generations Y and Z have a passion for continuous development. They don't stop studying when they leave university, and view learning as a lifelong journey. Aramco meets this need with a huge number of training courses, both digital and in-person.
In 2020, over 1,400 employees were enrolled across courses in partnership with Harvard Business School, Wharton, Stanford, London Business School, Singularity University, Oxford University, and Harvard Law School. Popular programs include London Business School's "Finance and Strategy" program and Harvard ManageMentor.
Alshebel says she not only passed a finance exam with Aramco but also now has a unique opportunity to go and study law in the U.S. Her education is supported by Aramco's Advanced Degree Program (ADP), and she has a goal of becoming a legal counsel for the Company when she returns. The program has been providing similar opportunities to young Saudis since 1976.
Changing places
Alshebel's plans exemplify another priority for Generations Y and Z – flexibility. Many say they value the ability to change careers and occupy many different roles.
Aramco's Internal Mobility Program encourages young employees to expand their horizons. Many of the Company's young leaders move regularly, not just within their own business area, but also outside of it.
Engineer Bahamdan, for example, has worked in many different functions during his six years with the Company, ranging from commissioning a plant, to consulting, to project management. Meanwhile, other employees have switched roles entirely, from IT to communications, for example, or from engineering to human resources.
Balancing work and wellbeing
The Covid-19 pandemic has highlighted the importance of mental health, but attention to wellbeing and work-life balance have been a key part of Generations Y and Z for years.
Aramco recently announced the launch of the Work-Life Support Program, which offers customized counseling for employees and their families, as well as assist with stress management, exercise, and create healthy habits.
The facilities at Aramco's Dhahran camp are also uniquely-suited to the wellbeing of younger employees, whether they enjoy hitting the gym, rock climbing, touch rugby or less strenuous activities like playing music or quilting. Or simply, as Alshebel says, "taking a long walk on camp and having a coffee with a friend during a day's work."
Making the most of digital
Generations Y and Z are also "digital natives." They grew up with technologies that older generations had to adopt as adults. Now Aramco's Digital Transformation Program is increasing the opportunities for them to fully utilize their skills.
Digital training courses, free and online, aim to provide employees with a 'digital mindset' that benefits the Company and adds to their own skills — a perfect fit for generations passionate about lifelong learning.
Meanwhile, digital technologies have become an integral part of corporate life, too. With a few clicks, Aramco employees can book the gym, reserve a meeting room, renew their staff IDs, and much more.
"I do everything through an app," says Bahamdan. "I like that we are adaptive and agile with digital technology."
Aramco LIFE is one of the company's latest digital touchpoints
Evolving and enriching the lives of all
As Generation Y take on management positions within Aramco and Generation Z continue to progress, their influence will drive even further alignment with the needs of younger staff. At the same time, the needs and desires of our young people are building a corporate culture that works for every generation in Aramco — and enriches the lives of all.